Who doesn't love a good dog story? And I found some good ones!
"Sheehan's Dog" is another solid tale of sleuthing by Northeast Ohio's own Les Roberts.
Brock Sheehan, 58, lives on a houseboat in Vermillion, Ohio. He's been retired for 10 years after being the "muscle" for the local Irish mob boss. "He'd been on the highest rung of danger guys for the Cleveland Irish Mafia, one step below the so-called godfather who for forty years ran the west side of Cleveland."
Sheehan's no angel, but he's an appealing character. He has plenty of money and now spends his time relaxing, with an "aversion to any adult exercise more exhausting than climbing on and off bar stools." He's a loner, so it's completely unexpected when his nephew shows up, asking for his help. The kid is in trouble — big trouble. A former Ohio State basketball star has been killed, and the nephew is the number one suspect. The athlete had been beloved at OSU, but it turns out he was absolute scum who used to run a dog-fighting operation. Several people may have wanted him dead — and the nephew isn't exactly mourning his loss — but could Uncle Brock find the person who really did the murder?
Sheehan sets out to gather information, checking in with old contacts and, in doing so, may be stirring up trouble for himself. He travels around Northern Ohio, and at some point he re-encounters the one true love from his past. Can that flame be rekindled?
I thoroughly enjoyed this book. It has just enough action, it's thought-provoking, there are likable as well as despicable characters, and of course we get to meet a few dogs. It features disturbing descriptions of animal abuse that are hard to read, but they're short, and the abusers will get what they deserve in the end. Oh, and there's some "people" violence, as well.
The reader gets a pleasant surprise when a couple of characters from Roberts' popular Milan Jacovich series turn up. This is a great read for mystery fans.
---
"The Boy and the Dog" was written by Seishu Hase and translated from Japanese by Alison Watts.
Six months after the Great East Japan earthquake and tsunami, a man sees a skinny dog with a collar but no leash hanging around a parking lot. "Maybe the dog belonged to a disaster victim," the man thinks. He feeds the hungry creature and finds a name engraved on the dog's collar: "Tamon," which means "guardian angel."
He adopts the dog (who could resist?), but then the man gets involved with criminals, and one of them decides he wants the dog for himself, as a kind of lucky charm. The dog goes from one "owner" to another and keeps traveling around the coast of Japan, apparently looking for his "lost boy."
Each "owner" comes with a story, reminding me of the wonderful "A Dog's Purpose" by W. Bruce Cameron, in which a dog's spirit reincarnates in the bodies of several dogs, and each is a story, eventually tying together.
Tamon's journey takes five years, and then, by some miracle, … but you have to read it. It's heartwarming stuff.
The book is all plot, written in a spare style with some mature situations and violence; it's not for young kids.
---
I also enjoyed "A Boy and His Dog at the End of the World" by C.A. Fletcher, which came out a few years ago.
The narrator tells us upfront: "A man stole my dog. I went after him. Bad things happened. I can never go home."
The reader is dropped into a dystopian future: Most humans are gone because they can't reproduce. Strange diseases and something in the environment have produced "the Gelding," causing the world population to plummet to maybe 8,500 people left in the world. "It was a soft apocalypse." Killer diseases still spread where people congregate, so people avoid each other.
The narrator is Griz, age 10, who lives on an island off Scotland with only his parents, siblings, and two dogs. The female dog "is a rarity, because dog litters seem to be all male nowadays."
A stranger comes to the island, smiling and affable and turning out to be a thief. With his remaining dog, Griz sets out on a quest, looking for the thief and the stolen dog, sailing and walking around Britain. He meets a few people here and there — mostly unfriendly — and must survive by his wits and his dog's talents. His adventure oddly reminds me of "The Martian," as he does what he can with what he has.
I don't often relish dystopian stories, but this one is good. I like Griz, who's a sort of Huck Finn and talks about the good or bad in any situation. The credible descriptions of the landscape and deteriorating structures remind me of "The World Without Us," a fascinating nonfiction book from 2007 that predicts what the planet would look if all the people were to suddenly disappear.
The book is good for any age. And I do mean "good"!
---
I'll bet nonfiction fans will like "The Year of the Puppy: How Dogs Become Themselves" by Alexandra Horowitz. She calls herself a "dog researcher" (what a job!), and she's written several other dog books. Here she observes a puppy for its first year of life, from the birth of the litter of 11 pups to how they develop separate personalities and how the one she adopts grows, physically and behaviorally.
"I study their behavior to try to understand their minds," she tells us. "People wonder not just what their dogs are thinking, but what they are thinking about THEM — whether they know our secrets, harbor any ill will; whether they see through our deceits or feel the love we feel for them." Besides her observations, she offers a few handy hints about training a puppy.
She warns that the "teenage" time of puppyhood can be dangerous for the dog: "We acknowledge puppyhood in dogs, then race them into adulthood, but there is in fact a long transition getting from cute pup to mature adult. A primary reason for abandoning dogs in shelters is behavioral — they jump, bite, escape, soil the house. … [and] euthanization is still the result for many" abandoned dogs.
She also follows a litter that will become working dogs, trained to find people and odors. "Each will flourish with a different handler, detecting a different drug, or disease, or missing soul."
The writing is not technical and is often almost poetic: "There are lots of sounds she has never experienced: a mailbox clanking as it swallows a letter; a walk sign ticking down the seconds; an unmufflered car cruising by; another's engine idling; a squeaking door. The train along the river, a mile away, hoots its arrival."
Dog lovers will like the relaxing read, and anyone who's adopted a puppy will recognize the stages their pet goes through.
Happy reading!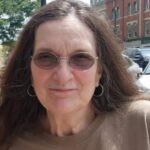 Mary Louise Ruehr is a books columnist for The Portager. Her One for the Books column previously appeared in the Record-Courier, where she was an editor.