Several recent books give us characters we can follow from childhood to maturity, letting us really get to know them.
I completely enjoyed "The Whalebone Theatre" by Joanna Quinn. The story is set on the southern coast of England and later in France, and it takes us from 1919 — the end of the first World War — to the end of World War II.
Cristabel Seagrave is a precocious child whose mother died giving birth to her. Her father has remarried, but still mourns his dead first wife, and he shuffles around "his ancient home containing a wife he doesn't love and a child he doesn't know how to love and an empty space where his love used to be."
Free to roam, Cristabel reads just about everything in her father's library, falling in love with adventure stories, Greek myths, classics such as "The Iliad," and Shakespeare. Her vivid imagination feeds off these stories. When she's joined by a younger sister and brother, the siblings put on sock-puppet shows in a cardboard theater and later don makeshift costumes to play out the stories they've read. Since they're neglected, they rely on each other. "In the absence of any kind of systematic education, the Seagrave children's knowledge of the world has been patched together from disparate sources to make an occasionally workable Frankenstein's monster of information."
A dead whale is washed up on the beach near her home, and after it has decomposed, she uses the bones of the ribcage to create a backdrop for an outdoor theater to put on more sophisticated theatrical productions.
Cristabel's idyllic childhood years cover about the first third of the book, and this, for me, is the best part. In fact, if the book had ended there, I would have been content. I loved the wonder and excitement of the children. I liked the interesting characters, including Cristabel's playboy uncle and her self-absorbed stepmom. I also loved the language; often I stopped to re-read a passage just because it was written so beautifully: "This light will go on into the night, because the sky, on these shining spring days, does not want to go black. Even after the sun has gone, there remains a strip of amber across the horizon, and above that, a pale wash reaching upwards to a band of aqua and above that, a deep blue that is the colour of the very edge of space, and then and only then, high up and forgotten, the indigo black of the night sky, waiting in the wings, carefully holding the golden bauble of envious Venus."
The second third of the book feels scattered, much as the characters are scattered as the war begins. But in the final third, the plot becomes a more focused thriller, as two of the characters become secret agents in France (for which their experience with acting, costumes, and disguises has prepared them well), and we also see how those at the Home Front are doing back in England.
Again, I stress the gorgeous writing: "It is a humid day, and the ocean is glassily still. The sky and sea are translucent grey, merging into each other at the horizon, creating a flat wall of sameness; there is nowhere to get to." It's hard to believe this is Quinn's debut novel.
---
"Demon Copperhead" by Barbara Kingsolver is an absolutely brilliant work of character creation. I have long admired Kingsolver's writing. I still remember characters and images from her "The Poisonwood Bible," which I read in 1998. Her writing here is superlative, but it is NOT pretty.
She admits up front that this work was inspired by "David Copperfield," and fans of Charles Dickens will have fun finding parallels to that plot and its characters here. It's presented in the first-person voice of Damon Fields, nicknamed Demon and Copperhead because of his red hair.
He's a kid growing up in the 1990s in Appalachia. His mom is a drug addict, so when she loses custody of him repeatedly, he goes to live with a neighbor family and, later, several other people. He bemoans being a pawn of society, "Knowing basically from birth that my mom was not to be counted on." He says, "A kid is a terrible thing to be, in charge of nothing." The book is an indictment of society and its priorities, covering poverty, the foster system, child abuse and neglect, school, athletics, the medical system, and the opioid crisis.
Damon is lovable but very wordy, often going on and on with way too much information. He has no filters; some of his language and his subject matter made me cringe a bit. What happens is ugly. Some of the language is ugly. There are no saints here; even the good people are flawed. Other than Damon, the main "character" is addiction and the opioid crisis. Damon talks about addiction: "If you've not known the dragon we were chasing, words may not help. … It becomes your job, staving off the dopesickness for another day. Then it becomes your God."
You could say that the book's theme is hopelessness. It's hard to "watch" him go through it all. Damon writes, "The wonder is that you could start life with nothing, end with nothing, and lose so much in between." He tell us, "At the time, I thought my life couldn't get any worse. Here's some advice: Don't ever think that."
Thank goodness, though, it ends on a hopeful note: "I've tried … to pinpoint the moment where everything starts to fall apart. … But there's also the opposite, where some little nut cracks open inside you and a tree starts to grow. … Because that thing's going to be growing a long time before you notice. Years maybe. Then one day you say, HUH, that little crack between my ears has turned into this whole damn tree of wonderful."
---
"Tomorrow, and Tomorrow, and Tomorrow" is by Gabrielle Zevin, who wrote the quirky "The Storied Live of A.J. Fikry," a book club favorite.
The main story is set in the 1990s in Massachusetts and California. Sam and Sadie meet at age 11 when Sam's in the hospital, where doctors are trying to fix his broken foot, an injury that leads to a lifelong disability. The kids bond over video games. Sam explains later why he loves gaming: "Sometimes, I would be in so much pain. The only thing that kept me from wanting to die was the fact that I could leave my body and be in a body that worked perfectly for a while — better than perfectly, actually — with a set of problems that were not my own."
The two become close but have a falling out over a misunderstanding. They meet again in their college years and decide to design a video game together; the game becomes a best-seller, and they start their own company to design more games. Sam's roommate joins them professionally, and the three become tied together personally as well.
It's about the many sides of friendship, with three well-developed characters who have complex issues: two with Jewish heritage, two with Asian heritage; disability; abusive romance; and inability to communicate.
I know nothing about gaming, but the plot is interesting, and I like how the author shows some of their creative collaboration and inventiveness.
Happy reading!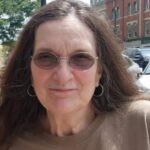 Mary Louise Ruehr is a books columnist for The Portager. Her One for the Books column previously appeared in the Record-Courier, where she was an editor.