When I was little, my mother had a big, thick book filled with gorgeous full-color plates of some of the world's most famous paintings. Mom made me wash my hands before I handled it, and I would spend hours lost in the pictures, as if it were my own private museum. Oh, and field trips to museums would have my imagination soaring with knights in armor, Egyptian mummies, lifelike statues, and ancient Greek pottery. So, I have always been interested in art, and the books mentioned here delve into the topic from several perspectives, both fictional and factual. Let's start with the nonfiction.
"The Art Thief: A True Story of Love, Crime, and a Dangerous Obsession" by Michael Finkel serves as a biography, of sorts, of a man who has an all-consuming love for works of art.
Beginning in the 1990s, Stephane Breitwieser, along with his live-in girlfriend, stole — in broad daylight — hundreds of art objects from museums all over Europe. They stole sculptures, paintings, silver pieces, antique weapons, and much more.
Breitwieser is obsessed with art. His "sole motivation for stealing, he insists, is to surround himself with beauty, to gorge on it." He cares deeply about each piece. "He takes only works that stir him emotionally" and feels museums "are really just prisons for art," so, in his mind, he's freeing them. He prefers to think of himself as an art collector, or an "art liberator." He even "imagines that any police officer inspecting their crimes would consider them aristocratic and honorable thieves."
He can't stand that some thieves would damage a painting by cutting it out of its frame. Those "savages," as he calls them, care only about money, he says. In his thefts, he'd carefully remove a painting from its frame. He would "turn it over and coax the clips or nails on the back to drop the frame, which he leaves behind." Meanwhile, his girlfriend would act "like a magician's assistant … making sure the overly curious are gently diverted."
The art thief lived with his mother and hid all the stolen stuff in his locked room so his mom wouldn't know. "Every flat surface in the bedroom is filled." The paintings hung from "floor to ceiling, left to right" and "Just the contents of his nightstand could stock a museum exhibit of its own." His thefts are "estimated … to be worth as much as two billion dollars."
The author describes how the thief committed some of his robberies, and why, and how he got caught. He also discusses art theft in general.
It's an interesting book. First, it's a good story. Second, it's an exciting true crime narrative. Third, it's fascinating for those interested in psychology and human nature.
---
In "All the Beauty in the World," author Patrick Bringley recalls the ten years he worked as a museum guard at New York's Metropolitan Museum of Art. This is a little gem of a book and one of my favorites this year.
Bringley describes how he got the job, what his first day was like, why he wanted to work there, his fellow guards from various countries, what it was like to be around the relics and works of art, and his longtime "relationship" with some of the pieces.
On his first day, as the guard Aada leads him to his first guard station, he tells us, "At Aada's pace, the paintings fly by like the pages of a flip-book, centuries rolling backward and forward, subject matter toggling between the sacred and profane, Spain becoming France becoming Holland becoming Italy." His job is to spend hours at a time in one of the many different museum departments, "One day ancient Egypt, the next day Jackson Pollock." He's told, "It's a straightforward job, young man, but we also must not be idiots. We keep our eyes peeled. We look around. Like scarecrows, we prevent nuisance." As he defines the job: "Keep the watch. Let my hands remain empty and my eyes stay wide while my inner life grows all mixed up with beautiful works of art and the life that swirls around them." He also tells us, "I delight in playing the teacher" when museum visitors have questions. He suggests, "The first step in any encounter with art is to do nothing, to just watch, giving your eye a chance to absorb all that's there. … Ideally, for the first minute we shouldn't think at all. Art needs time to perform its work on us."
What really endeared me to the book is his writing, with his descriptions of how art makes him feel. "My earliest feeling about art was that it belonged to a kind of separate, moonlit world," he tells us. "Much of the greatest art, I find, seeks to remind us of the obvious. This is real, is all it says. Take the time to stop and imagine more fully the things you already know."
Looking at a Vermeer, he says, "I startle at the picture because I can't believe he's captured it — that feeling we sometimes have that an intimate setting possesses a grandeur and holiness of its own." About another, he says, "What was beautiful in the painting was not like words, it was like paint — silent, direct, and concrete, resisting translation even into thought. As such, my response to the picture was trapped inside me, a bird fluttering in my chest. And I didn't know what to make of that. It is always hard to know what to make of that."
I just love this little book.
---
Now, on to fiction — except these two novels are set in real places.
"The Lioness of Boston" by Emily Franklin is a fictional memoir of Isabella Stewart Gardner, who became the founder of a museum bearing her name. This is a long, slow, delectable dessert of a read with lovely literary phrasing.
In 1861, Isabella and husband Jack are about to move into their new home in Boston, but she's feeling inferior; she's being rejected by the society ladies because she doesn't fit in with the wealthy "Boston Brahmin." She tells us, "It is one thing to imagine being shunned but quite another to have it proven." About the women, she says, "They were cruel, Boston's biggest names striking out like Medusa's snakes."
But her appreciation for art places her in the presence of more and more artists and literary figures, who DO appreciate her. So she and Jack travel back and forth between Europe and America, encountering a sort of who's who of artists of the time. (She also has a pretty steamy love affair with one of them.)
We learn where she found and how she acquired some of the pieces for what would become her own gallery. Describing one painting, she says, "When I looked at Monet's sunrise I wanted to run my fingers over the heavy brushstrokes, wanted to feel the color — dried but vibrant — on my hands. I wanted, in a way, to consume the art in front of me."
Her love of art leads her to become a collector with a desire to support struggling artists and share their creations with the world. She decides, "Should I be fortunate enough to find a larger meaning in my life I should like it to benefit others." She tells her agent, "You worry about its value; I buy what I like because I like it. … I do think it terribly important to support those who wish to be artists, not only those who consider themselves already there." She resolves, "I would give the world — or Boston at least — a place" for the enjoyment of art. Isabella says, "We collect all that we are — we encase ourselves with high-society portraits or bone china and silver sets. Or we covet the collections of others. Or, as I learned, we gather so that we learn how to see, to look in order to let the eye's lens decide what we truly desire."
What I really admire is Emily Franklin's writing. I could share lovely passages with you all day:
"Now earliest summer warmed the air; inside I set pots of nasturtium on the windowsills so they grew in delicate but hardy vines, and outside the magnolia shifted its pinks and whites. The promise of sun and freedom made my skin prickle. I allowed a moment of stillness, looking up through the branches at the broken pieces of sky between."
"The man stood doing nothing. Or at least that's how it appeared: as though he owed the world nothing. His was the kind of beauty people had likely pointed out his entire life. The kind of features that would be cruel in a painting because they were too appealing. He began walking. His stride long but slow: the sort of grace I found magnetic paired with a disregard for who might be watching. Or perhaps he knew I was watching from under my veil, so his figure in light trousers and dark jacket seemed shadowy as he turned just for a second and looked at me. He was illuminated from behind, and I felt at once as thought he might be propelled by the slipping sun into my arms."
About a painting: "Across the room, a shock of color drew me in. Violet again, plummy purple under brilliant turquoise and emerald, sand leaning into the water in a partnership of calm and roil; wheat-hued beach grass and scrub touched the sky. I wanted it."
The Isabella Stewart Gardner Museum opened in 1903. Thieves struck in 1990. That famous theft is not covered here, but it's another captivating true crime documented in several other books.
---
"The Magnolia Palace" by Fiona Davis is set mostly in the New York City home of the Frick family, whose material would later become known as the Frick Collection.
The story is told in two timelines: In 1919, popular artist's model Lillian Carter is already ageing at 21 and now "she was yesterday's news, no longer the darling of Bohemia." Besides being unable to find work and running out of money, she's somehow implicated in her sleazy landlord's murder of his wife; the police are looking for her, so she runs. Mistaken for a job applicant in the grand Frick house, Lillian finds herself hired as live-in private secretary to Helen Frick. It's the perfect place for her to hide out for a while.
Though the art-collecting Fricks are a semi-dysfunctional family, she enjoys the work and likes being surrounded by art.
In the second timeline, it is 1966. Veronica Weber, 18, has come to New York City on a modeling assignment, posing inside a large house that "was the residence of the Frick family starting in 1914. Henry Clay Frick was a steel magnate who loved art, and built the home with the express purpose of one day leaving the house and his extensive art collection to the city as a museum."
There's a mystery surrounding a large lost pink diamond. "It disappeared in 1919. Rumor has it that the family thought it was stolen, but oddly enough, a police report was never filed. No one has seen it since."
When Veronica is snowed in and stranded, alone in the house with the male archivist, the two stumble upon an artistic scavenger hunt of sorts. Eventually the two timelines come together and the mystery (well, more than one, really) is solved.
It's a good read.
---
The only problem with these books is the lack of photos. I wanted to see the pieces the authors mentioned! There are a few shown in "The Art Thief," but the others had me calling up Google searches on my phone so I could see what they were talking about. If you every write a book about art, for Pete's sake, throw in photos. And if you talk about paintings, make the photos in color!
---
Happy reading!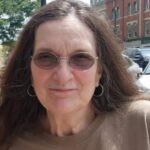 Mary Louise Ruehr is a books columnist for The Portager. Her One for the Books column previously appeared in the Record-Courier, where she was an editor.