Local volunteers find community in handcrafted sleeping bags
Cocoon Makers transform donated fabrics into sleeping bags for Portage County's homeless population
In the wake of her husband's death four years ago, Deloris Hudson found solace in a small group of mostly retired volunteers handcrafting sleeping bags to warm the people of Portage County who are homeless and sleep outside.
"It helped me through troubling times, sad times," Hudson said. "It's a therapy thing for all of us."
Now 86 years old, Hudson has been volunteering with Cocoon Makers for more than four years. The organization started at Portage Community Chapel in Ravenna about six years ago and has since moved shop twice and accumulated hundreds, if not thousands, of donated fabrics. You can find Cocoon Makers' handiwork at the local Salvation Army, Kent Social Services, the Center of Hope, Catholic Charities and various church meal programs. The group now operates out of the former Rausch Intermediate school building in Ravenna.
They made 65 quilts for the Haven of Portage County as it prepared its warming center and dozens more for Freedom House, a homeless shelter for veterans in Ravenna. They donate baby-sized quilts to The Center of Hope every year as well. Outside of local agencies, Cocoon Makers also distributes its sleeping bags through a few volunteers who hand them directly to people who need them.
But with the pandemic making weekly volunteering increasingly difficult, Cocoon Makers doesn't have as much inventory as it usually does. The group's founder Linda Sue Hall said they were locked out of their workshop during the pandemic, but they have been able to get in with special approval because they're down to only 21 sleeping bags. She said she fears having to turn down those in need during upcoming cold snaps this winter.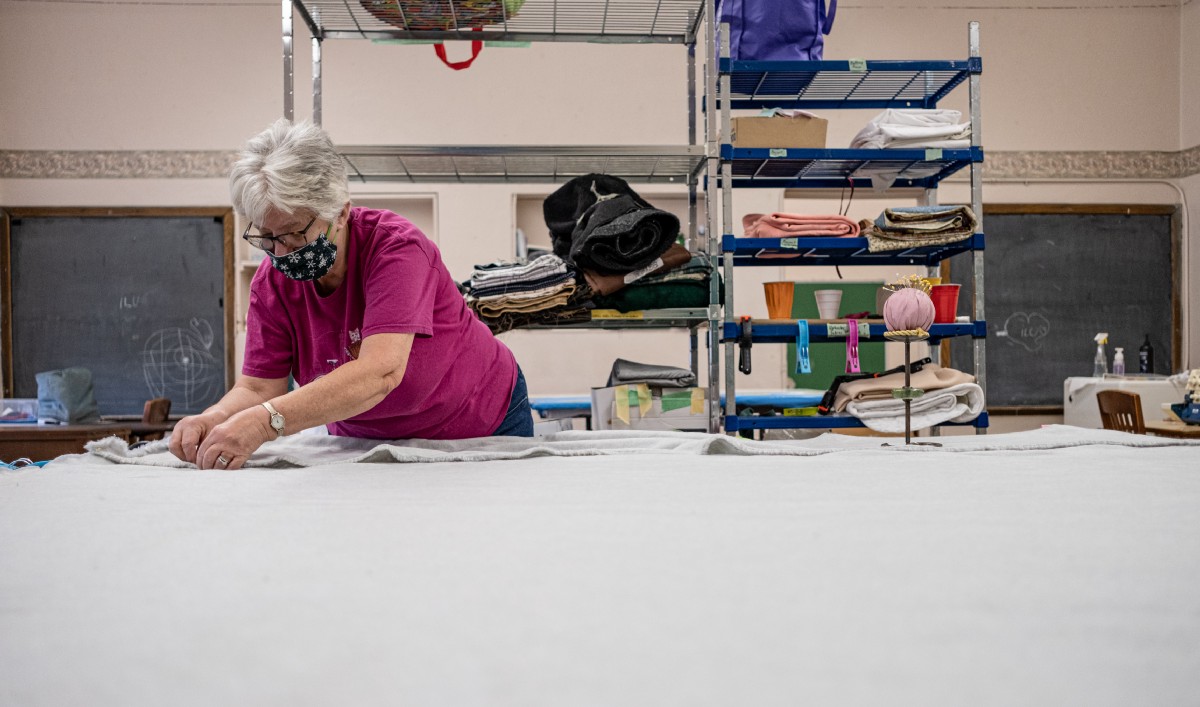 Hall founded Cocoon Makers nearly six years ago after visiting a senior center in Delaware, Ohio, that hosted a similar project, one of dozens that sprang up across the country stemming from The Sleeping Bag Project started by a woman in New York City in 1985. Hall had become increasingly aware of Portage County's homeless population at the time. She "prayed and prayed and prayed about it," she said, and ultimately decided Portage County could use some Cocoon Makers of its own.
"God has blessed all of us," she said. "All of us who do it have homes. Might not be the fanciest home in the world, but we have homes. And everybody, if you look around, you can find something you have that you can share with others."
Judging from Cocoon Makers' donation room, it seems everybody has, in fact, found something to share with others. Shelves of blankets, sheets, comforters and tablecloths line the room's walls, meticulously sorted by color and material by Marilyn Pol, a founding member from Rootstown who handles the group's intake.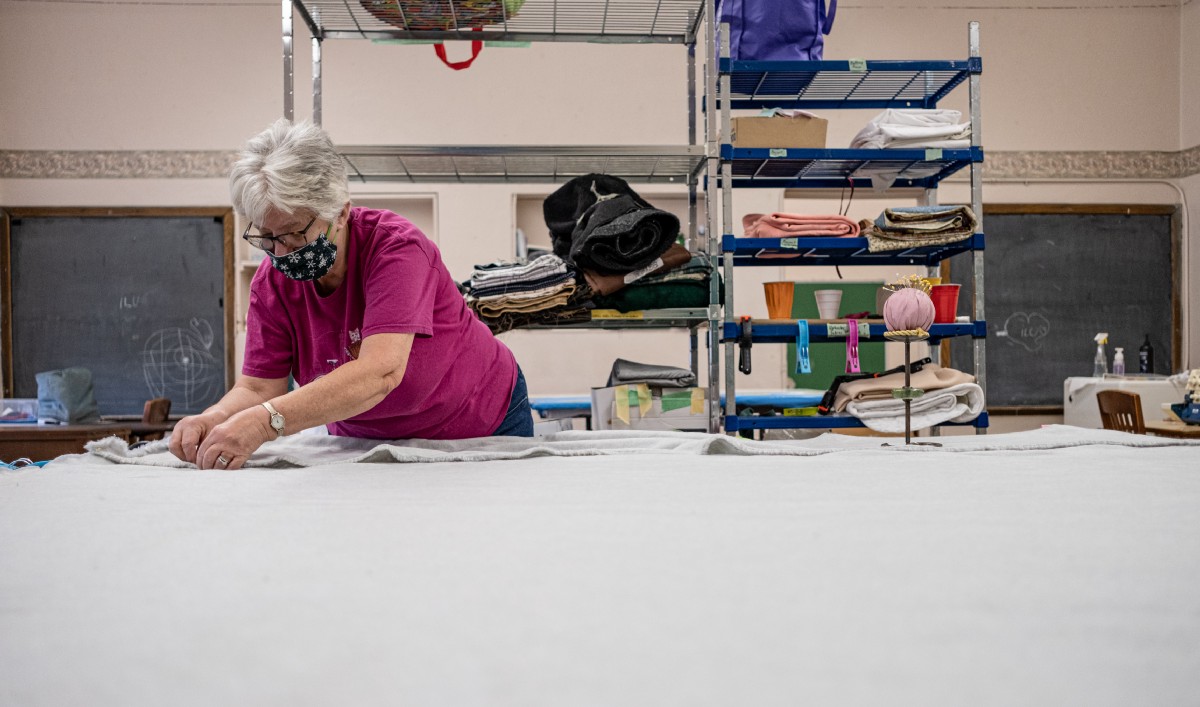 "Many times when I crawl into bed at night, and I'm laying there so warm, I just think of those who, for whatever reason, are in a situation where they're going to be really, really, really cold," she said.
Pol brings the required materials, a top, bottom, liner and filler, across the hall to Wilma Fiscus for cutting. Fiscus has volunteered with Cocoon Makers for almost two years now, and like many in the group, she said she does so because she enjoys both sewing and helping others in need. She sends the cuts downstairs where volunteers tie, sew and apply other final touches to the sleeping bags.
Gay Wetschtein, Barbara Sorkin, Hudson and Hall tied all the fabric slices together while Cathy Scibiur, Hudson's daughter, intricately ran freshly assembled sleeping bags through her sewing machine. The group puts heart into their work — literally, they sew a fabric heart onto each completed cocoon and tuck a prayer card inside because "God takes us from our little cocoons and makes us into beautiful butterflies," Scibiur said.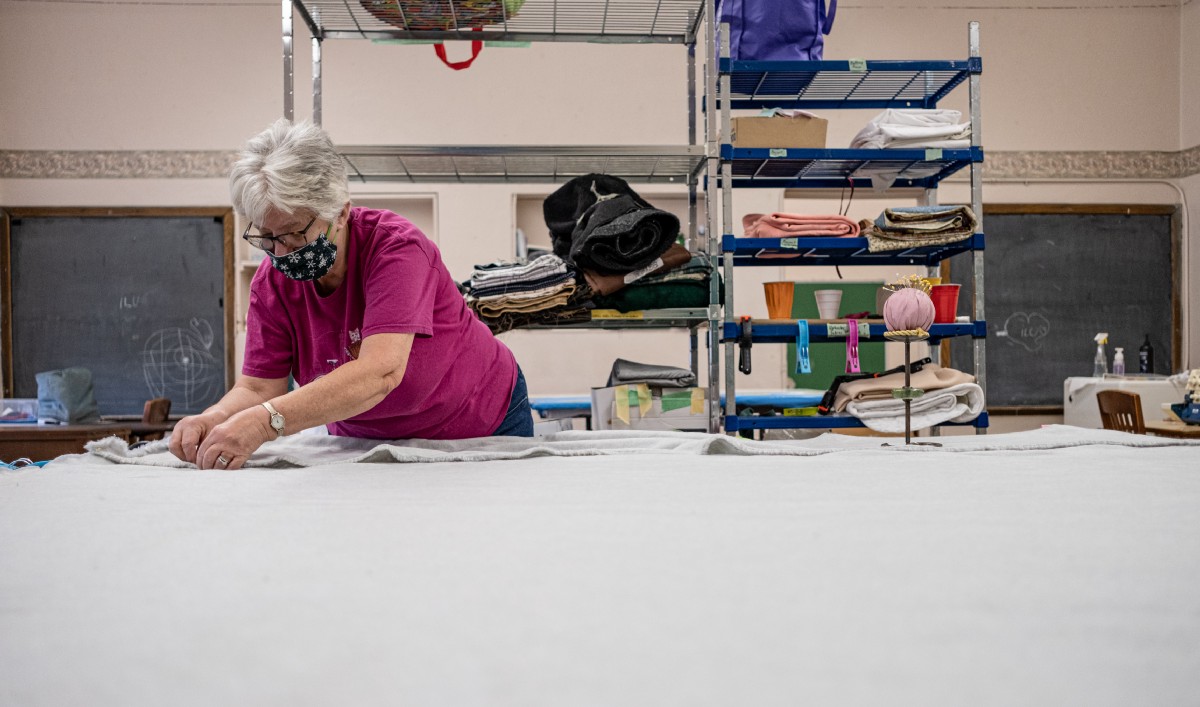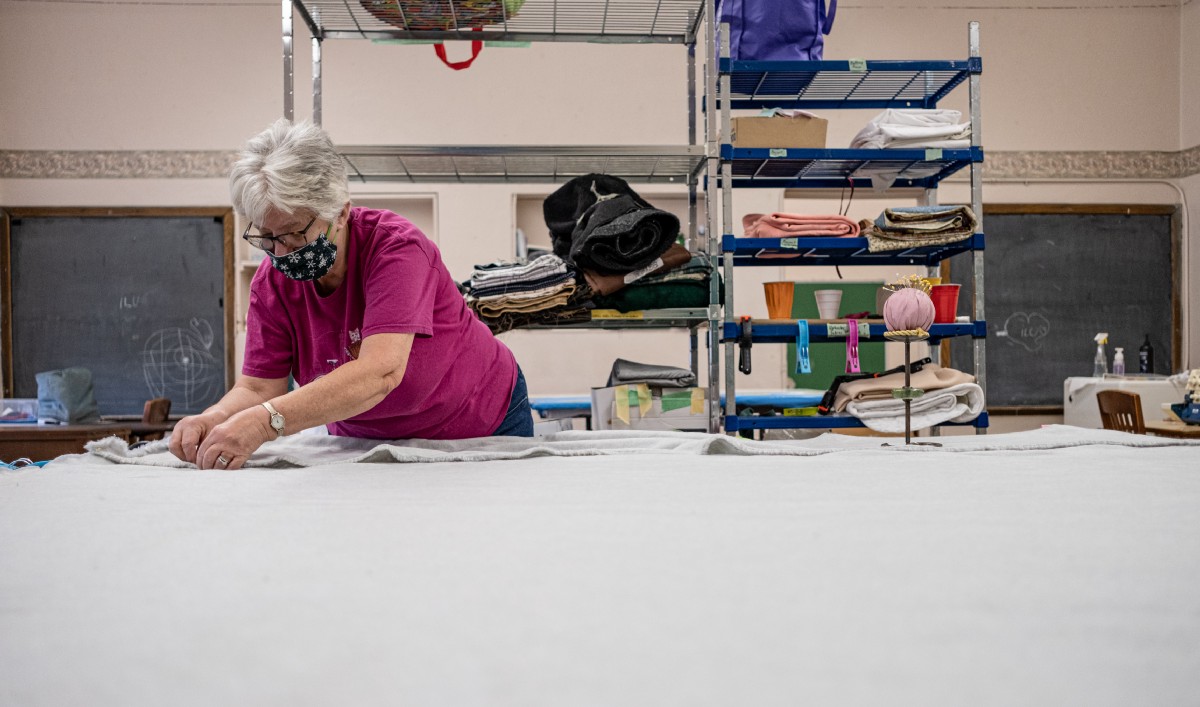 What began as Scibiur itching to test out a new sewing machine has led to nearly six years of service with Cocoon Makers, she said. Back when she started, she, Hall, Pol and three others would transform Portage Community Chapel's assembly room into a sewing shop once a week.
"We had to schlep everything in and out because they let us use their big assembly room, not their sanctuary, but their biggest assembly room," Hall said. "Well, naturally, they kept on having church, so one day a week, we would slip in everything: all the fabric, all the sewing machines, all the cutting supplies. But we did it and it worked."
The operation quickly grew too big to schlep, and within a year, Cocoon Makers set up shop rent-free in the former Ohio State University Extension building in Ravenna. Deloris Hudson's husband Jim Hudson owned it at the time, but he sold it about a year later. The group moved again to the former Rausch Intermediate School building, where it has remained for the last four years.
Despite the pandemic, a core of about seven volunteers still shows up nearly every Wednesday to work on sleeping bags. When a fire devastated a small homeless community in Kent earlier this month, Cocoon Makers donated 10 sleeping bags to Kent Social Services for those who lost everything.
"That's just what we do," Hall said. "Whenever there's a need, we try to fill it."
We're the only locally owned news source covering Portage County, Ohio. Our mission is to help our community thrive. Subscribe here.