In polls, some residents said downtown Ravenna "feels dirty" and prefer Kent. But commissioners want an upgrade that doesn't reduce available parking.
As Main Street Ravenna works on plans to build a more inviting city center, county commissioners are concerned about green space expansions that would reduce the number of downtown parking spaces.
Bill Barber, chairman of Main Street Ravenna's design committee, told commissioners Thursday that his organization had counted 140 parking spaces currently in the double lot behind the courthouse. His group's proposal would eliminate about 20 of those spaces, which would be sacrificed for grassy areas and other landscaping.
Some background: Main Street Ravenna is a Heritage Ohio Main Street program tasked with revitalizing downtown Ravenna, Executive Director Julie McClain told The Portager.
Their current idea is to bring the disparate areas of downtown Ravenna closer together, developing a "sense of place" instead of having downtown visitors simply walk past uninviting parking lots. Although the walk from some of the lots to the downtown area is only about five minutes, "when you walk through a park, it becomes a very enjoyable walk," Barber said during the commission meeting.
See the Downtown District Plan
But commissioners balked. They noted that the county has 90 employees as it is, and commissioners are considering adding a fourth judge, who would need additional staff and jurors when necessary.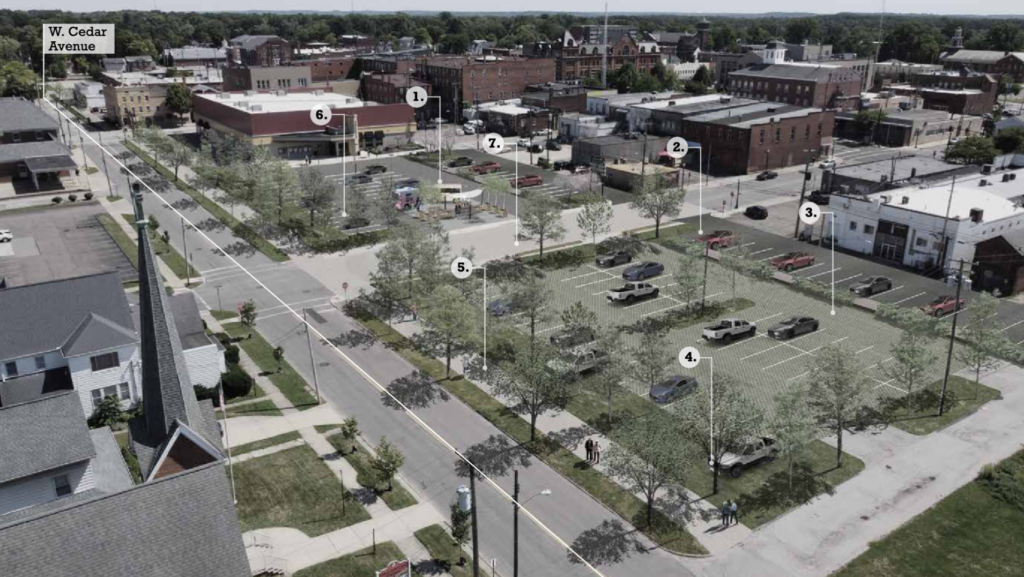 "What can we do with what we currently have, as opposed to taking away parking spots? We're going to need parking places," Commissioner Sabrina Christian-Bennett said.
Barber's comment that vehicles could park on the grassy areas of the lots during big events seemed to fall flat.
Former Record-Courier Publisher David Dix told commissioners he and a group of area business leaders had hired architect Jason Kentner, a Ravenna native, to come up with "a what-if type of plan" for downtown Ravenna.
"If you look around at towns, a lot of towns don't even have a downtown. Ravenna is very fortunate that it has a downtown that's grown up over the last 200 years. It's really a beautiful downtown," said Dix, a member of Main Street Ravenna's design committee.
Main Street Ravenna polled some of the city's younger residents and learned that they hang out in downtown Kent, where they can socialize outside, thanks to a variety of outdoor dining and gathering options. By contrast, they told Barber that Ravenna's downtown area "feels dirty."
According to McClain, all projects would be funded by whatever government or private entity owns the area being overhauled. While the overarching vision might be informed by Main Street Ravenna, the actual work, final design and timeline would be up to the various stakeholders, she said.
Saying it would be unwise to revamp all the parking areas at once, Barber prioritized Ravenna's "low hanging fruit," which he identified as the highly visible city and county lots. Because one of those lots is already scheduled for repaving in its current configuration, Christian-Bennett asked Barber to work with Internal Services Director JoAnn Townend for a comprehensive plan which would take all projects into account.
In other business:
Commissioners approved specs and set a bid date for the purchase of a 2021 or newer Class 3 medium truck for use by the Portage County Department of Homeland Security and Emergency Management.
They authorized $414,831 for five vehicles for the county water resources department. The funds are supported in the current budget and replace vehicles that are being rotated out of service, interim Water Services Director John Vence said.
Human Resources Director Janet Kovick and acting Finance Director David Lair discussed the county's employee wage scale with commissioners. The idea is to bring all wages in line with those of surrounding communities. No decision was reached: the administrators will continue to explore this issue.
Having informed the commissioners that she has received only one application for finance director, with only a week left in the posting, Kovick received authorization to extend the search. Lair is the acting finance director, having replaced former finance director Todd Bragg, who was removed by commissioners over disagreements related to how he communicated information. Commissioners approved Bragg's separation agreement at Thursday's meeting.
Replacing the Justice Center roof will cost about $905,000, Townend told commissioners. The roof was installed in 1992 and is in bad shape. "We have to do the roof this year for sure," Townend said. She will work with an architect to determine options for remodeling the administrative side of the justice center. Flooring has already been installed, so employees are no longer tripping over uneven tiles, she said.
Commissioners also:
Accepted the resignation of Job and Family Services Executive Assistant Anita Shapasian and will advertise for a replacement.
Hired George Slovinsky as a full-time Job and Family Services Specialist, replacing Corrina Gross. Slovinsky's hiring is contingent on his passing required pre-employment testing.
Approved wage increases for water resources employee Zachary Verrona, who passed the necessary exam and obtained enough on-the-job experience to qualify him for Wastewater Treatment Plant Operator 1.
Revised the county building department office manager's job description and approved the office manager, Linda Markijohn, for a pay raise. County building department clerks Michelle Conner, Christine Owens and Jeanne Simyak also scored pay raises. Their job titles have been changed to Permit Technicians.
Authorized Townend to hire a full-time employee to handle office manager/clerk duties in her department.
Wendy DiAlesandro is a former Record Publishing Co. reporter and contributing writer for The Portager.