The Theodore Roosevelt High School class of 1972 celebrated its 50th reunion June 10-12 by touring the high school building, paying respects to deceased classmates, and enjoying a reception and dinner, among other functions held over the weekend.
Reunion events took place at locations around Kent, including the high school, the gazebo adjacent to Over Easy At The Depot, Standing Rock Cemetery, and Laziza restaurant. The schedule of events was organized by classmate Dave Broman along with the help of 28 others.
The reunion began at 4 p.m. June 10 with a group of attendees touring the high school, which is currently undergoing construction as part of a district-wide renovation project to build a new sports field, gymnasium and field house.
"When we were graduating they were building the pool, they were building the auditorium, but it was not open yet," Broman said. "But they just built the stadium, so we were one of the first classes to be in the new high school stadium, which is still there. But it was kinda cool, a lot of it looked the same. I saw a couple of my classmates going up and trying to open their lockers. They still knew their combinations, but it didn't open, they change them every year. It was funny to watch them."
In 1972, the U.S. was still involved in the Vietnam War and Title IX of the Education Amendments of 1972 was enacted, a federal civil rights law that prohibits any educational program or activity that receives financial assistance from the government to discriminate on the basis of gender.
"It was the early '70s and the world was somewhat crazy," Broman said, "not as crazy as it is now, but it was somewhat crazy; a lot of politics, the Vietnam War was going on. When we were graduating in '72, a lot of the men had draft numbers. I was number one, one of my buddies was number four. Nixon was president and he ended the draft three months later, so I didn't have to go. I went on to my career at Kent State as a college student, but it was a beautiful time. They just opened Title IX, which was girls sports."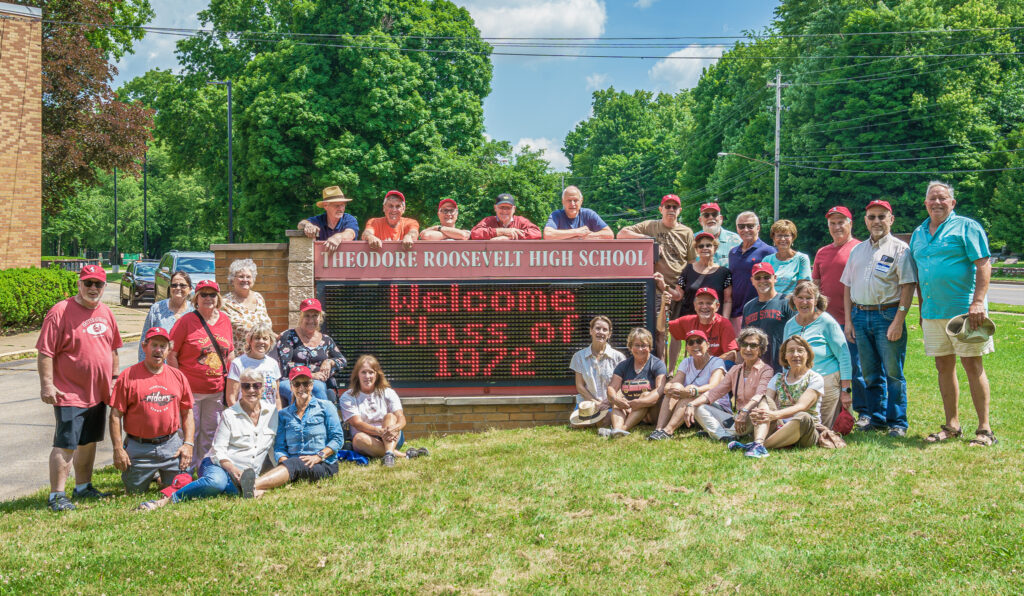 Classmates met at the gazebo adjacent to Over Easy At The Depot on Friday evening for socializing and reminiscing. The following morning, 10 classmates met at the same location for a walk to the high school for a photograph at the monument sign in front of the school, followed by a tour through nearby Standing Rock Cemetery to place carnations on the graves of deceased classmates.
That evening, the group met at Laziza restaurant for a reception and dinner. A slideshow of vintage pictures was projected as entertainment.
Broman said Roosevelt's class of '72 had several talented athletes, among them Greg Boykin, a star football player who was drafted by the New Orleans Saints and also played for the San Francisco 49ers.
"There was a lot of talent, and a lot of our sports teams were very successful, and when you have that it feeds into the whole class, and it creates this common bond," Broman said. "We were just very fortunate people, and it's continuing to this day with being able to share each other's company."