Beyond the stark and unrelenting fact that Kelly was dead, there was nothing.
Kelly Reeves, just 16 months old in 2002, had improbably choked on a pretzel during a car ride.
Nothing was going to bring her back, no matter how often her 5-year-old brother said so. The lives of Stow residents Cathy and Bob Reeves and their remaining two sons were forever changed. There is no way to prepare for such a thing or to predict what might come next. They had no notion that just seven years later they would have a foundation, a therapy center and eventually a waiting list of clients, all coping with loss like them.
At the time, the Reeveses found themselves trying to find a new way to live. They accompanied their sons to grief counseling. Individual therapy. Group therapy. It's not what a stay-at-home mom and the owner of a construction/landscape company had in mind.
Slowly, therapy at Kent's Counseling for Wellness enabled them to eventually function and assimilate their loss.
Then, a random phone call. On the other end of the line was a woman who had lost her two children to suicide. A friend of hers knew the Reeveses and suggested she reach out. The woman couldn't afford counseling even with insurance, and was hoping the Reeveses could suggest a lifeline. Anything. She'd tried support groups with volunteer facilitators, but even they knew she needed more.
Cathy Reeves spoke with her counselor and then decided to create the Kelly Reeves Memorial Foundation. It would, Reeves said, provide healing for anyone suffering from grief, no matter their financial situation. The Foundation would foot the bills, thanks to donations from individuals and a smattering of fundraising events.
Insurance wouldn't matter.
"Kelly clients," as they were known, were served at Counseling for Wellness until the need became too large. There were too many people and too much loss.
In 2009, the Reeveses opened Kelly's Grief Center in Acorn Alley in Kent. Today, Kelly's Grief Center provides individual and group therapy to almost 100 people at a time struggling with loss, not the least because of Covid.
Individual therapy continues for as long as the counselor and client deem necessary. It could be a few months. In Reeves's case it was six years.
Groups meet for eight to 10 weeks and focus on devastation that could include overdose, miscarriage, loss of an infant or child, suicide, loss of a spouse or loved one, or general loss. Each group is facilitated by a licensed counselor, and participants are sometimes given "homework" to help them process their pain. Younger children may create memory jars or boxes; older participants may light candles and add a note to the center's memory tree.
Each week focuses on a different topic. The center's clients, now aged 5 to 90, accumulate coping skills to deal with their loss, and to deal with anxiety of their loss, Reeves said. Time passes. One week, five, eight, 10.
By that 10th week, "most of them know that this is their new normal and they now have to face their grief in their way," Reeves said.
Reeves said the Covid pandemic and opioid crisis have brought clients to the center, which offers virtual sessions as well as group therapy. Kelly's Grief Center recently started accepting insurance, and the Foundation picks up the tab for clients who cannot pay all or part of their bills. Annual donations of some $30,000 from individuals and fundraising events help. The Foundation sponsors an annual golf outing each September at Fox Den Golf Course in Stow. This year's proceeds totaled almost $50,000.
Since many of the group sessions are in the early evening, Reeves makes sure to have a good supper on hand. It's free. For those who are unable or unwilling to attend in person, virtual sessions are an option.
Barry (not his real name) lost his wife of 20 years recently. He participates in individual and group therapy at Kelly's Grief Center. Though the sessions are difficult, he looks forward to them and feels better after each one — at least for a time.
Though profoundly lonely, attending the group sessions lets him know that he is not alone.
"I get a sense of what's normal so I don't feel like what I'm going through is not normal. I get some tools to deal with things that are normal, that I don't know how to deal with on my own," he said.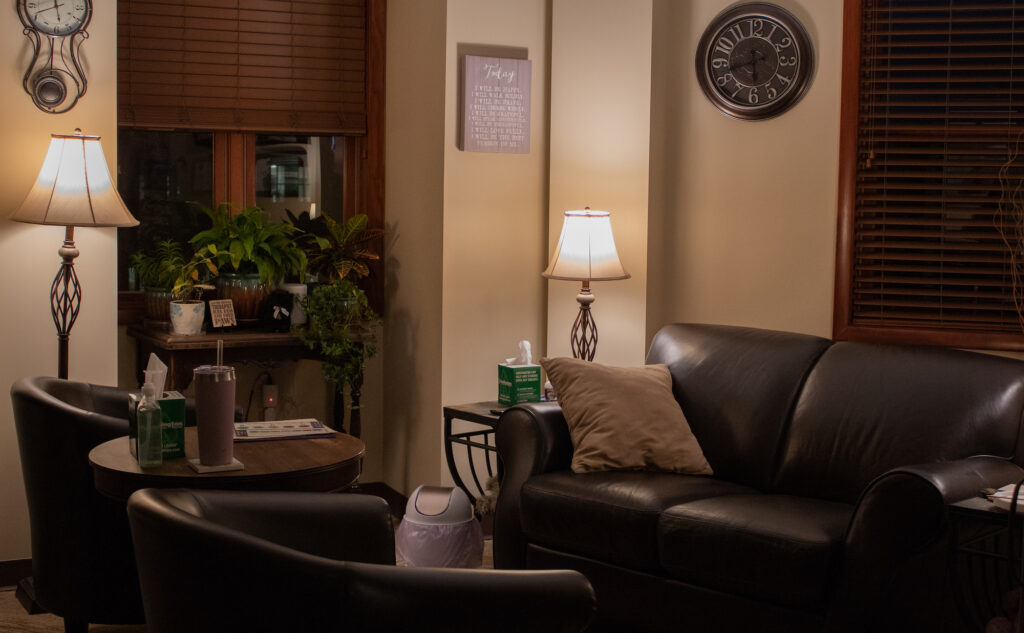 Challenges include being unable to sleep and feeling so overwhelmed with grief that he wants to cry at inappropriate moments. At Kelly's, Barry is learning how to manage his life, including scheduling time to fall apart so it's at home and not at work.
He finds it useful to be able to talk to someone in a non-judgemental environment, knowing he is not upsetting anyone while getting useful feedback. He's received recommendations for books to help him process his grief, and ideas from other people.
"Kelly's is useful in that it is designed to help you move through this process of grief, assuming that there is a beginning or end or direction," he said, adding that it helps him to have a sense of where he is in the process.
Group therapy is not to be started until three months after loss, Barry said.
That is professional guidance, Cathy explained. Clients wouldn't be turned away, but would be encouraged to see an individual counselor first. It takes a few months until clients are able to share their stories and accept suggestions from others, Reeves said.
"For the first three months you're just in shock, you don't even know what's happening," Barry said. "I don't think people are ready in the first three months to approach this therapeutically. They're just trying to get through the day."
Also, the thought of dealing too soon with people who could unintentionally lead him back into what he calls "that pit of despair" was simply too much to face. Not then. Even a year later, he doesn't want to go back to that darkness if he doesn't have to, he said.
Barry lauds Kelly's Grief Center as unique in its focus, and hopes more people will take advantage of its services. It seems more are: Reeves says about 20 people are on a waiting list, but she is in the process of hiring more counselors and looking for an even bigger venue.
To schedule an intake interview, contact Kelly's Grief Center at 330-593-5959. They don't deny services because of an inability to pay. To donate to the foundation, visit the website at kellysgriefcenter.org.
Wendy DiAlesandro is a former Record Publishing Co. reporter and contributing writer for The Portager.