Under normal circumstances, a new Kent State football coach is tasked with dragging a forlorn Golden Flashes program from the dark, musty corners of the Mid-American Conference basement and into college football's radiant light of day.
But normal circumstances aren't greeting new Flashes head coach Kenni Burns — and that speaks volumes about the job Sean Lewis did in his five paradigm-shifting seasons in Kent.
In those five years, Lewis went where no Kent State football coach has gone before: the winner's podium at a bowl game. Lewis' Flashes defeated Utah State in the Frisco Bowl to conclude the 2019 season, representing the program's only bowl victory to date. Lewis followed that up two seasons later with a MAC East Division title and conference runner-up finish, duplicating the exploits of the 2012 team when the Darrell Hazell-coached Flashes won the program's first MAC divisional crown.
When he took over in 2018, Lewis faced the customary Herculean rebuilding (or, more accurately, building) job that has confronted most KSU coaches. He inherited a program that hadn't won more than three games in a season since winning a grand total of four contests in 2013.
After a 2-10 growing-pains season in his first campaign, Lewis not only dragged the Flashes out of the MAC cellar, he nearly pushed them to the top of the conference mountain. Lewis' final record at KSU was 24-31 – but after that 2-10 season in Year 1, his teams went 22-21 with a conference divisional title and two bowl appearances.
His teams also went 19-17 in MAC play in his five years. To put that in perspective, only two Kent State coaches since the mid-1980s have posted winning records within Mid-American Conference play: Glen Mason, who went 10-6 in 1986 and '87; and Hazell, 12-4 in 2011 and '12. And before Mason, you have to go all the way back to Trevor Rees to find a Flashes coach who had a winning record in the Mid-American Conference. Rees went 39-33 in MAC play from 1951, KSU's first season in the conference, to 1963. The legendary Don James, coach of Kent State's iconic 1972 MAC champions, broke even at 10-10 from 1971-74.
So while Lewis will be breathing thinner air in Boulder, Colorado, as Deion Sanders' offensive coordinator at the University of Colorado, he was breathing rare air in Kent, Ohio. Because almost no one before him was able to do what he did.
But how did he do it?
Lewis came to Kent tagged as one of college football's young, innovative offensive minds — and he recruited accordingly. MAC schools aren't blessed with Mount Everest-sized recruiting budgets, so as the head coach of a mid-major program, Lewis had to prioritize: Pluck as many can't-miss offensive recruits as possible, and take his chances on the defensive side of the ball. The thinking was pretty much: We might give up 40, but we'll score 41.
It's a philosophy common in the small-dollars world of mid-major football, and it worked. Lewis only enhanced his reputation as one of the game's bright, up-and-coming coaches in his five years in Kent. Lewis called his offense "Flash Fast," because the Flashes ran plays quickly and scored points in bunches, operating at a furious pace that often left defenses exhausted and confused. It was fun for the players to execute and fun for fans to watch.
Kent State did finish 5-7 overall in 2022, but the losing record comes with a giant asterisk: three of those seven losses came on the road to Power 5 heavyweights Washington, Oklahoma and back-to-back national champion Georgia.
Now comes Kenni Burns, another offensive-minded coach who brings a well-heeled pedigree with him to Kent State. A running back at Indiana from 2003-06 in his playing days, Burns was part of three FCS national championship teams as wide receivers coach at North Dakota State from 2010-13 and served as assistant head coach to P.J. Fleck at the University of Minnesota since 2019, where he also coached running backs. In that role, Burns helped develop Mohamed Ibrahim, one of the top college backs in the country who rushed for 4,597 yards and 52 touchdowns in his Golden Gophers career.
So expect continued emphasis on offense under Burns — this is an offensive-minded era in football anyway — but the method of attack will likely look different. Burns has also developed a solid reputation for his ability to handle personnel. While his name has been linked to head coaching jobs before, Burns' stock soared in 2021 when Ibraham suffered a season-ending injury in the first game of the season against Ohio State, yet Burns somehow patched together a running back-by-committee effort, led by a pair of true freshmen, that combined to rush for more than 1,500 yards in Ibrahim's absence.
So Burns knows how to rally the troops. Which will come in handy for the first-time head coach, because the college football landscape now is an alien world compared to the one that greeted Lewis for his first season in 2018. Between the utter chaos of the transfer portal and the omnipresent temptation of Name-Image-Likeness deals, coaching a mid-major has never been more treacherous.
Or unfair.
Not only can't a coach count on who will be on the roster from one season to the next, we've now entered a dark era when coaches can't count on who will be on the roster from the beginning of the season to the end. Consider that in December alone, the Flashes lost quarterback Collin Schlee, leading rusher Marquez Cooper and receiver Dante Cephas to the transfer portal. It's an impossible situation for most coaches at most schools, but it's magnitudes more difficult for the Kenni Burnses and Kent States of the college football world. The greener pastures of Power 5 programs and their accompanying NIL deals are a clear and present danger to mid-majors from coast to coast. The schools themselves aren't supposed to be associated with NIL contracts, per NCAA rules, but you'd have to be sitting in the back of the turnip truck to believe their wizards aren't twisting the dials behind the curtain.
Of course they are, and coaches like Kenni Burns will just have to find a way to make it work. He will have to adjust to life in the new college football reality, familiarize himself with this alien landscape and somehow, through it all, keep Kent State football relevant in the Mid-American Conference.
But thanks to Sean Lewis, he at least has a fighting chance.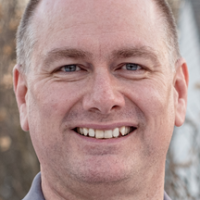 Tom Hardesty is a Portager sports columnist. He was formerly assistant sports editor at the Record-Courier and author of the book Glimpses of Heaven.