Nearly 50 community members and dog trainers gathered Thursday evening at a Freedom Township trustees meeting to address the actions of Trustee John Zizka, who they say has "abused his power" and "overstepped his role" in attempting to shut down a new business.
Michelle Filler said she and her husband invested their life savings into buying and developing a 25-acre commercial space in Freedom Township to relocate her business, Duke's K9 Dash 'N Splash, a dog training facility that offers dock diving lessons and competitions.
But Zizka and chairman Roy Martin say the company is operating in violation of township zoning laws, and they are seeking legal advice about how to proceed. Filler fears the township is trying to shut down her business.
Martin and Zizka's primary objections to Filler's business are that they have received complaints from neighbors about the noise levels, and they believe dog training does not fall within the scope of animal husbandry — even though Filler said she has an email from Assistant Prosecutor Brett Bencze that says it does.
"You must have received different emails than we received, because the emails we got from the prosecutor's office outlined the requirements for being ag exempt. It did not say you were ag exempt," Zizka responded.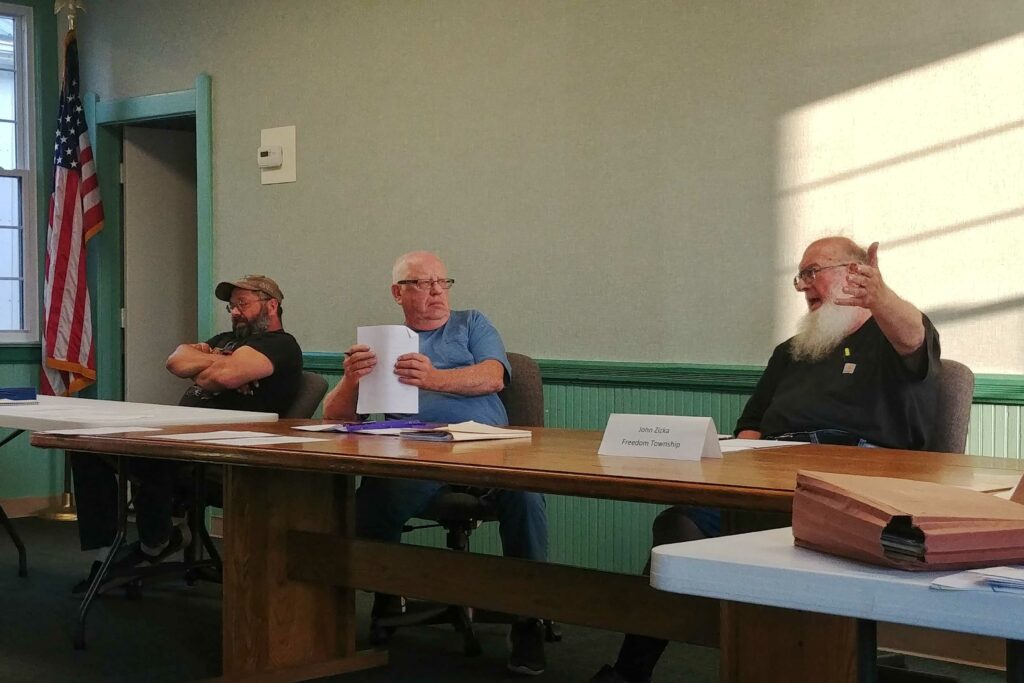 Since they acquired the property in December, Zizka has pushed back "week after week, month after month" against fellow trustees, zoning inspectors and even a Portage County prosecutor, stating Filler does not have the proper permit to continue her business, she said.
He also asked the assistant zoning inspector to issue a zoning violation advisory against Duke's on June 10, stating Filler was out of compliance and needed to file for a conditional use permit in order to run her business, Filler said.
"I did not ask the assistant zoning inspector to send the letter. She did that because she checked with [Gerald Apple, the former zoning inspector] and he didn't want to do anything about it, so she took it upon herself," Zizka said.
Apple was unaware that the violation advisory had been filed, Filler said. He was in attendance last night but did not speak publicly.
Last week, The Portager reported that Apple resigned because he claimed Zizka "subjected [him] to a barrage of toxic criticism," a "harsh work environment," and "unpleasant verbal attacks."
Freedom Township has employed four zoning inspectors since March 2019. "This harassment of zoning inspectors has been an ongoing situation for years, yet nothing has been done to address this issue," Apple wrote in his resignation letter dated June 17.
Filler said she was prompted to attend the July 1 meeting with her customers, employees, volunteers and other concerned community members after receiving the zoning violation advisory and a visit from the Portage County Health Department last month.
The visit from the health department occurred sometime in June after a neighbor complained to Zizka that Duke's did not have a proper septic system to accommodate campers at an event on the property, Zizka said.
"I am here tonight to let the other trustees know, to let the community know, and to let you know, Mr. Zizka, that the harassment stops now. This is not the way that you treat a new family and business moving into your community," Filler said.
Before she closed on the property, Filler said, she repeatedly tried and failed to get straight answers from Trustee Jeff Derthick, Former Zoning Inspector Mike Baker, and Zoning Board of Appeals Chair Ben Fashing about whether she could build her business on the property.
At that point, Filler said she hired an attorney who confirmed her business would not be required to go through the permitting process since it fell under an agricultural exemption for animal husbandry, she said.
Residents said they did not understand why the trustees were giving Filler so much pushback.
"I've been in Freedom Township my whole life — since I was born," one resident said. "There's nothing to do here. I go to other townships because there's nothing here. Finally, we have this. I went with my friends last week, and it was so much fun."
She continued: "I don't understand why we don't support new businesses in this area. Why do we want to hinder any business growth? Why are we making it so difficult?"
Another resident observed that she lives near a farm on Asbury Road and deals with loud noises, foul smells, and the dust and debris that come with running a farm on a daily basis. "You know what? [Neighbors] have to deal with it, because it's agricultural. That's part of the job. I just think this is aimed at [Filler] for no reason — if you're going to say that to her, you might as well start calling out" other agricultural businesses, she said.
Those in the group attending the meeting with Filler pointed out that her business trains herding dogs, search and rescue dogs, dogs that protect crops and chickens from being eaten, and therapy dogs training to work with people living with PTSD, seizures and diabetes. "They're all working animals," one person said, so why isn't the business classified as agricultural?
Derthick disagreed with Martin and Zizka's assertion that dog training falls outside of what could be considered an agricultural business.
"I've got two kids that show horses. You can take the word 'dog' out of everything [Filler]'s doing over there and you can put the word 'horse' in it, and that makes it agriculture. And that's where I stand, period," he said.
"You guys have been out of 4H too long," Derthick told Martin and Zizka, eliciting laughs from attendees.
The stakes are high for Filler: If she is unable to continue operating her business, she'll have to file bankruptcy immediately, she said. "My current residence is mortgaged to buy and build this, along with every single credit card between me and my husband."
Martin said the trustees need to meet with legal experts to revisit the matter. Until then, trustees recommended Filler resolve the situation with the neighbor making the noise complaints and continue to keep up other agricultural endeavors on her property, such as raising chickens and growing vegetables.
When she addressed the trustees, Filler listed the ways her business contributes to the overall health of the local economy, beyond generating tax revenue. "In addition to our weekly regulars, hundreds of people traveled from all over the country to our business to participate in our monthly competitions, bringing in revenue to a township they otherwise would never even have heard of."
"We are putting Freedom on the map in the most wholesome, family-friendly way any business could by encouraging people to get outside and play with their dogs," she said. "What community wouldn't want this kind of business to move into their town?"
Troy Pierson of Ohio News Connection contributed reporting.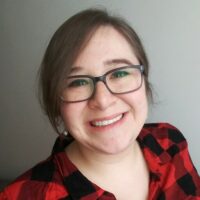 Lyndsey Brennan is a Portager general assignment reporter. She is completing her master's degree in journalism at Kent State and is an alumna of the Dow Jones News Fund internship program. Contact her at lyndsey@theportager.com.