Massive orange flames engulfed the iconic red barn at Dussel Farm and Feed Store in Brimfield on Saturday afternoon, while billowing black and gray smoke rose against a blue spring sky. Within hours, it was gone.
Multiple fire departments responded to the call to 1109 Old Forge Road in the early afternoon, the Brimfield Fire Department posted on its Facebook page. They said there was no information about the cause of the fire.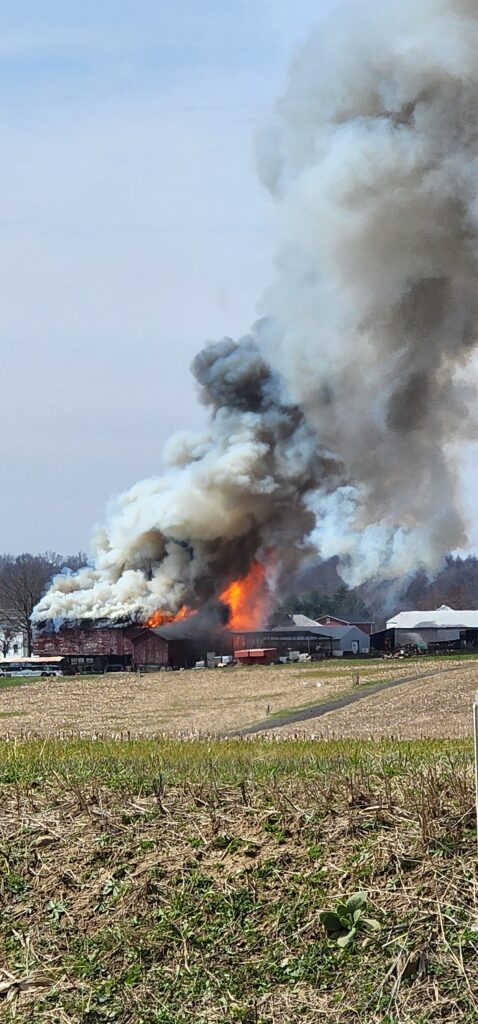 The call to the fire department went out at 12:25 p.m., said Dussel Farm co-owner Linda Dussel in an interview. The barn housed straw, hay, feed equipment and other seasonal barn supplies. No employees or animals were in the barn when the fire started.
"From the time we called to the time the fire department got here, which wasn't that long, it was totally in flames," Dussel said.
A video posted to Facebook around 1:20 p.m. showed a charred wooden frame, devoid of siding, outlining the front section of the barn while flames continued to devour the center and back sections. A drone video of the fire posted on YouTube by Rubber City Aerial Photography's Zac Riter shows at least five fire trucks, including a ladder track, near the crumpled heap of burned timbers, with several areas of the destroyed building still in flames.
The Brimfield Fire Department arrived at the farm first, Dussel said. But since there were no fire hydrants on the property, they called in water trucks from seven other fire departments to help extinguish the flames.
After getting the call about the fire, Brimfield Fire Fighter Matt Naylor drove from his home to Dussel Farm.
"Whenever there's a fire, like a big fire like that, they send out a pager," Naylor said. "People will come just to help."
The family owned and operated Dussel Farm is known for its farm supplies, pumpkins, corn mazes and fruit and vegetable market. On the Brimfield Police Department Facebook page, many visitors and neighbors remarked about trips to the farm year after year to pick out pumpkins with their families.
"That is so sad," Genna Monk wrote in a Facebook comment. "I have many pictures of my kiddos growing up in front of that barn from our pumpkin patch purchase adventures."
Other commenters reported seeing smoke during their commutes through Brimfield.
"Praying that no one was hurt," wrote Dianna G. Phillips. "This fire is devastating — I saw the smoke in Kent when I left our church, and was so sad when I drove by and saw where it was. A real blow for this farm and family."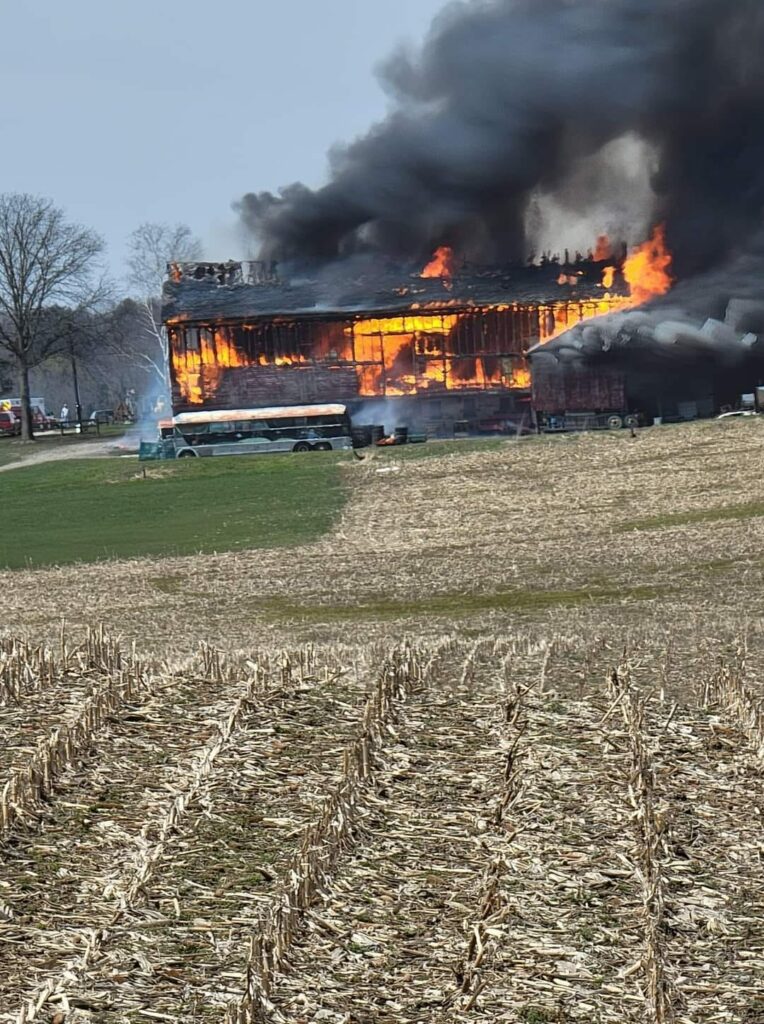 Members of the community stepped up to offer support, help rebuild or provide food to the family after the fire was put out, Dussel said.
"Thanks to all the neighbors and friends and family that have offered their prayers," Dussel said. "It's amazing … how many people come out when you need them."
Police blocked off entry to Old Forge Road at the Tallmadge Road and Sunnybrook Road intersection while firefighters were on the scene until about 3:40 p.m. The Brimfield Fire Department returned to the farm around 10:30 p.m. Saturday to extinguish any remaining "hot spots," Dussel said.
The Dussel Farm Feed store is still open for normal business hours, and Dussel said the fire will not affect plans for the vegetable market this summer.
Fire Chief Craig Mullaly and Assistant Fire Chief Ron Goodspeed were not immediately available for comment.
Zaria Johnson is editor of KentWired.