William Byrd Johnson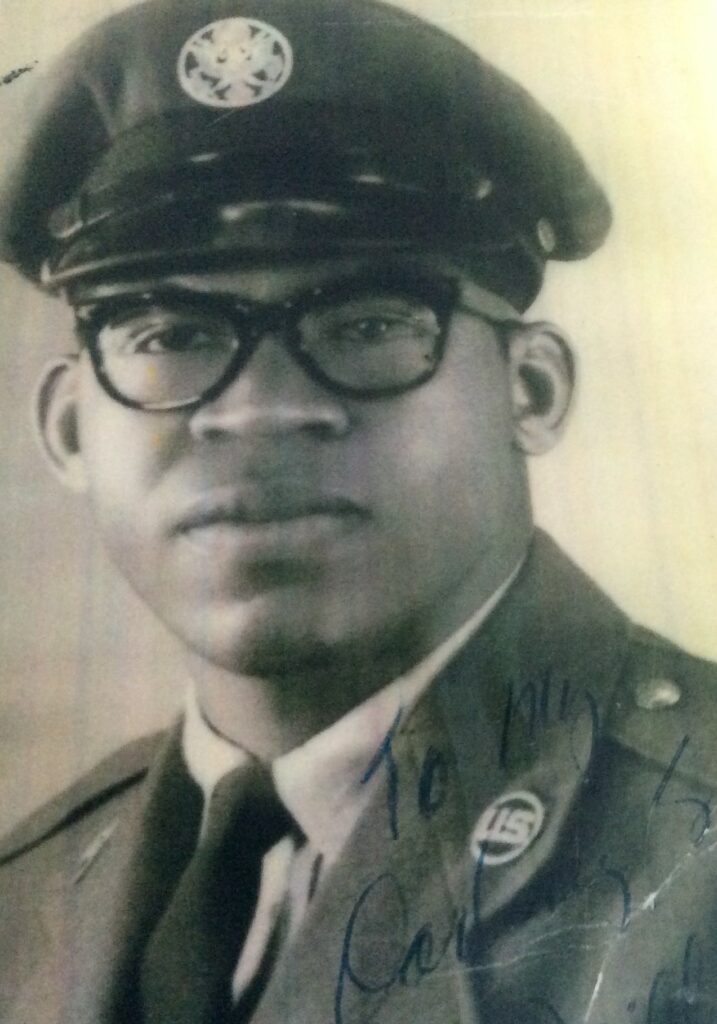 William Byrd Johnson entered the world on August 29, 1939 in Kent, Ohio, the last of twelve children born to John and Dora Johnson. He attended Theodore Roosevelt High School from which he graduated in 1957. In February, 1959, after some career counseling from his mother, William enlisted in the United States Air Force where he served his country honorably for eight years. While stationed in Tampa, Florida, William met Alberta Dixon, the daughter of a minister of the African Methodist Church. They were married in 1963 on the MacDill Air Force Base in Tampa. Of this union was born two children: Felicia Daika and Benjamin Webster.
During his tenure in the air force, William spent fifteen months in England, Spain, and Portugal serving in the Air Refueling Wing of the Strategic Air Command. He also spent a year on the Turkish Air Force Base in Eskeshir, Turkey. During his time in the service, he continued his education by enrolling in extension courses offered by the University of Wyoming. Upon his discharge from the Air Force, William became a full-time student at the University of Wyoming, receiving a Bachelor of Science in Accounting in 1970. Shortly after graduation, he started working at the Internal Revenue Service – a career that lasted more than thirty
years.
In 1979, William received a promotion from the IRS, and moved with his family to Houston, Texas. Here, they joined the Wheeler Avenue Baptist Church where William served as a Boy Scout Leader until his illness made that impossible.
William always loved family and community and was a great supporter of the arts as well as his favorite charities. In spite of his debilitating illness, he was willing and able to continue to help friends and loved ones with advice and support throughout the years.
He leaves to celebrate his life two children, Felicia and Benjamin; three grandchildren, Kambui, Nuari, and Nife LeBlanc; two great-grandchildren Aje Lee LeBlanc-Riley and Musa Bray LeBlanc Riley; a whole host of nieces and nephews, cousins and lifelong family friends.
A memorial service will be held at 11:00 A.M. Thursday, August 17, 2023 at Bissler and Sons Funeral Home, 628 W. Main Street, Kent, OH 44240 with burial to follow at Standing Rock Cemetery.
To Share a Memory, Light a Candle, or Offer a Condolence, visit the Tribute Wall at www.bisslerandsons.com
Darlene R. Douglas
Darlene R. Douglas, age 68 of Ravenna, passed away Thursday, August 10, 2023, at Mercy Hospital in Canton, Ohio.
Robert L. Kline
Robert "Bob" L. Kline, age 72 of Mantua, passed away August 11, 2023, at UH Portage Medical Center.
Gretchen (Vosper) Laflin
Gretchen Laflin, 90, of Kent, passed away on Friday, August 11, 2023 at Cleveland Clinic Justin T. Rogers Hospice Care Center. She was born in Woodsfield, OH on January 27, 1933 to the late Harley and Hazel Vosper and was employed as a secretary at Kent State University for 25 years.
Chi H. Hsia
Chi H. Hsia 92 of Streetsboro passed away Friday, August 11, 2023 at Medina Inpatient Hospice Care. He was born November 13, 1930 in China to Yuen Chiu and Hei Sau (Yu) Hsia.
Dorothy J. Simone
Dorothy J. Simone 87 of Aurora passed away Thursday, August 10, 2023 at Ahuja Medical Center. She was born July 31, 1936 in Lowellville, OH to William and Edith (Kale) Mayberry.