By Brad Bolton
Downtown Kent was going to dramatically change in 2010, and I wanted to photograph that area before and after the construction. All the empty lots north of Haymaker Parkway were slated for new buildings in the next couple years, and the best place to photograph the change was from the top of the Star of the West mill.
I knew the manager, Red Michel, through music. Luckily he agreed to take me up to a high window in the plant, but to get there, we had to snake through a lot of the workspace. He let me take photos along the way. I grabbed shots as fast as I could while walking. Red didn't have time to wait around.
The place was like the Land of Oz, but made out of machinery ranging from brand new to 100 years old.
Tubes of all sizes went all directions throughout most of the place, as if I was walking through a large animal's circulatory system. A large room was full of big vibrating boxes, moving so fast that they were a blur.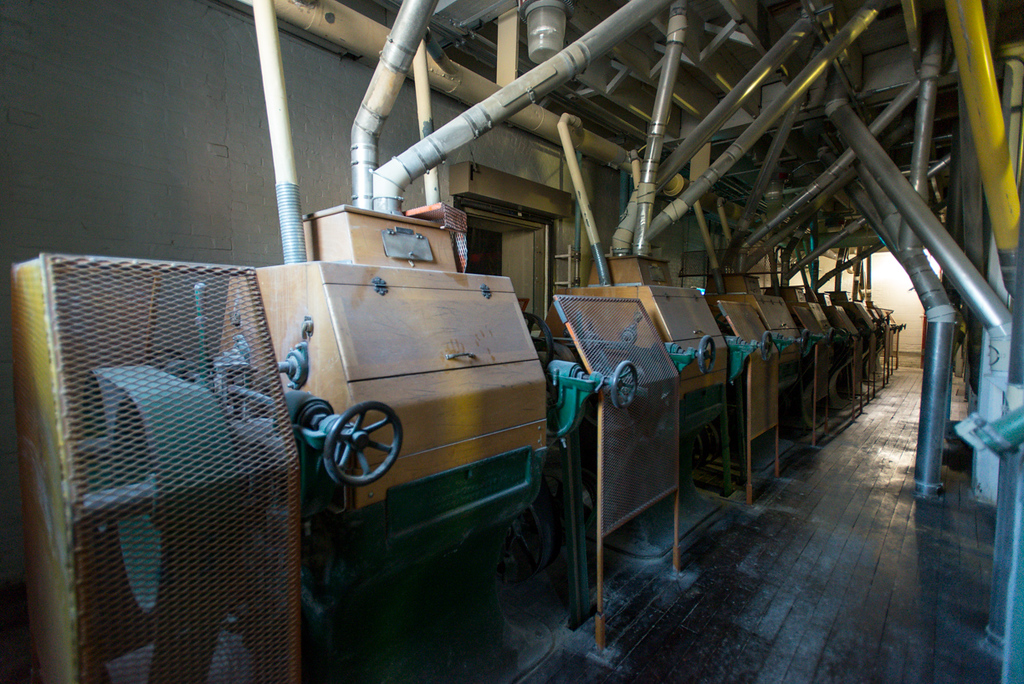 One wall appeared to be covered in thin lath strips like the interior of old houses, but each strip was actually the edge of a 12-inch-wide board. It was a 12-inch thick solid wood wall.
I learned the frightening "manlift" was a vertical conveyor belt with steps on it that moved at a good clip. It carried people through cutouts in the floors. It was safe as long as you kept your arms and legs in tight, and jumped off at the right time. There was a rope to stop and start it, but no one used it.
After I got my downtown photos, I think Red wanted to show off the place more than he wanted to work. "Want to see the basement?" he asked.
The building was built on the bedrock we all know is close to the surface in Kent. Large cut stone supported the primary vertical beams, but some beams were placed directly on bedrock. The size of the beams was hard to believe. Many appeared to be 12 by 12 inches. I recall some being 18 to 24 inches wide.
On the way out, I had to stop. A train was going by just outside the mill. It sounded like an earthquake in that massive basement.