Let's hit the road for a fun fictional adventure.
West with Giraffes by Lynda Rutledge was inspired by the true story of two giraffes in 1938 that "survived a hurricane at sea, then were driven cross-country for 12 days in little more than a tricked-out pickup truck to become the first giraffes in Southern California."
Our narrator, Woody, tells us his story, beginning as an "overgrown farm boy" in the Texas Panhandle during the Dust Bowl years. He's always been sensitive to the animals around him and resents his father's heartless treatment of them.
After the dust and other circumstances have wiped out his whole family, Woody gets himself to the East Coast, where he first sees the giraffes and is instantly mesmerized: "Whenever I locked eyes with an animal I felt something more soulful than I ever felt from the humans I knew, and what I saw in that sprawled giraffe's eye made me ache to the bone."
Mr. Jones, "The Old Man" taking care of these "towering creatures of God's pure Eden," is under contract to deliver them to the San Diego Zoo — by truck, across the entire country, over twisty mountain roads, through deserts, past Hoovervilles and hoboes, eager spectators and would-be thieves.
Jones avoids the traveling circus they keep encountering. He hates circuses because he has seen the way they often abuse the animals. He has great respect for animals, as he tells Woody: "Animals are complete all on their own, living by voices we don't get to hear, having a knowing far beyond our paltry ken. And giraffes, they seem to know something more. Elephants, tigers, monkeys, zebras … whatever you feel around the rest, you feel different around giraffes." He says, "They're headed to the San Diego Zoo, where it's warm as toast and green as a garden and washed in sea breezes all year long. Where they'll never have to worry about their next meal or being safe from lions, and where they'll be loved by a whole city just for allowing us to know them."
Oh, and there's a girl. Woody is entranced by a lovely young photographer he calls Red. She follows them on their road trip, telling Woody she's doing a photo essay for Life magazine.
After a harrowing drive up into the mountains, Woody tells us, "The view stopped me flat. From up there, I could see over the side of the mountain where the sun was shining down on the Shenandoah Valley. It was lusher and greener than anything I'd ever seen in my Panhandle life. It was like looking at a Dust Bowl farmer's idea of heaven. It looked like Californy." California — "the land of milk and honey" — is the sanctuary everybody in Dust Bowl country — including Woody — yearns for.
The Old Man, Woody and Red all seem to be evading the authorities for their own reasons. Why? And once, when the truck gets stuck, they receive help from a surprising source.
Woody's no saint, and he gets mightily tempted along the way. But we come to adore him. He says, "If home, like Red said, was not where you came from but where you wanted to be, then the rig, the Old Man, and the giraffes were more home — and more family — than any home I'd ever had. For a stray orphaned boy, THIS home seemed fiercely worth holding on to, with both fists, as long as I could. No matter what might be waiting for me up the road."
Woody tells us, "It's a strange thing how you can spend years with some folks and never know them, yet, with others, you only need a handful of days to know them far beyond years." That goes for some characters, too.
I started the book thinking it would be an adventure, and it was. But what a surprise! It was so much more. Once they were on the road, I was completely involved. Near the end I found tears in my eyes. It's a beautiful, heart-touching book I won't soon forget. And there's nothing a young person can't read; everybody in your house can love this book. I certainly did.
Happy reading!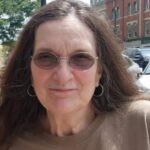 Mary Louise Ruehr is a books columnist for The Portager. Her One for the Books column previously appeared in the Record-Courier, where she was an editor.