The history of motorcycles is on display in Ravenna at Bear's Vintage Motorcycle and Memorabilia Museum.
The owners, Bear and his wife Sharon, opened the museum in 2021 in the old steam flour mill at 408 W. Main St. But they've been occupying the space since 2007, when they opened Bear's Vintage Metalworks, a business that sold new and used Harley Davidson parts.
The steam flour mill was built in 1881 and had been owned by the same family since 1903, until Bear and Sharon purchased the property in 2006. Because the building is a piece of Portage County history, the couple decided to keep the old grain hoppers in the building, as well as other historical fixtures, a detail that Bear says is important for the town.
"The building was in the same family for 125 years, and they didn't want to run it anymore, and we bought it and turned it into this," said Bear, who asked us not to publish his last name. "I mean, we had to sand all the floors down, we had to clean it all up, because it was nasty, but everything that's all still in here, it all still functions and works. We wouldn't let them take it apart."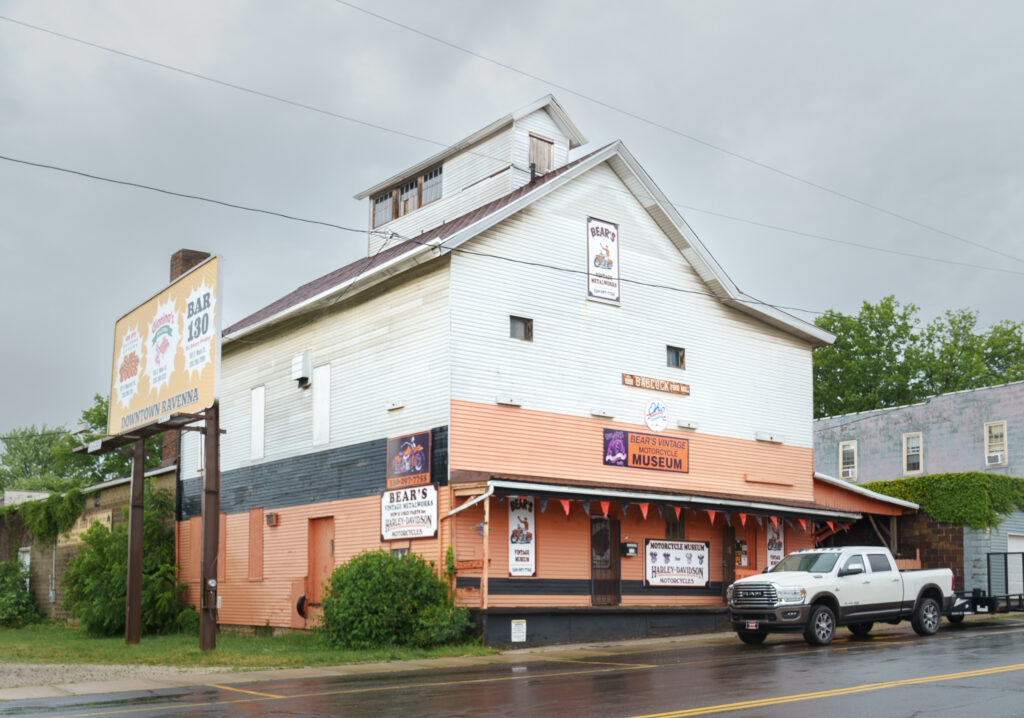 Today, the interior of the building looks like a time capsule, transporting visitors through over a century of motorcycle history, where relics from the motorcycle manufacturing of the early 20th century are displayed alongside an elaborate archive of collectibles pertaining to motorcycle culture. The museum has a diverse array of antique motorcycles, some of which Bear built himself, others he and Sharon bought over the years. The collection spans a variety of makes and models.
"If you're a motorcycle enthusiast, you don't have to just see Harley Davidson in this place, you're going to actually see Ducatis and Moto Guzzies, and these things that you wouldn't necessarily get to see, or custom-made bikes, the rat bikes. This Royal Enfield right here, they never changed it. It's the longest-running motorcycle design of any motorcycle ever made."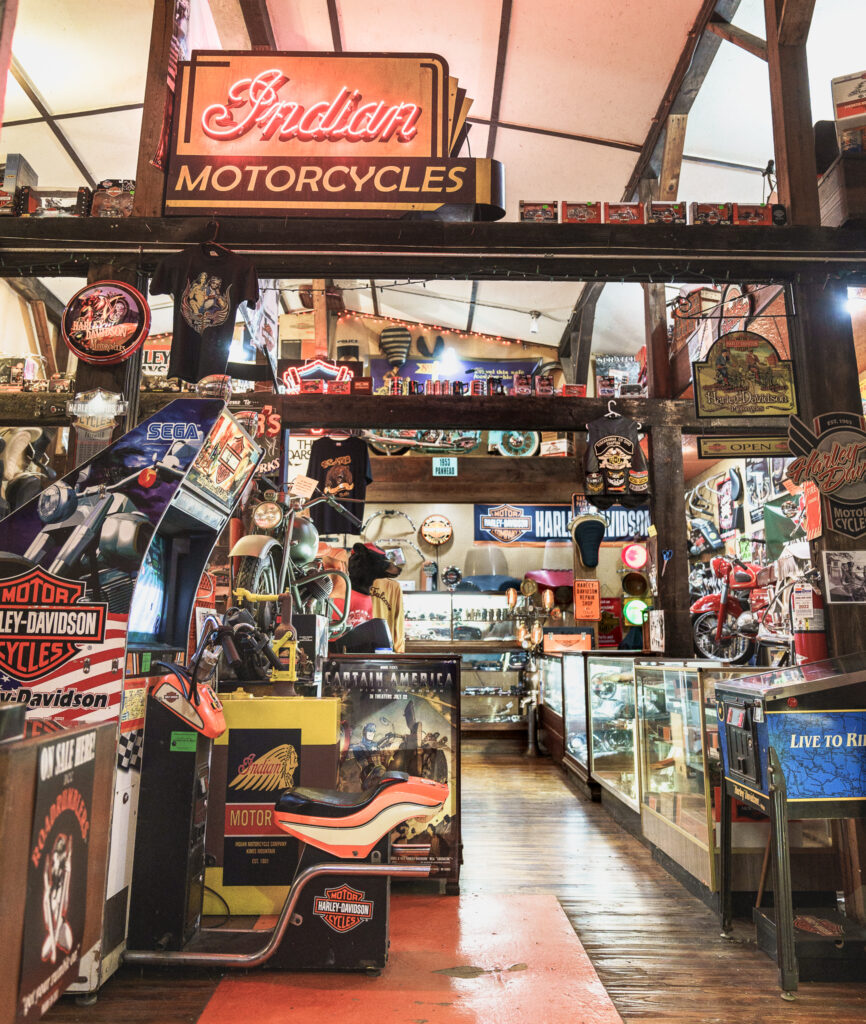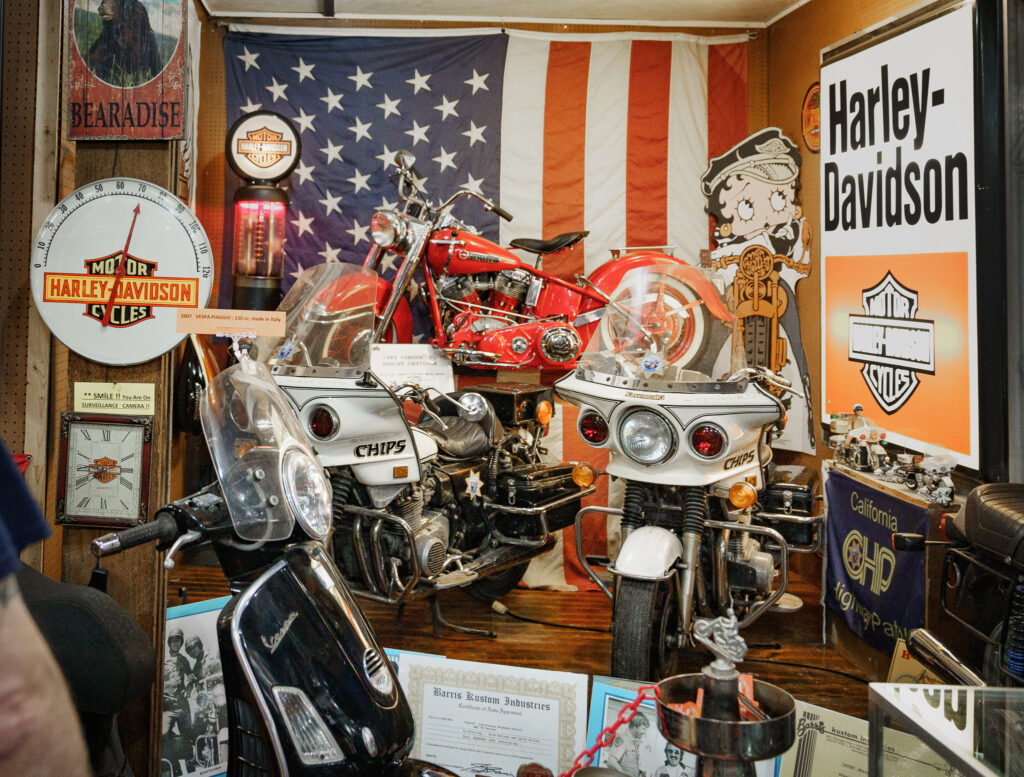 The museum includes much more than rare antique motorcycles and vintage gear. Bear and Sharon also have a large collection of pop culture items, including the original motorcycles that Erik Estrada and Larry Wilcox rode in the NBC television series CHiPs, which were built by George Barris industries, the company responsible for building the 1966 Batmobile and the Munster Koach and DRAG-U-LA for The Munsters series on CBS.
"The guy who bought these bikes from Barris Industries," Bear said, "he took them to New York City and put them on display in downtown New York. Well, he passed away when he was, like, in his 90s, and his estate put them up for sale. This guy got wind of it and he called me, and I called them, and here's history. We were able to buy them, and we brought them to Ravenna."
The motorcycles are signed by the cast and are in the company of several other items in the museum that are signed by famous people, including a poster from the 1966 film Wild Angels signed by Peter Fonda and Nancy Sinatra, and a signed picture of Evil Knievel, as well as one of his capes.
Another signed artifact that may interest Portage County residents is the 1937 Articles Of Incorporation Of The Kent Falcons Motorcycle Club, the first motorcycle club in Portage County.
That document "gave the Kent Falcons Motorcycle Club the right to be a motorcycle club," Bear said. "And they were a club from 1937 to 1953, and these were the clothes that they wore."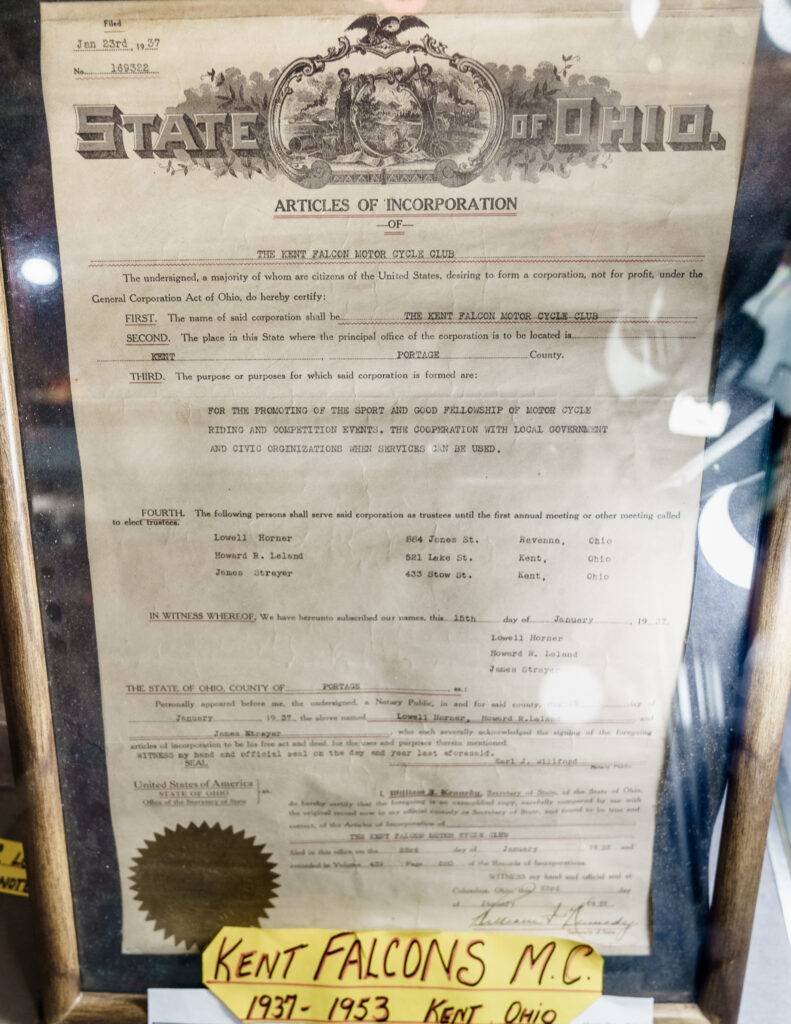 The story surrounding Bear and Sharon's massive collection of motorcycles and memorabilia began while Bear was attending seminary school to be a priest in Miami in 1969.
While in Miami, he had gone to see the film Easy Rider at the local theater, an activity forbidden by the church.
"It said 'do not go to the movies,' back when they told you what you could and couldn't do in the church," he said. "And I went and saw the movie and it blew me away. I didn't want to be a priest anymore. I wanted to still be religious, but I wanted to leave what I was doing and become a biker."
Bear called home and told his parents he was going to quit seminary school and become a biker. They said, "We don't know what that is, but OK."
"My mom was really up for it," Bear said, "because she wanted kids, you know, and being in the seminary was never going to get her any kids."
Subsequently, Bear bought a replica of the fringed suede coat worn by Dennis Hopper in the film Easy Rider that same year, to mark the occasion, an item that he said is the first piece of motorcycle memorabilia he ever bought.
"So, that coat right there, that movie in 1969 changed my life," Bear said. "The wild part about it is, I really don't even like the movie any. I just Iike the freedom of the motorcycle part, the camaraderie they had."
The coat now adorns a mannequin in the museum.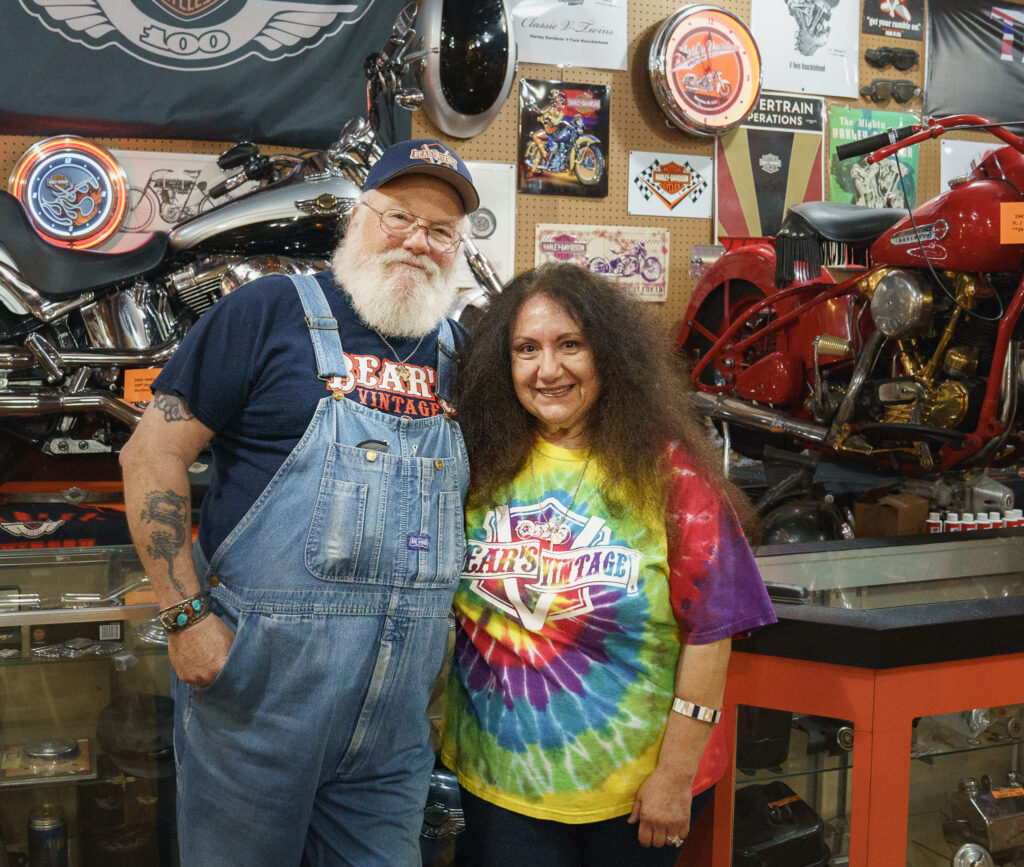 Bear and Sharon married in 1977, at which point they kicked their collecting into high gear. Sharon shared a passion for motorcycles with Bear, and as a result, she traded her wedding ring for an antique 1962 Harley Davidson Cleveland police bike in 1978. Bear said, "She's a little obsessed with motorcycles."
That year they joined the antique motorcycle club, and since then, have accumulated an admirable collection of 65 antique motorcycles and related items. They still buy new items when the opportunity presents itself.
"It's been a great, fun run, and to be part of Ravenna has been pretty awesome, and, you know, we love living in this town. It's just awesome. God's blessed us a lot."
If you'd like to take a guided tour of Bear's Vintage Motorcycle and Memorabilia Museum in Ravenna they're open Sunday and Monday from noon to 5 p.m. Admission is $10 or $8 for 62 and over. Get in free with the purchase of a T-shirt.