Updated May 16, 2023, corrections and clarifications appended
Late last month, a modest congregation of mournful parishioners gathered in the nave of St. Ambrose Church in Garrettsville to honor the legacy of St. Michael's in Windham.
The prayer service was the last goodbye for the once-bustling church, which now sits vacant on East Center Street after the two congregations merged in December 2021. St. Michael's was one of the latest casualties of the regional priest shortages and the decline in the number of parishioners.
Bishop David J. Bonnar, head of the Youngstown Diocese, led the 30-minute service and lent his heartfelt condolences. Some in the congregation had attended St. Michael's since its construction in 1956, and many people are still coming to terms with its closure.
"I am so sorry for this turn of events," Bonnar said, during a liturgy that was followed by prayer and a song. The ceremony lasted nearly 30 minutes and included the unveiling of a statue of St. Michael that once stood at the Windham church.
"But like any family, we must live in reality," he continued. "We cannot give what we do not have, and as a leader, I cannot give you false hope. As we pray our goodbye today, we behold a rich history of a parish and church of St. Michael."
St. Michael's is just one of many Catholic churches that have been shuttered recently.
"This was the ninth church building that was closed in the last two years," said Justin Huyck, director of communications for the Diocese of Youngstown. "We have an official process whenever we close a church, and that's what we did. But whenever we do that, it's very important to us to protect the sacred items that are in the church."
Church closings, priest shortages and a decline in parishioners are all repercussions of the decline in Christianity that has been taking place in the U.S. over the last 50 years. A Pew Research Center study shows that the Christian population in the U.S. has fallen from 90% in 1973 to 63% today.
"Pastoral changes in our diocese are also due to demographic changes in our region," Huyck said.
After consideration of Mass attendance, demographic factors, and the shortage of priests, the Diocese discontinued regular weekend masses at St. Michael's in 2019. By 2021, the parish had merged with St. Ambrose Church.
"In many ways, it's an implementation of the pastoral plan of Bishop [George] Murry — he was our bishop up until his death in 2020 — that he formulated," Huyck said. "It's both sad and exciting at the same time. It is sad, but it's necessary because we can't live our mission with this infrastructure we had 50 years ago, we have to live with what we need going forward."
The church that Windham built
World War II gave rise to a flourishing community of Catholics in Windham.
"During the 1940s, the Ravenna Arsenal employed over 14,000 people as World War II was unfolding," Bonnar said. "The arsenal provided more weapons and artillery for the war than any other plant in the United States. Many of the workers were Catholic and lived in Windham. Immaculate Conception chapel in Ravenna began serving the faithful until St. Ambrose arrived in 1945."
By 1953, a property at 9736 E. Center St. was donated to construct St. Michael's church. Work got underway with parishioners gathering and milling wood from local trees. Construction was completed in 1956 and blessed by Bishop Emmet Walsh.
"The Catholic Exponent called the effort a do-it-yourself church due to the volunteer labor and donation of materials, all indicative of the goodness and the faithful of that wonderful parish," Bonnar said.
In 1957, an arsonist burned the left side of the church and flames spread to the altar. The fire didn't burn the church to the ground, but it caused severe smoke damage throughout. With help from the community, the church was completely restored by 1958.
The parish was served by holy sisters from Kent and Ravenna from the 1950s to the 1970s. From 1975 to 1992, it was run by the third order of religious at the invitation of Bishop James Malone.
Starting in 1996, the parish began an annual motorcycle blessing that continued until 2016.
A new saint for Garrettsville
During the prayer liturgy, the church unveiled a ceramic statue of St. Michael preemptively striking a fallen angel, one that served as a fixture of St. Michael's church for many years. It now stands in the nave of St. Ambrose.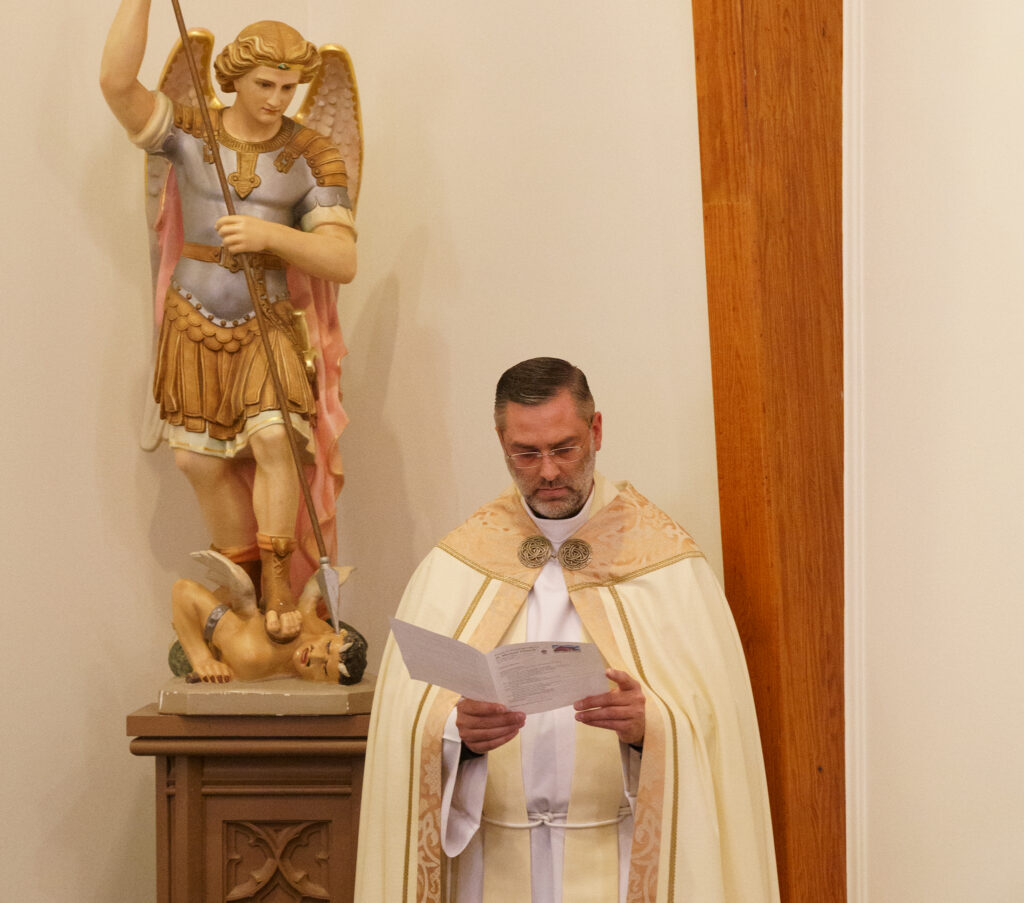 "When the church presents a statue for veneration, it prepares to enter more deeply into divine worship," Bonnar said. "The image of one close to God motivates us to seek the city that is to come."
Joe Leonard, a St. Ambrose parishioner and local wood sculptor, agreed to fix the chips in the base of the St. Michael statue.
Another statue from St. Michael's depicting St. Joseph has been moved to the entrance hallway of St. Joseph Catholic Church in Mantua, and a third statue depicting Mary, mother of God, has been moved to the hall of Immaculate Conception Parish in Ravenna.
The remaining religious items from St. Michael's church have been consigned to Henninger's Inc. and are available to be used in churches throughout the country. The Sacred Heart statue was consigned and has already been purchased. Since they are ecclesiastical, all items from St. Michael's church are only for use in other churches. However, the marble pillars can be sold for non-religious purposes, although there are restrictions for their use. 
Compiling 70 years of memories
After the ceremony, guests and parishioners of St. Michael's gathered in the basement to log their experiences at their former church into an archival memory book presented by Joan Lawson.
"Wonderful things have happened," Lawson said. "Carol Dye donated the 1957 edition of the Windham News that detailed the fire at the church, so that's a wonderful addition to our collection."
The memory book is made with acid-free archival paper and binder that will include a full history of St. Michael's church, photographs, the people who ministered there, parishioners' memories and more. The archive will be available for parishioners to add to for the next several weeks.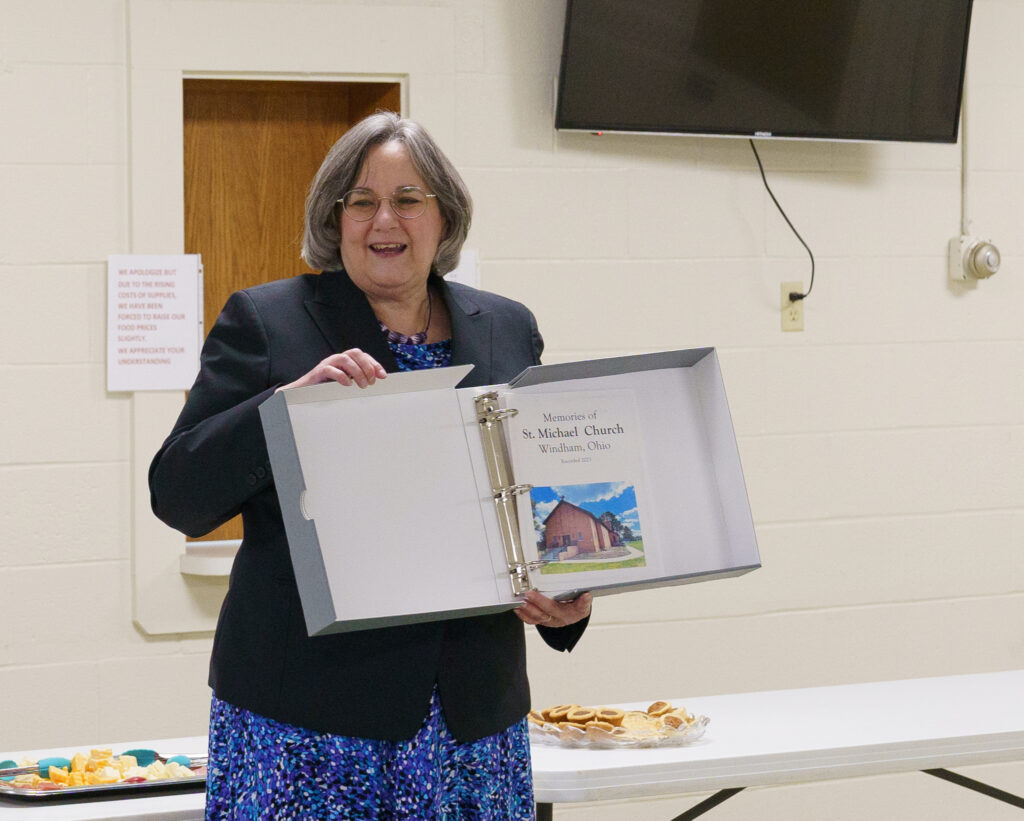 Rhonda Nutter Timko, daughter of Jan and Jake Nutter, said she has fond memories of Palm Sunday at St. Michael's church.
"Every Palm Sunday, we'd get in the car and drive one hour to go to St. Michael's to the meal that was served there on Palm Sunday," she said. "I wasn't aware of the cost; my mom said it was $10. That was the family rate. So we kids — my mom and dad had nine kids — so we were told, 'Eat as much as you can, there's no dinner when you get home.'"
Jacob DeSalvo said it was during St. Michael's weekly bingo games that he became hooked on momma Nutter's lemon meringue pies.
Linda DeSalvo, 69, started attending St. Michael's in 1955. She met her husband Jack (Jacob) there, and both of their parents were buried from St. Michael's Church. The yearly festivals at the church are among her favorite memories.
"Rides and games and food, and my girlfriend (Debbie Tauche) and I brought our horses over, and we gave horse rides," she said. "So that's something I remember a lot. She didn't go to the church, we just liked to bring our horses around wherever we could."
Linda said one of her husband's most memorable moments with the church was when they took a field trip to Washington, D.C., in 1968 and another to New York City in 1970.
Patrick Nutter had attended St. Michael's Church since his birth in 1964. When the church was built in the '50s, Patrick's dad and uncle helped cut down the trees for lumber, and his uncle donated the curly maple for the new altar after the fire that severely damaged the church in 1957.
"My grandmother raised nine kids by herself," Patrick said, "and St. Michael was the church for the Nutter family. I was an altar boy and I remember having a midnight Mass, and I remember we had at least 30, 40 altar boys at midnight Mass with candles and it was a very moving service."
Patrick was a eucharistic minister and a CCD teacher (a kind of Sunday school) at the church, but he also cared for the church during stressful times and mowed the lawn until the day the church closed.
Sad, mad and lost
Some of the parishioners from St. Michael's are despondent over the closure of their church.
"It was hard when they were talking of closing down," Linda said, "and then they did, you know. We were sad, we were mad, we were lost. We didn't know where to go or what to do. We didn't feel like it was the same anymore. But we're getting over it."
The DeSalvos now attend St. Ambrose.
Many of the parishioners who attended St. Michael's church did so since birth. They were baptized there, and they share fond memories that will be archived for future purposes. But there is still a feeling of loss among them, exacerbated by the fact that the parish was never offered an official closing ceremony until Patrick wrote a letter on behalf of St. Michael's parishioners to the Youngstown Diocese after the church had merged with St. Ambrose.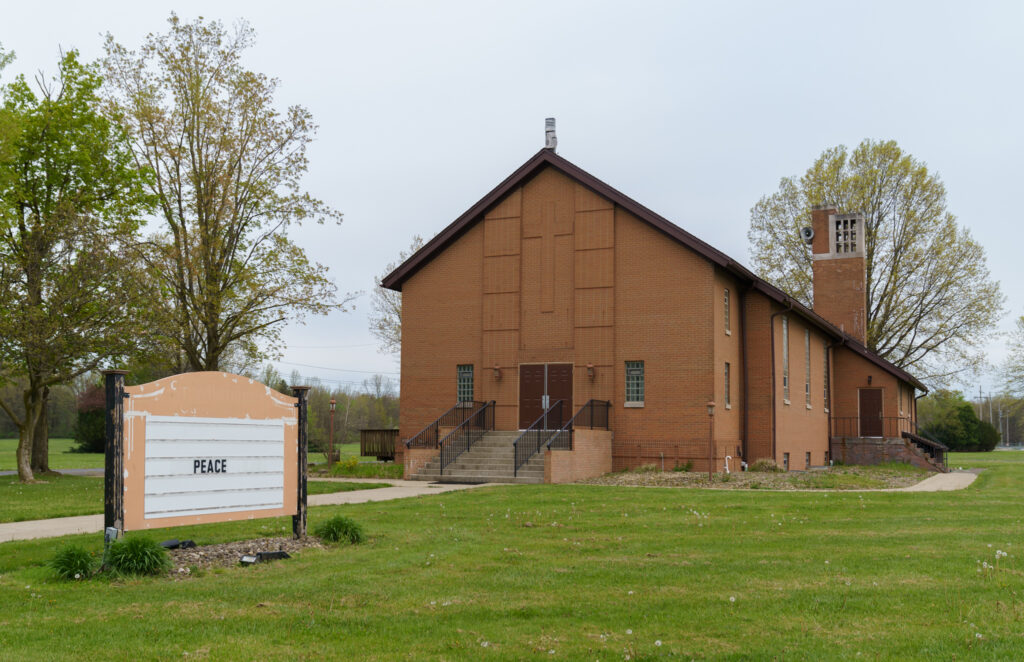 The Rev. Shawn Conoboy became the new priest at St. Ambrose in spring 2022 after the merger. During this time, he became friends with Patrick and stepped in to guide the parishioners through their transition.
"What I came to was the merged parish and the closed church," Conoboy said. "Perhaps the community didn't have a lot of guidance through that process, for whatever reason, or lots of reasons. They were in need of reconnection. My attention there was to help grieve and offer connection."
After parishioners requested a closing ceremony, Conoboy helped orchestrate a proper closing ceremony for the parish, and Bonnar readily agreed. Conoboy has recently been appointed to a position at the Vatican.
Mary Wert, 61, has a lifetime of memories at St. Michael's church. She was a member of St. Michael's Ladies Guild and took part in many of the bake sales held at the church. She said one of her fondest memories at the church was taking her kids to see Santa Claus during the Christmas party that was sponsored by the Knights of Columbus.
One year, Mary's family donated a window to the church in the name of her brother who was killed in a car crash. A plaque with her brother's name inscribed on it hung by the donated window.
"To my knowledge, they didn't set anything up to tell anyone what was happening with the items, not that I know of," Wert said. "If they did, I didn't get a letter or anything. I would have liked to have the plaque with my brother's name on it. No one ever said, 'You can come and purchase these items, or they'll give you these items,' or whatever. That hurt. It's just, all they said is they were closing it, and that was it."
She has no idea where that plaque is today.
---
Corrections and clarifications: An earlier version of this article contained a number of errors, which have been corrected, and additional information has been added to clarify certain events. Church consolidation in the diocese was related to demographic changes in the region, a diocese spokesman said. Additional details have been added about the dates the two parishes consolidated. The church was run by third-order religious communities between 1975 and 1992, not by Bishop Malone. The third statue donated depicts Jesus' mother, Mary, not Mary Magdalene. Joan Lawson is the Diocese of Youngstown's Chancellor and Archivist, not Jennifer Lawson. Additionally, the diocese has pointed out that gifts from parishioners "are accepted with gratitude and become part of the patrimony of the Church" and that parishioners with questions about such items are invited to speak with their pastor.