In 1996, Tyrone Noling was sentenced to death for aggravated murder in the 1990 double homicide of Bearnhardt and Cora Hartig at their Moff Road home in Atwater. Fully 27 years later, a new development may — or may not — produce documents to support Noling's request for a new trial.
Noling was 18 years old at the time of the home invasion and homicides. Now middle-aged, he has won a battle to have his legal team examine 16 boxes of documents stored at the Portage County Prosecutor's Office.
The case wound its way to the state Supreme Court and the Sixth Circuit federal court, which both affirmed the appellate and trial courts' conviction and death sentence.
Noling's defense team has been filing appeals ever since, a tactic which Portage County Prosecutor Victor Vigluicci understands.
"Delay, delay, delay," he said. "Every day they delay is a day he's not being executed."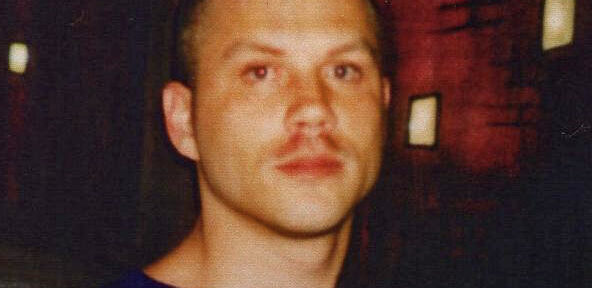 According to the prosecutor, and judges in county, state and federal courts — all of whom upheld the convictions — Noling was part of a group of four men who "had an operation going where they would rob elderly people of their Social Security money at the beginning of the month. That was their M.O. They were known to do it. They were wanted for doing it, and they tried it on the Hartigs," Vigluicci said.
The men's confessions established that they entered the home, where Mr. Hartig resisted their efforts to steal jewelry and cash. Noling murdered him, and since Mrs. Hartig saw them do it and could identify both Noling and another man, Gary E. St. Clair, Noling executed her as well, Vigluicci said. The other men were in the car, he said.
Dismissing suggestions that no evidence placed the four men at the crime scene, Vigluicci said the men put themselves there.
"They told us they were there. What do you call that?" he said.
Access to files
Because Noling's defense team has had access to the relevant legal documents all along, Vigluicci calls Noling's request a "fishing expedition" to stave off the inevitable.
"We had nothing to hide. The wrinkle was that when it came time for them to review our files, they suddenly indicated they were going to bring with them an expert witness, a document examiner who had various pieces of equipment that they were going to bring into my office as part of their examination of my files," he said.
Vigluicci objected, relying on Ohio law governing access to documentation.
"I had no idea what kind of equipment they were going to bring in, what they were going to do with my files, and I objected to that. Judge (Becky) Doherty agreed with me," he said. "I wasn't about to let an expert come in with equipment that I knew nothing about, look at the files in an important case until I knew what the equipment was and what it was going to do to my files, my papers."
Noling's request made its way to the Eleventh Circuit Court of Appeals, which in June directed Portage County Common Pleas Court Judge Doherty to conduct a hearing to determine what type of equipment would be used and how it would affect the case files.
When that hearing took place, Doherty found Noling's chosen forensic document examiner, Lisa Hanson, acceptable, and approved her to review the evidence. Vigluicci said he and Noling's lawyers are working out a time when the document review may proceed.
The Ohio Innocence Project has taken up Noling's case.
"We are firmly convinced that he is factually innocent of this crime," said OIP attorney Brian Howe. "He did not commit these murders. He is an innocent man on death row."
Though Howe accepts that the prosecutor's office shared some material with the defense team, he alleges that there may be additional documents. As far back as 2011, Noling's defense team pointed out that, "While the sheriff may have kept one file for all investigative material in the underlying murders, the prosecutor kept separate files for each co-defendant."
Vigluicci wasn't on board then, and he remains unimpressed.
"Our office policy had been an open file discovery in all criminal cases from the very beginning, which means they had access to our file and the sheriff's file from day one," he said.
Even so, the appellate court ultimately determined it was "reasonably possible" that evidence that could potentially clear Noling made it into the co-defendants' files — files which Noling's defense team never saw. And on March 14, 2022, the court directed Doherty to grant that access.
Ohio only started granting defendants who have already been convicted of capital crimes access full and complete access to all state files (excepting privileged materials) in 2017, long after Noling was convicted.
"There's a question if these records were in their file to have been disclosed in the first place. These are records that were created by the county sheriff's office as part of their investigation. It's not something that we can assume ended up in the file that was turned over to the defense at the time of the trial," Howe said.
Citing court-ordered sealed records, Howe declined to say why Noling's chosen document expert needed to use equipment to examine the prosecutor's files. Depending on what the examiner finds, though, he agreed that Noling may find himself back in court.
"We believe there was evidence that would have been important for a jury to hear that was not ever disclosed to the defense at the time of the trial. If that's true, then he's entitled to a new trial," Howe said.
Examining 16 banker's boxes full of documents will take some time, but Howe says it's worth it.
"These cases are as serious as they come. There's a man's life on the line right now. There's no reason why he shouldn't have access at this point to the complete information that's in the custody of the state," he said.
Co-defendants recanted
While it is true that Noling's three co-defendants — Butch Wolcott, then aged 14, Joey Dalesandro, then aged 18, and St. Clair, then aged 21 — all recanted their sworn testimony incriminating him, Vigluicci said that is "not unusual," especially after defendants have served their time.
Regardless of recanting his testimony, Wolcott's initial deal with the prosecutor' office meant he served no time in prison. Dalesandro was convicted of conspiracy to aggravated robbery, and was sentenced to eight to 15 years in prison. St. Clair, who placed himself in the Hartig home with Noling, pleaded guilty to aggravated murder and was sentenced to 20 years to life in prison. Recently denied parole, he remains in Belmont Correctional Institution.
Vigluicci called allegations that the Portage County Sheriff's Office coerced the confessions "BS," recalling that the stories were all consistent, and the crime scene was consistent with their confessions.
"I've always said that when the facts are against you and the law is against you, blame the police and blame the prosecutor," Viguicci said.
As will happen in capital cases that span three decades, Noling has lodged numerous additional appeals. It took a full decade to conclusively determine that DNA on a cigarette butt found in the Hartigs' driveway would yield no conclusive evidence: Examiners could not establish a match with Noling's DNA or anyone else's.
Requests to obtain the prosecution's allegedly secret files and to more fully examine the shell cases and ring boxes found in the Hartig home also had to be dealt with and dismissed.
There was also an allegation that former sheriff P. Ken Howe rejected Noling and the other alleged accomplices as suspects, saying, "It just didn't fit." Vigluicci said the statement was untrue, and that it was Duane Kaley, Howe's chief detective, who headed the investigation.
(Howe was sheriff from 1989-1993, when Kaley won that office; he served four consecutive terms until Jan. 6, 2009. Sheriff David Doak then served three four-year terms from 2009 until 2021, when the current sheriff, Bruce Zuchowski, took office.)
Public campaign
Vigluicci also dismissed regular columns published by retired Akron Beacon Journal editorial page editor Michael Douglas. His latest column was published Aug. 6.
In it, he castigated Doherty and Vigluicci for allegedly stonewalling Noling's decade-long attempt to access the prosecution's files, suggesting that they may include a statement from a man (Nathan Chesley) saying that his late foster brother (Dan Wilson) confessed to the murders.
"That's crazy speculation," Viguicci said.
Other media outlets, including the Plain Dealer, Cleveland Scene and The Atlantic have also published pieces in Noling's favor. Each points to the allegedly coerced testimony, the lack of physical evidence and the co-defendants' recantations. Even The Independent, a United Kingdom newspaper, profiled Noling in its article about how America sends "innocent people to death row at alarming rates."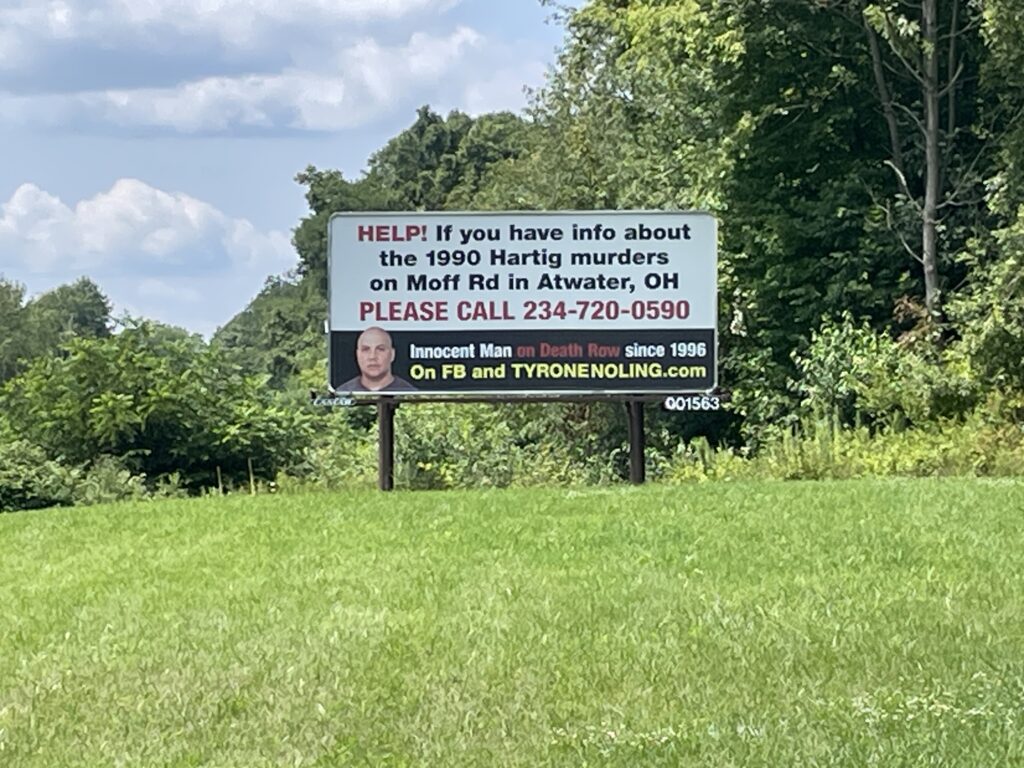 A billboard recently appeared on state Route 261 in Kent, asking anyone with information about the Hartig murders to call 234-720-0590. The number rings to the "Tyrone Noling Tip Line," answered by New York-based Weil, Gotshal, & Manges attorney Tyler Phelps.
Phelps, who practices in Washington, D.C., said the law firm has been working pro bono with the Ohio Innocence Project for over a decade. Citing attorney-client privilege, he declined to say how many responses, if any, the billboard has netted.
Again declining specifics, Phelps said the law firm is pursuing various legal remedies to achieve the ultimate goal of overturning Noling's conviction. He said Noling and his supporters financed the billboard.
"We're constantly looking for new leads in that case, and this is a new avenue Mr. Noling wanted to go about," he said.
As academics say, more research is needed. It remains to be seen what, if anything, Noling's chosen document expert will discover. Should Noling be granted a new trial, he may be cleared. Or, as Vigluicci said, he may be convicted again.
Wendy DiAlesandro is a former Record Publishing Co. reporter and contributing writer for The Portager.