The chilly, late November night air had no effect on my numb body.
Not numb from the cold, but rather numb from the fact that my football career at Mogadore High School had just ended with a 42-28 loss to the Newark Catholic Green Wave in the Division V state semifinals.
It was Nov. 23, 1985. My senior year. It already had not been a good month. My maternal grandmother passed away in the early morning hours of Nov. 1 at age 65 after a brutal year-long battle with cancer. Her graveside services a few days later in Brimfield were held amidst a cold, steady rain that chilled me to the bone, my dress shoes sinking into the soggy, muddy ground the way my soul was swallowed up by the grief of losing my grandma.
The one thing I held onto was our football team's drive for a state championship. After Grandma passed, I promised her we would win state. We were undefeated, ranked No. 1 in Ohio in the Associated Press poll, had not had a close game all year and were operating on all cylinders heading into our state semifinal clash of the titans with unbeaten defending state champ Newark Catholic.
And then it was over. All of it.
Season. Career. Dream of a state title. My promise to my grandmother. All crushed in 48 frustrating minutes of a game that saw us fall behind 14-0, fall behind again 20-7, fall behind again 35-14 in the fourth quarter, then rally valiantly to get within 35-28 before coming up short.
It took everything in my power to put one foot in front of the other and walk in our line of players congratulating the Green Wave on their hard-fought victory. One by one, we walked past each other, shaking hands and repeatedly saying, "Good game," as the two teams snaked past each other single file.
As I solemnly made my way across the field at Crater Stadium in Dover, almost in a state of shock while shaking hands with each and every Newark Catholic player that passed me, little did I know that one of those kids in the green helmets, white jerseys and green pants I shook hands with would, some 20 years later, become one of my best friends.
And still is. Bill Evans was a senior team captain, starting offensive guard and All-Ohio defensive end for the Green Wave in 1985. I was a guard and defensive tackle. Bill and I went at each other much of the game, crashing helmets and swapping paint for four quarters of a classic contest of a classic high school football rivalry. On that night, I knew him only as No. 67 for the Green Wave, and he knew me as No. 68 for the Wildcats.
That would change 20 years later.
The week following our game, Newark Catholic repeated as Division V state champion with a 19-0 victory over Delphos Jefferson at Ohio Stadium. It was insult to injury; not so much that the Green Wave won it all again, because I figured they would after beating us. But because they got to play on the same hallowed turf that my beloved Ohio State Buckeyes played on, the same ground that saw Paul Brown and Woody Hayes prowl the sidelines and Archie Griffin sprint, dart and spin his way to two Heisman trophies.
I grew up dreaming of someday playing in the Horseshoe, and that dream was thrown onto the same trash heap of others that went up in smoke that night in Dover.
Fast-forward the film two decades. I was doing a phone interview with Mogadore football coach Matt Adorni, and we got on the topic of the Newark Catholic rivalry. He said, "You know, a guy who played at Newark Catholic wrote a book about his team that won state. It's from your senior year. You probably played against him."
I said, "Really, from '85? What's the name of the book?"
"It's called 'Growing Up Green,' and it's all about their season that year," Matt said. "In fact, he talks a lot about their game against you guys. I think your name might even be in it."
My name? I thought. I didn't remember doing much that night other than chase Newark Catholic ball-carriers around, getting a good look at the back of their jerseys. Why on Earth would that guy put my name in his book?
"The author's name is Bill Evans," Matt continued. "You should get the book. It's been going around Mogadore and everyone likes it."
I wanted to buy a book about the team that ended every football dream I ever had about as much as I wanted to open a flesh wound and swim with sharks.
"I don't think I'll get that book," I told Matt. "I really don't want to read about that game again. I know how it ended."
"Well, you should think about it," he said. "The guy is very complimentary of your team and Mogadore in general. He has a ton of respect for Mogadore."
I had no intention whatsoever of getting that book. I didn't want that book. I didn't want to read about Newark Catholic's 1985 season. I didn't want to read about their win against us. I didn't want to read about their state championship. I didn't want anything to do with that book.
So I bought the book.
I couldn't take it anymore. Matt's words haunted me, gnawing at me for a few days to the point that I ordered the book on Amazon just so I wouldn't torture myself about it anymore.
The book arrived, and I couldn't help myself: I turned immediately to the chapter about our game and prepared for a painful read. Instead, I was treated to an insightful, respectful detailing of a great game between two great teams. It was obvious this Bill Evans guy (yes, I remembered the name from our scouting report on Newark Catholic all those years ago) possessed class and dignity. It wasn't the rah-rah hit piece I had feared.
After reading the chapter on our game, I searched for contact information on the author and found an email address in the book. I wrote a brief email telling Bill who I was, that I played on that Mogadore team, and that I enjoyed the book. I even called him "Mr. Evans." While we had been high school combatants on a football field, by this time we were both professional writers. So Mr. it was.
I thought that would be it. I wanted him to know how I felt about his description of the game and figured things would stay right there.
Instead, he emailed me back the next day. And a lifetime friendship was born.
For the past 17 years, my wife Kim and I have been close friends with Bill and his wife Jo-Ella. He's come up from Newark to visit, I've gone down to Newark to visit. We sat in the stands together to watch our alma maters do battle in Mogadore in 2005, in Newark in 2006 and on a snowy night in the state semifinals in New Philadelphia in 2012. We've attended concerts together (he's coming up to see The Fixx for the third time at the Kent Stage in November), gone to Cedar Point for a weekend with our wives, even attended each other's alumni dinner at our respective high schools.
We've commiserated over the gut-wrenching anguish of having a pet euthanized. We have running text commentary during Ohio State football games. We keep each other abreast of how our schools are doing each football game. We keep in weekly, sometimes, daily, contact, catching up on everything life was throwing at us.
And every Nov. 23, we make a point to discuss our game in Dover. We will text back and forth for two and a half hours, from 7 p.m. to 9:30 p.m., the time coverage of our game, detailing what the score was and describing our thoughts and emotions at any particular moment throughout.
In short, we relive the game. In 1985, we were teenagers with most of our lives ahead of us. Today, we are middle-aged men with an eye on retirement.
The friendship is genuine. We were both offensive and defensive linemen. We both played in high-pressure, high-intensity, tradition-rich high school football programs. Our teams enjoyed great success (Bill's a little more than mine, of course). Our personalities are similar, our interests are similar. I have met several of Bill's Newark Catholic teammates — players I played against — who have said we have so much in common that Bill and I could be brothers.
We are cut from the same cloth. We come from working-class backgrounds, suburban kids who worked hard to forge solid athletic and academic careers while in school and have continued to do so in adulthood.
Most of all, we are bonded by football. Not just our love of the game, but what it taught us and the dividends it continues to pay for us. Bill respects and understands the sacrifices I made at Mogadore, and I respect and understand the sacrifices he made at Newark Catholic. In both of our cases it wasn't easy, but it was worth it.
Worth it, because while I lost a game, I gained a lifelong friend because of that game.
Worth it, because while that game is the root of our friendship, it doesn't define it.
Worth it, because that friendship has had a far more positive impact on my life than winning a game ever could.
And that is the biggest victory of all.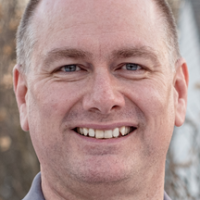 Tom Hardesty is a Portager sports columnist. He was formerly assistant sports editor at the Record-Courier and author of the book Glimpses of Heaven.