After Sheriff Bruce Zuchowski took office in 2021, his chief deputy assured Portage County commissioners that getting body cameras was a priority.
Over a year later, Zuchowski has not adopted the technology, even as much smaller police departments in the county outfit their officers with cameras and county commissioners say they would provide the necessary funding.
"After three shootings, I think the public is going to start insisting on [body] cameras," County Commissioner Sabrina Christian-Bennett said. "I mean, we are just in those times where [the public] is saying we need to revisit the cameras."
On May 14, a deputy shot a Portage County resident for the third time since Zuchowski took office, killing Cora Baughman, 66, as she confronted her neighbor, the neighbor said in a 911 call. The neighbor and officers say she had a gun.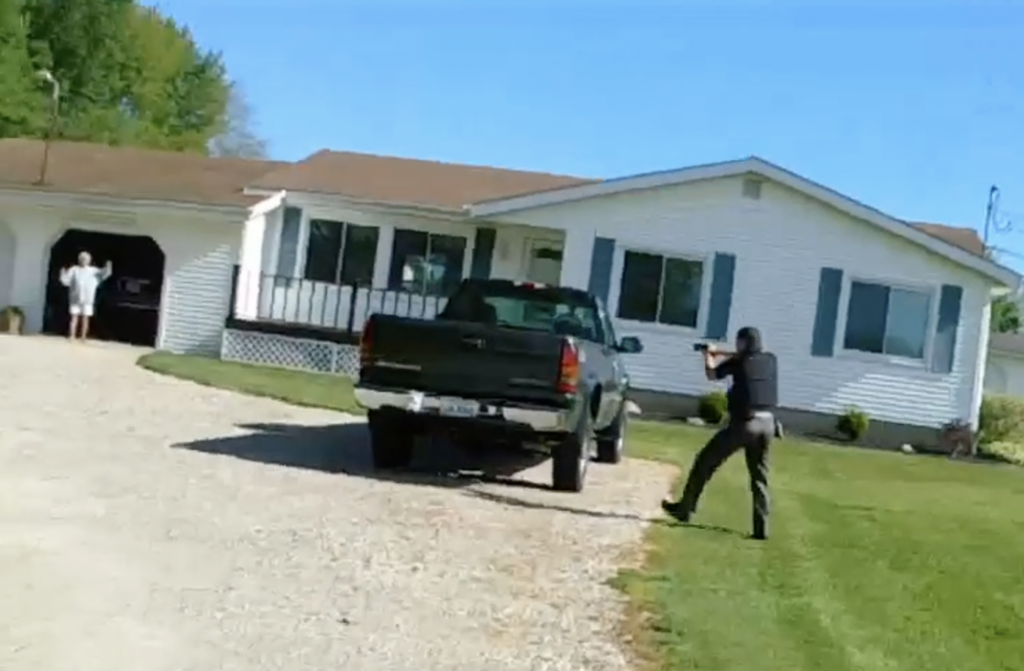 This was the first deputy-involved shooting caught on body cam, but only because a nearby Garrettsville police officer was also dispatched to the house in Windham Township. He was equipped with cameras on his uniform, dashboard and the back seat of his cruiser. The Garrettsville Police Department released all three tapes to The Portager within days of a public records request.
But critical moments of the interaction were not visible in the officer's footage, including whether Baughman had a gun or pointed one at the deputy.
"If [Zuchowski] was interested in [body cameras], I can't imagine any of my colleagues saying no," Christian-Bennett said. "If he wants them, then trust me, we can find the funds to fund them."
Commissioner Tony Badalamenti also said the decision was in Zuchowski's hands. He said he supported dashboard cameras but that he trusted Zuchowski's judgment after decades in law enforcement.
"When [Zuchowski] finally decides what he wants to get, we would love to see them," Badalamenti said. "It would be great for [something like] what happened just last week."
Zuchowski did not respond to requests for comment. He has not issued any statements or spoken with the public about the May 14 shooting since he published a short statement on social media that afternoon.
Body cams were deprioritized
In a Board of Commissioners meeting on March 25, 2021, Chief Deputy Ralph Spidalieri told commissioners the sheriff's office was pursuing body cameras and would apply for a grant to acquire them through the Ohio Body-Worn Camera Grant Program.
"This is a priority for us, and they are doing grants for body cameras and also vehicle cameras and our goal is we will be able to qualify," he said.
Spidalieri said he had spoken with residents who were "in shock and disbelief" that the county did not provide deputies with body cameras. He said they were important for protecting the county and officers from litigation.
"We're also in a time and place where there [are] a lot of people constantly questioning our police officers," he said. "When someone files a complaint we [would] always have the ability of having that video to be able to say, 'This is what really happened.' And if there's a situation in which our officers were wrong, we'll handle that too. It basically levels the playing field. And [also] importantly there is the preservation of evidence."
A month earlier, the sheriff had included body cameras in a $2.9 million funding request. Commissioners balked at the size of the spending package and asked him to prioritize his requests.
Later, Zuchowski shifted focus to acquiring dashboard cameras rather than body cameras, commissioners said. But they said there has been no progress in that area, either.
"When [Zuchowski] first came into office, they were so appalled that we didn't have body cameras, but then it sort of died down," Christian-Bennett said.
The sheriff's office did not receive any funding through state grants for body cameras, but Christian-Bennett said the county would be willing and able to pay for a system itself.
There was further discussion of cameras at an Aug. 12, 2021, commissioners meeting, in which Commissioner Vicki Kline requested an update on the idea. Badalamenti said he had spoken with the sheriff, and the office was pursuing a grant which could arrive in either September or October.
That was the last time The Portager could find any public discussion about body or dashboard cameras.
In that same meeting, the board approved the sheriff to apply for the Edward Byrne Memorial Justice Assistance Grant, requesting $25,093 to equip his SWAT team with night vision equipment.
"[Zuchowski] is leaning more towards dashboard cameras the last I spoke to him," Badalamenti said in an interview this week. "He believed that [body cameras] could see more, but that they would still have the audio if they went into a house or building."
Kline, who is retiring from office at the end of this year, did not comment on whether she supports the sheriff's office purchasing body cams.
"No decision has been made in the sheriff's purchase of body cameras," she said. "They applied for a grant prior but did not get it. This discussion is in process."
Paying for transparency
An increasing number of Portage County law enforcement agencies are using body cameras to provide transparency and assist in investigations. They're paying for them through both state and local funds.
While the average cost of a single body camera ranges from about $400 to $1,000, the main expense and difficulty of a body camera system comes from the storage and organization of data, which can cost tens of thousands or even upwards of a million dollars for large agencies.
Last year, the state launched the Ohio Body-Worn Camera Grant Program, which was intended to help law enforcement agencies adopt or update their body camera programs. A total of 109 agencies received grants amounting to $4.7 million, with 49 of those agencies using the money to adopt a body camera system for the first time.
Seventeen of those agencies were sheriff's offices. They received a wide range of funding, from $232,000 in the case of the Franklin County Sheriff's Office to $8,939 for the Carroll County sheriff.
Several Portage County police departments received funding through this program, including the Streetsboro Police Department and Kent State University police.
The Kent State Police Department used its funding to start up a body camera program for the first time, receiving $23,780 to do so. The Portage County Sheriff's Office is larger than Kent State's force, with 59 deputies compared to 21 Kent State patrol officers, and also covers a much larger area.
Police chiefs want body cams
Streetsboro Police Department was the first agency in the county to use body cameras, spurred by then-Chief Darin Powers.
Chief Tricia Wain says Powers, her predecessor, was always on the cutting edge of adopting new technology. His early move has given Wain's department more experience with both body and dashboard cameras than any other in the area.
"[Body cameras] are a protection for everyone," Wain said. "Everybody can see what we are doing, and we like to be very transparent about how we do things and why we do things, and the cameras just add a layer of that."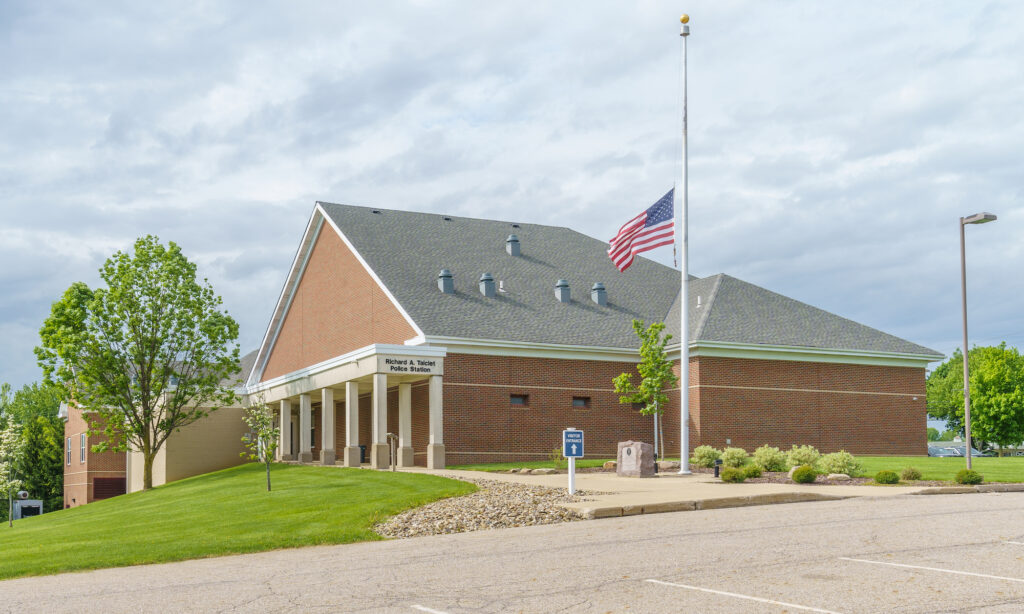 Not only do body cameras allow the department and the public, through public records requests, to keep an eye on the conduct of officers, they also allow the department to dispel false accusations against them.
Wain recounted two incidents early in the use of body cameras in Streetsboro when officers were accused of excessive force. She said the footage proved the allegations to be false.
"It was really great to be able to say, beyond a shadow of a doubt, 'You are making a false allegation against our officer, and here is the evidence for it,'" she said.
Streetsboro police review the footage of every use-of-force incident, and there have been no false accusations of excessive force since those first two, which Wain credits to the fact that body cameras are now common knowledge.
Wain said that despite initial resistance by some officers to wearing the cameras, they have become an indispensable tool. This experience mirrors a wider trend across law enforcement: Officers' initial trepidation diminishes after seeing how useful they are in practice.
Mike Weinman of the Fraternal Order of Police of Ohio said his organization supports the use of body cameras because they can protect officers from false allegations and aid investigations.
"Typically, [body cameras] exonerate officers when there is a frivolous complaint," Weinman said. "If there is something an officer misses, you can go back and find it on the camera. You can look at it to recover evidence, so it can be useful in that way, or even just in writing a statement."
Protecting the taxpayers against lawsuits
Christian-Bennett said that although the cost of adopting a body camera system would be high, the potential costs of not doing so could be much higher.
"At the end of the day, if something goes wrong and the county gets sued and we have to pay out, it's not coming out of the sheriff's budget," she said. "They're coming to my insurance as the county commissioner, so like I said, all he would need to do is ask."
She added: "I see [body cameras] being a perk — I mean, if you don't have anything to hide. Everything is about transparency."
In the Windham Township shooting, Baughman's neighbor called 911 claiming she was in his garage with a gun trying to enter his house. When the Garrettsville police officer and the sheriff's deputy arrived, they quickly confronted her and ordered her to "drop it," according to the video footage. But the deputy never tells her to drop a gun.
In the moment before he fired, Baughman had pointed a gun at him, the deputy told a colleague later, according to the footage. "She said, 'I'm walking in, I'm gonna shoot him.' Then she pointed the gun at me, and I fired," he said.
But that scene was blocked when the Garrettsville officer took cover behind an SUV in the garage.
The Ohio Bureau of Criminal Investigation has launched a probe of the deadly incident, but unless there were other cameras in the garage, the BCI will only be able to watch the shooting from the camera perspective of the Garrettsville officer, with the crucial instant obscured.
Owen MacMillan is a reporter with the Collaborative News Lab @ Kent State University, producing local news coverage in partnership with The Portager.