Since we are in the week of Blue Monday, the third Monday of January "officially" recognized as the most depressing day of the year because the festive holiday season is weeks behind us and the icy grip of winter still has two months to go, I figured now would be a good time for a little humor to help combat the winter doldrums.
So, to that end, here is another sad-but-true tale starring yours truly which demonstrates — often painfully — that getting the story from the reporter's notebook to the reader's fingertips doesn't happen by magic.
Here goes …
I'm a geography buff. Growing up, some of my most prized possessions were my globe, always prominently displayed in my bedroom, and the dog-eared copy of my Rand McNally atlas that I studied endlessly until it began to fall apart (and become obsolete), at which point Dad would bring home a shiny new, updated copy of the atlas — and the cycle would start all over again.
I got adept enough at reading maps that by age 8, I was able to sit in the backseat of the family car on our annual summer vacations to the beach in North Carolina and serve as Dad's navigator, poring over the maps and atlases that were spread out around me as we headed toward the Atlantic Ocean.
Not saying I was any sort of prodigy, but maps were kind of my thing.
Fast-forward the film several decades. Shortly after arriving at the Record-Courier's still fairly new Kent location to begin production of the next morning's sports section, my cell phone rang. It was our high school beat writer, Sara Welch. Her assignment that day was coverage of the Garfield boys soccer team in the postseason tournament. The game was scheduled to begin at 7 p.m., and her phone call came in a few minutes before 7.
This being late October, it was already dark. The game was in Cortland, a rural town not far from the Pennsylvania state line. As soon as I answered the phone, I could tell Sara was agitated.
"I have no idea where I'm at," she said, exasperated. "I've been driving around out here for a while now and I can't find the school. The game's going to start in a couple minutes."
"Can you tell what road you're on?" I asked. I had barely logged into my computer and was just getting started on the night's production work.
"No," Sara replied. "It's pitch dark and it's nothing but country roads. I'm out in the middle of nowhere. It's just woods and farms."
"Try GPS," I said, realizing as I said it that GPS has gotten me all kinds of lost before.
"I did," she said. "It took me to a school but nobody's there. All the lights are off. They must have a new school or something."
I had been just about everywhere during my days as the high school beat writer, but Cortland wasn't one of them. I had no frame of reference for her.
But I did have a computer sitting right in front of me.
"Hang on," I told her. "I'm going to call up Cortland on Google Maps and talk you in to the school."
"Great!" she said, the relief in her voice evident. "I have no clue where I am, I'm just driving around looking for stadium lights."
I punched in Cortland on Google Maps, and viola! There it was in all its splendor, complete with a detailed road map of the area. Crisis averted.
I peered at the map and, sure enough, Sara was right: It was smack dab in the middle of nowhere. The map was colored green, indicating heavy woodlands — just as she had described. There were a few squiggly lines cutting through all the green, designating the little country roads Sara was winding her way through as we spoke.
"OK, I'm looking at a map of Cortland," I said. "Wow, not much out there."
"No kidding!" she said. "Once you get out from the little town, there's absolutely nothing. But I only saw the one school and nobody's there," she reiterated.
"What's the road number you're on?" I asked.
"I don't know. Let me keep going and see if there's a sign or something."
After about a minute or two of silence as she drove, Sara said: "OK, I see a sign."
She gave me the route number. All I had to do was find it on the map and I could direct her to where she needed to go — just like I did the family car on our trips to the ocean all those decades ago.
Except I couldn't find a squiggly line in the sea of green with that route number.
"Are you sure that's it?" I asked. "I don't see it."
"Of course I'm sure!" she exclaimed. "I just saw it."
Then she said: "Here's a crossroads or something. I'm turning to see what road this is."
She turned, and a few seconds later gave me the route number of this new road.
I looked at the map. Again, nothing. Two roads she had been on we're not on Google Maps. This, indeed, was in the middle of nowhere.
"Do you see it?" she asked worriedly.
"No, it's not on the map," I answered with some trepidation. Her frustration was escalating by the minute, and I knew that Vesuvius was about to let go.
"How can it not be on the map?!" she exclaimed. "These are about the only roads out here."
Again, she was right. There were very few roads shown on the map in front of me. Somehow, Sara had managed to find two roads that, strangely, weren't recognized by Google Maps.
By now, it was well after 7 p.m.; the game — wherever it was — was already under way. It had been a good half-hour since Sara had called, and there was no end in sight to this wild goose chase through the darkened Northeast Ohio hinterlands.
I was at a loss as to how to rectify the situation. Having Sara continue to drive around aimlessly in the dark on narrow, unfamiliar country roads when we had no idea where she was or where she was going was pointless and, more importantly, dangerous.
I told her to find somewhere she could pull over safely until we sorted things out.
As she looked for a good spot, I continued to stare at the map of Cortland and the surrounding area. Odd that I couldn't even find much in the way of a town that she had described driving through earlier. I decided to zoom out on the map a few clicks in hopes that something resembling a small town would appear.
Click click. No town. Click click click. Still nothing but green and a few squiggly lines.
Mystified, I decided to go all in and open the map to its entirety.
And when it did, I went numb.
Because there, in front of me on the computer screen, was a map of Wisconsin.
Believe it or not, this actually gets worse. It doesn't seem possible, but it does. Stay with me …
After delivering this unfortunate news to Sara — who, shall I say, took issue with my map-reading skills — we soon were able to crack the code of where the game site was located. She was, as you might expect, way out of her way and had a fair amount of driving ahead of her to get back to civilization. But the important thing was, the worst was over.
"I'm going to be way late," she said. "It's probably going to be halftime by the time I get there."
"Don't worry about it," I told her. "It's not your fault, it's mine. You'll still see the second half and you can just get all the stats from the scorebook."
I breathed a sigh of relief. It wasn't easy and it wasn't pretty, but the problem was solved. Sara was going to cover the game and have a story in the next morning's edition of the Record–Courier. Magic.
We were now, at long last, on the same page on the map. It helped that this time, I was looking at a map of Ohio. "Let me know when you get there to make sure we're all good," I told her.
"No problem. I'm glad that's over," she said.
I held the phone to my ear waiting to hear of her arrival at the stadium as I got on with my night's work.
A few minutes later, the words I had been waiting nearly an hour to hear came through the phone: "Well, I'm in the parking lot," she said matter-of-factly.
"Awesome!" I exclaimed. "Sorry you had to go through all that."
"Well, I don't know what's going on," she said. This didn't sound good.
"What do you mean?" I asked.
"The stadium lights are off and there's nobody here," she said.
"That doesn't make sense," I said. "There's no way that game ended in 45 minutes and everybody's out of there already."
"Well, everything's dark and no one is here," she said.
This just couldn't be. "The game started at 7 and it's not even 8. Let me check the bracket on the OHSAA site and see if it was moved to Garfield or something," I told her. Sometimes those things happened, so this was a possibility.
I called up the OHSAA website and looked at the bracket. Yep, it was still on for Cortland.
But then I noticed something else, and for the second time that night, I went numb:
There on the bracket was the game's listed start time: 3 p.m.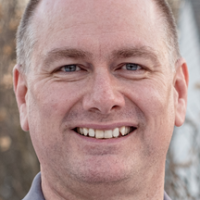 Tom Hardesty is a Portager sports columnist. He was formerly assistant sports editor at the Record-Courier and author of the book Glimpses of Heaven.