The blaze that gutted a 170-year-old house on Cleveland Road in Ravenna Township earlier this week destroyed more than a landmark residence. It also reduced to ashes one of Ravenna's links to Abraham Lincoln.
The fire at 6538 Cleveland Road early Monday morning gutted the one-time home of Horace Young Beebe, whose decision to vote for Lincoln at the 1860 Republican National Convention was a key to winning the nomination for the dark horse candidate from Illinois.
Lincoln didn't forget his ally from Ravenna, Ohio, either. He showed his gratitude by stopping there on Feb. 15, 1861, as part of his itinerary of the journey by rail that took him from Springfield, Ill., to his inauguration in Washington, D.C.
Horace Y. Beebe was active in Republican Party circles at the local and state level. Because Lincoln was only the second presidential nominee to run under the GOP label, it is likely that he was among the party's founding fathers in Portage County.
Born in Connecticut, he was 18 years old when he moved to Ohio in 1834. He came to Ravenna two years later and began work in the Portage County Clerk of Courts office. He was named clerk of courts in 1845, a job he held until 1852. He built his home that year on Cleveland Road, which was practically a wilderness area. Set on a hilltop and surrounded by trees, it later became known as The Terraces because of its tiered front yard.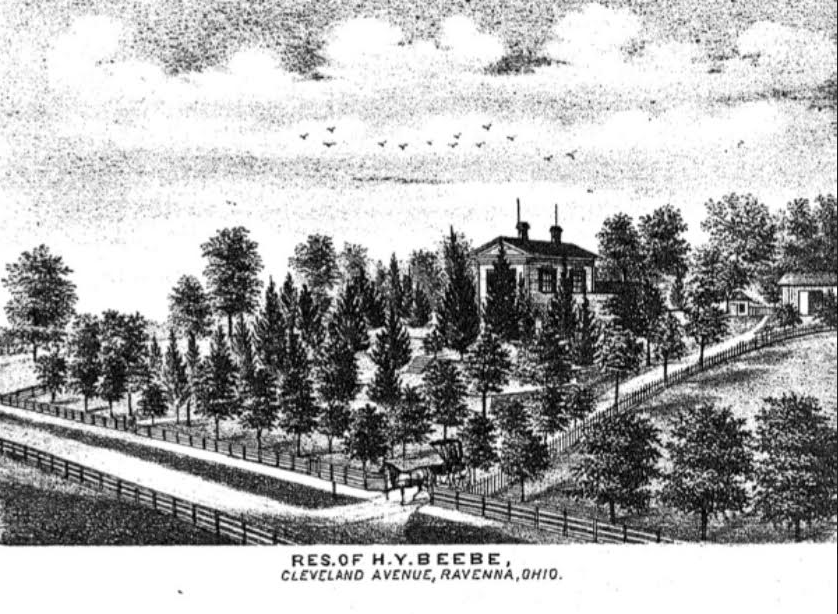 In the 1850s, Beebe became cashier of Robinson, King & Co., a banking house in Ravenna that was a forerunner of Second National Bank. He was one of Portage County's leading businessmen and civic leaders when he was named as a delegate to the Republican National Convention in Chicago. The Ohio delegation was pledged to the candidacy of the state's governor, Salmon P. Chase.
Chase's presidential hopes were eclipsed by Senator William Seward of New York, who took the lead in balloting. Close on his heels was Lincoln, who hadn't held public office since his single term in Congress more than a decade earlier, but had made a national name for himself in 1858 during a series of debates with Senator Stephen Douglas.
On the second ballot, Seward led Lincoln by only three votes. There were a handful of delegates whose pledged loyalties were wavering. Among them was Horace Beebe, who bolted from Chase to Lincoln on the third ballot, and was credited with swinging the entire Ohio delegation to Lincoln, clinching the nomination for him.
His reward proved to be two-fold. Lincoln later named him to a lucrative patronage job as Assessor of the Nineteenth Congressional District. He also decided to thank him personally for his support by stopping his train in Ravenna and offering him a ride to the inauguration.
Lincoln arrived in Ravenna on a cold and windy day amid a holiday atmosphere. A crowd of 1,000 was on hand at the Cleveland & Pittsburg depot (the spelling is correct), which was located west of Sycamore Street, about 100 feet south of the West Main Street crossing, near the present-day site of Immaculate Conception Church.
The crowd had been gathering for hours, and one observer wrote that whiskey and small fires were helping to keep the waiting throng warm.
Horace Beebe, basking in his celebrity, attempted to speak before Lincoln's arrival, but comic circumstances thwarted him. He began his remarks, saying "Ladies and gentlemen," then disappeared from view as the beer barrel he was standing on gave way and he fell through his improvised pedestal.
As Lincoln's train approached, the crowd learned he wasn't expected to speak, and its vocal disappointment was evident when his train pulled in. The president-elect appeared in the car door and realized he had no choice but to respond. "What a people, what a people…" Beebe recalled him saying as he took in the crowd.
His remarks were brief; several varying accounts of what he said exist. He was on a tight timetable and joked that he risked being late for his inauguration. He apologized for his raspy voice, then made a brief appeal for unity and patriotism as the train began to resume its journey. "As I said before, I can only say, 'How do you do? And good-bye.'"
As he was leaving, a military salute fired by a local militia made a lasting impression: The cannon fire shattered two windows on the presidential train, including one in a rear car where Mary Todd Lincoln was seated. The president-elect and his family continued on to Washington on a 13-day journey amid fears that the Confederacy would take over the capital. An assassination plot uncovered in Baltimore forced the president-elect to wear a disguise there.
Horace Beebe ended his banking career in 1863, then worked for Diamond Glass Co. as a cashier and bookkeeper for 16 years. He was named director of the Portage County Infirmary in 1883 and died at 71 in 1888.
Beebe bequeathed his mansion on Cleveland Road to his son, William, who died in 1914. It later passed into a number of hands, and trees grew to obscure it from view. Surrounding land was divided into tiny lots that formed what became known as Proctor Allotment, later McElrath Park, a largely African-American community. In recent years, the landmark's tenants included a reputed "after-hours" spot and a motorcycle club. It was currently a private residence.
The Horace Y. Beebe House was listed on the National Register of Historic Places in 1983 based on its architectural significance and the prominence of the man who built it. All that remains of it is charred timbers.
Roger DiPaolo is a Portager columnist and a member of the advisory board. He was editor of the Record-Courier from 1991-2017.