Timothy Daly Smith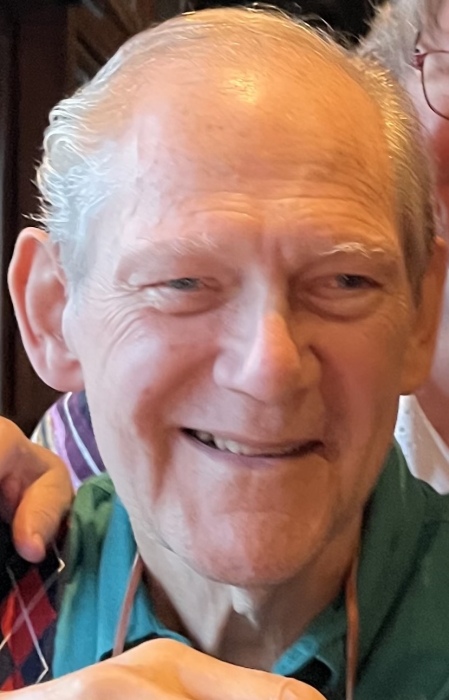 Timothy Daly Smith (Tim) wrote his last "30" on Oct. 2, 2023. He was husband to Jane, father to Randy (Lauren Boice), Rachel (James), and Bryan (Wendy). Without a doubt, though, his favorite role was Papa to Zeb, Dashiell, Ximin, Eliza, and Liam. Tim and Jane married in 1967, celebrating 57 years together in June.
Tim was the oldest son of Ralph and Bettie Smith, brother to Greg (Carol), Jeff (Lisa), and Kevin (Karen).
Tim was a proud graduate of Ohio State University (before they added "The"), where he earned bachelor's and master's degrees in Journalism. He started at OSU as an engineering and then a biology major. He took a journalism class because his fraternity brother, Keith McKnight, kept coming home from the Lantern, OSU's student newspaper, with wonderful stories.
After graduation, he spent the next several decades as a journalist. He worked at the Painesville Telegraph, Columbus Dispatch and then UPI before going to work at the Akron Beacon Journal. While there as the courts reporter, he covered the trial of a man who operated a pyramid scheme. After daily court, he told Jane so often that he could do better than the trial lawyers that Jane signed him up to take the LSAT. Tim graduated from the University of Akron School of Law in 1977, and passed the bar on his first attempt. He always held that "I'm glad I passed the first time, because I wasn't taking it a second time!"
After 19 years at the Beacon Journal, he transitioned careers, moving from the newspaper's managing editor to a full professorship at Kent State's School of Journalism. Tim taught journalism for 28 years, and particularly loved teaching Media Law. He served as faculty adviser to the campus Daily Kent Stater, did a stint as the interim Director of the School, and was a favorite professor to countless students who stayed in touch years after they graduated. He was named a Kent State University Distinguished Teacher in 2000. In 1966, he won the John S. Knight Award from the Buckeye Chapter of the Society of Professional Journalists for exceptional service to the community through communications.
He traveled twice to China for Kent State, recruiting students there to attend KSU as international students. At Kent, he founded the Center for Privacy and the First Amendment as a resource for reporters, particularly in Ohio, on public records and open meetings laws. He also served as an expert witness.
In 1996, he took a sabbatical and clerked for Ohio Supreme Court Justice Craig Wright. For many years, he served on the Portage County Public Defender Commission before stepping down to serve as interim PD for more than a year.
He didn't retire well, continuing to practice law with son Bryan, forming Smith and Son Law in 2010, and taking whatever cases came his way, as well as taking cases for the public defender.
His full resume doesn't fully encapsulate Tim, though. He was a sage adviser to any student who had a problem, often asking for $1 if it was legal in nature, so that he was on retainer to protect the lawyer/client privilege.
He went to a journalism school that taught how to be a newspaperman. He got to be in the newspaper business when newspapers cared about covering the news more than the bottom line. He got to teach students how to do newspapering when it was hands-on more than theoretical. And he loved being a lawyer.
More recently, knowing he had only a short time to live, he reflected, "I've had a good life. A wonderful wife, three great kids and five wonderful grandchildren. A couple of careers. Newspaperman, professor of media law and was even a real lawyer." He also said he was immensely proud of his children, an astronomer, a gifted education teacher, and a bus transit executive.
Services will be held at the Kent United Methodist Church Oct. 12 at 11 a.m. Visitation will be 9:30-11am at the church before services and after the service in Pierson Hall. A luncheon will be served after the funeral.
A University of Akron Law Scholarship is being set up in his name to be given to night-time law students because both Tim and Bryan were graduated from it.  Checks can be sent to:
Timothy D. Smith Scholarship
The University of Akron School of Law
150 University Ave.
Akron, Ohio 44325-2901
Attn.: Andreas Ellis

To Give Online: https://www.uakron.edu/law/giving/
Donald Joseph Englehart
Donald Joseph Englehart, 84, a member of the Brimfield community for over 80 years, passed away on Wednesday, October 4, 2023 at Tamarack Ridge Nursing and Rehabilitation Center.
Garry Wayne Parsons
Garry Wayne Parsons, age 65, of Kent, OH, passed away surrounded by family on Tuesday, October 3, 2023 at his home.
Troy B. Jones
Troy B. Jones, Sr., age 80, of Streetsboro Ohio passed away peacefully on Wednesday, October 4, 2023.
Edward Francis Kurtzman
Edward Francis Kurtzman, 88, of Garrettsville, Ohio, passed away peacefully in his home on October 4, 2023. He was born in Kirtland, Ohio, in 1935, to the late Francis and Eleanor Kurtzman.