This article is part of our series of profiles on the artists appearing at the June 4 Art and Wine Festival in downtown Kent.
Those who attended the Kent Art and Wine Festival in 2019 may be familiar with Pastor Eddie Harris' oil and acrylic paintings.
Harris, a resident of Atwater, will be at the festival again this year with a collection of artwork he's eager to showcase. His paintings often depict flowers, Black history figures and, more recently, a pandemic theme.
When Harris was 5, his mother gave him a brown paper bag and pencil and sat him at the kitchen table, where he began to draw. Now, 65 years later, what started as a pencil drawing on a brown paper bag became what Harris calls his lifelong passion.
Harris recalls the support he had while growing up in East Cleveland. He was encouraged by his sixth-grade teacher, his peers and his father to continue his artistic endeavors.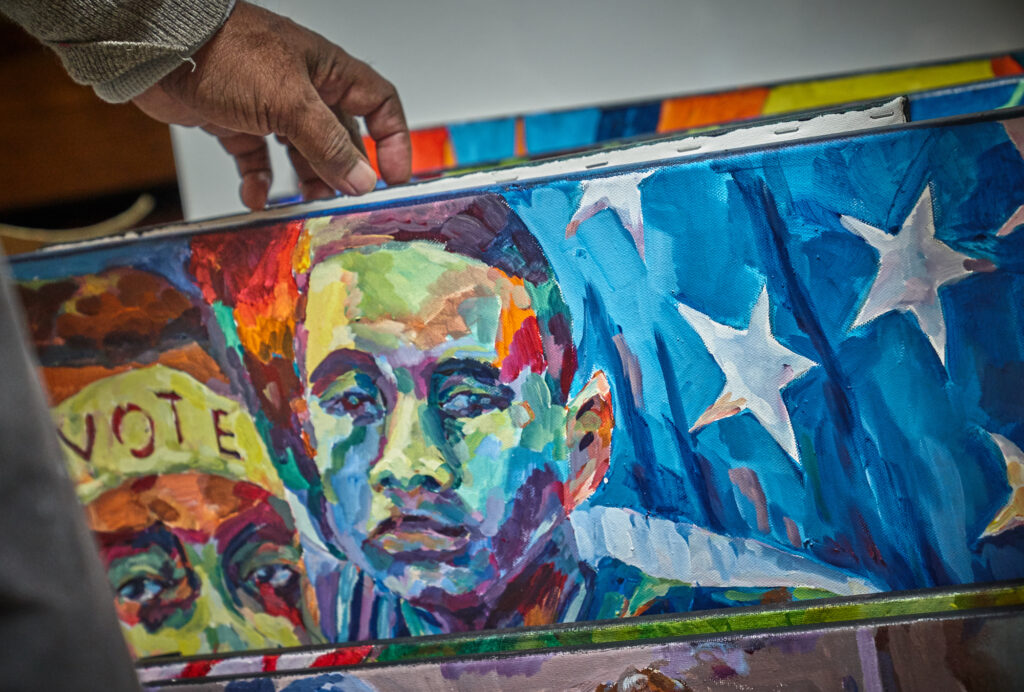 "My sixth-grade teacher, he took a notice, and he encouraged me in the art," Harris said. "Then my dad encouraged me with a paint-by-numbers set. He would put them on the wall and say, 'Oh, this is so great, so good.'"
From sixth grade on, Harris began to take painting more seriously.
"And from there, I started going to the Cleveland Art Museum," he said. "I would take the bus. You could draw the paintings and sculptures of the masters, you know. And, so, I would take the bus and go back and forth."
After earning a master's degree in art education at Kent State, Harris went on to lead a congregation in sermon at Ravenna's Upper Room Ministries, where he has been a pastor for more than 20 years. He has also owned a signage business for just as long, made possible by his background in art.
"For the last 30-some odd years, all I've done has been related to art, either teaching school, or selling art, or making art, or making signs," Harris said. "Everything related in some form to art."
Since his first drawing on that brown paper bag, Harris has kept his passion for art alive. Inspiration flows from his brush to the canvas, and it has for much of his life.
"There's something magical or mystical about putting the brush in your hand; it's just a love thing," Harris said. "If you have to wait to be inspired as an artist, you'll never paint. I can be tired, worked all day, be exhausted and come down here [to the studio] and put this brush in my hand, and I go into a whole different zone, a whole different thinking process. And that's how it starts."
Harris will showcase his artwork June 4 at the Kent Art and Wine Festival in downtown Kent. He will also display his work from 10 a.m. to 6 p.m. July 9 at the Art on the Hill & Wine Tasting Too festival on East Prospect Street in Mantua.
A large portfolio of Harris' work can be seen at his Facebook page.