Historical fiction is probably my favorite genre. Stories set during World War II abound — a person could probably read them for decades and never catch up with half of them. So I chose several current books whose plots take place in a variety of sites during World War II. I enjoyed them all.
Maybe my favorite of this group is "The School for German Brides" by Aimie K. Runyan. The author puts us in Berlin in 1938. The Nazis have risen to power and law and order is getting more rigid: "The zeal for Hitler was rising steadily as farmers, laborers, and shopkeepers struggled to rebuild the country after the Great War."
The story is told through two different voices, with three major female characters, all in their late teens. One, Tilde, is half Jewish. Her Gentile father has abandoned his family because it isn't politically expedient to be married to a Jew. Her mother is trying to get paperwork so that she and her daughter can go to safety in America. Tilde doesn't "look" Jewish ("I'd inherited my father's classic German bone structure"), and she gets by because she has her father's Aryan surname. She tells us, "I denied my heritage to save my neck. And, necessary as it was, there wasn't a day I didn't hate myself for it."
Hanna, 17, is a "good" German girl. Her mother deceased, her father sent her to live with her wealthy aunt and uncle, who treat her like their own daughter and seek to make a good marriage match for her. Her zealous uncle speaks of Hitler: "Mark my words, Hanna. He will set Germany on the path to glory again and your children will praise his name."
The third young woman, Klara is a go-between. A friend of Hanna's at school, she is also a customer in Tilde's fabric shop. Both Hanna and Klara are coerced into joining the BDM, the girls' wing of the Hitler Youth. Says Hanna, "If they catch us while we're young we won't get too enchanted with our independence. … They want us making babies before we know what we're missing out on." Klara says, "I don't particularly like children, and don't much look forward to having a brood of them. But it's what's expected of us."
When they become engaged to German officers, both Hanna and Klara are sent to "one of the Reich's bride schools" for six weeks to learn how to be a "proper" Aryan wife. "The most elite members of the SS send their brides there."
As the Nazi net around them gets more and more tense, the three come together at a point of crisis and the book becomes a thriller.
This is no romance. Hanna and Klara aren't the least bit in love with their fiances. There is a short love story, but it just moves the plot along.
It's a well-written page-turner, albeit a bit confusing, as chapters alternate between Hanna and Tilde, both written in the first person.
---
"The Last Night in London" by Karen White alternates between 1939 and 2019 in England. In the modern timeline, Maddie, a freelance journalist, is writing an article about the fashions from World War II. Miss Precious Dubose, 99, is the person whose clothes will be the subject of the article, and it's Precious as a young woman and her friend Eva — both fashion models — around whom the wartime plot centers.
Most of the 2019 story takes place in London, where the elderly woman lives. Interestingly, she is very close to a young man with whom Maddie went to college. Of course, there were sparks between the two then, but not much ever came of it. The contemporary storyline is a mystery mixed with a rather dull romance. The "romantic" writing is sometimes stilted and unnatural, but the wartime plot is much more interesting, as one of the young women gets pulled unwillingly into a spy network and must comply or die. The action gets pretty intense in this really good spy story. I found the conclusion VERY interesting.
"Just because a person is lost doesn't mean they want to be found" is the book's theme. "Everyone has secrets," we're told. "There are so many ways a person can be betrayed."
It's a good read, with one character you will especially love to hate. The character of Maddie comes from two of the author's previous novels.
---
"The Codebreaker's Secret" by Sara Ackerman takes place in Hawaii in 1942, but also has a timeline in 1965.
During the war, Isabel is a talented codebreaker in Washington, D.C. Her brother's plane went down during the Japanese attack on Pearl Harbor, and she wants to go there and "see the spot where his plane plunged into the ocean. To learn more about his final days." Luckily, she gets transferred to the codebreaking unit there.
In 1965 Lu, 25, is a female journalist "doing a story on Mr. Rockefeller's new hotel for Sunset magazine." A number of celebrities are on hand for the hotel's grand opening.
Photographer Matteo Russi is featured in both timelines, which is an interesting trope but confused me a few times.
There are mysterious deaths in both timelines, with espionage sneaking into the wartime plot. When a celebrity guest goes missing from the new hotel, the two timelines knit together.
I like her writing. I could almost feel the ocean breeze. I even found the attempts to break the Japanese code intriguing.
---
"A Harvest of Secrets" by Roland Merullo is set in Italy in 1943. Vittoria lives with her father and brother at a vineyard in southern Tuscany. Her lover Carlo is a worker at the vineyard. As the war goes on all around them, Mussolini's men are intimidating the local populace, constantly questioning everybody and searching everything.
Massimo, Vittoria's father's closest friend, is "the most mysterious and puzzling man on earth." He's wealthy, and he somehow manages to get around without having to answer to Mussolini's men. How?
Carlo realizes that "In recent years a kind of madness had infected his country, a perverted patriotism, the idolatry of a madman. He heard townspeople saying, "Mussolini will make us great again. Il Duce is creating another Roman Empire. A true man, he'll never let Italy be disrespected on the world stage."
Forced into Mussolini's army, Carlo is sent to fight in Sicily, where he's badly injured. Can he recover and find his way back to the vineyard and Vittoria? A member of the Resistance talks Vittoria into helping them. When someone is murdered, everyone at the vineyard becomes a suspect and is in jeopardy.
Who are the spies? Who can be trusted? Who will be betrayed? "A loathsome idea occurred to her then, a whispered possibility that might as well have been a viper crawling between her feet."
The love story is in the background, so the book isn't a romance; it's a wartime adventure. And there are interesting parallels with today's politics: "Il Duce talks and talks, but words are not air. Words have weight. … Words reach into people's minds."
It's well written. Merullo also wrote one of my favorite books, "Breakfast with Buddha."
Oh, and if you want a wartime story set in France, you can't do better than Kristin Hannah's "The Nightingale." I read it years ago, and it still occasionally comes to mind.
Happy reading!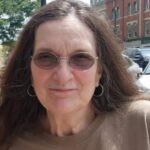 Mary Louise Ruehr is a books columnist for The Portager. Her One for the Books column previously appeared in the Record-Courier, where she was an editor.