Have you ever wondered what people would say about you when you're gone?
In the year 2044, a renowned philanthropist of global celebrity learns she has a terminal illness in "Dava Shastri's Last Day" by Kirthana Ramisetti.
We meet Dava Shastri, a 70-year-old widow, as she's reading her own obituary. "To see her death announced with a breaking news bulletin … overwhelmed her with delight," we're told. Her lawyer has released "news" of her death in advance, so Dava could see the reaction and, she tells us, "I get to see what the world thinks of me before I go. Isn't that kind of … nice?"
Dava's illness has progressed rapidly, and she's in severe physical distress, so she has decided to end her life in her own way. The author tells us that "Dava took perverse pleasure in trying to schedule her death as if it were just another important appointment." She decides on a day or so after Christmas, when her grown children and their kids are all together at her home on her private island. She tells them, "I decided to look at my condition as a gift, in which I could say goodbye to the world — and all of you — on my own terms."
We learn about her background ("Dava was a self-made billionaire") and her life with her husband, and we meet her four children and get to know them. We're told her children "acted as if their wealth didn't exist, even as their every sentence and gesture shone with it. Their clothes were so expensive they didn't have labels." It was "as if they walked around the world in Bubble Wrap, fully able to see class and income disparities but completely untouched by them."
The most interesting scenes come in the reaction to her "death" on social media. Rumors start flying about an old love affair she may have had — and did she have a love child?
In her final days, she has heartfelt talks with her children and tells them about her life's ups and downs. She says, "Let my story be a lesson to you: choose the people in your life wisely and don't let them ever make you doubt yourself or take advantage of you." Good advice.
If you're triggered by discussions of suicide, you may want to steer clear.
---
Though it came out more than 10 years ago, I was unaware of "The Last Days of Ptolemy Gray" by Walter Mosley until I learned someone had made a TV series of it, starring Samuel L. Jackson. The title intrigued me, and Mosley is a pleasure to read, so I looked it up. It turned out to be a powerful, unforgettable novel with two characters to love and one or two to sneer at.
Ptolemy Gray is 91 years old, and he's losing his memories. His mind is a mess, and his home is a mess. Sometimes the images of his long-lost friends are as real to him as the people in the room.
He lives alone in an apartment that often frightens him, and he gets help occasionally from his nephew Reggie for banking, shopping, and paying his bills. When a younger relative shows up instead of Reggie, Ptolemy learns that Reggie has been killed — murdered — in a drive-by shooting.
An orphaned teenager named Robyn volunteers to help Ptolemy get his life straightened out. The two develop an immediate fondness and respect for each other.
A doctor says he can help Ptolemy get his memories back — at no cost, because it's an experimental procedure — but the offer comes with a bitter reward: the memory restoration will be brief, and his life will probably end quickly thereafter. ("Faust," anyone?)
With the doctor's magic formula, Robyn's help, and a clear mind, the old man hunts for Reggie's killer, remembers a "treasure," and is able to see that his loved ones will be taken care of after he's gone.
The medical part of the story is fantasy, but the relationship between Ptolemy and Robyn is warm and real. This is a heartwarming story of humanity and wonder, reminiscent of "Awakenings" and "Flowers for Algernon."
Happy reading!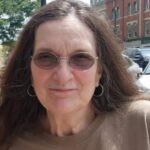 Mary Louise Ruehr is a books columnist for The Portager. Her One for the Books column previously appeared in the Record-Courier, where she was an editor.