By now you know I'm a sucker for books about books, about bookstores, about libraries. Here are a few of the recent ones I enjoyed.
"The Echo of Old Books" by Barbara Davis is set in 1984 in New Hampshire. Ashlyn Greer owns a store that deals in rare books. The owner of a nearby vintage store calls and tells her he has just received a donation of several boxes of old books; would she like to look through them? Of course she does, and among the volumes, she finds an unusual, beautifully hand-bound book.
Now, when Ashlyn holds an old book, she can feel vibrations from previous owners. "It was a thing she had, a gift, like perfect pitch or a perfumer's nose. The ability to read the echoes that attached themselves to certain inanimate objects — books, to be precise." She can feel emotions, such as joy or grief. She's experienced this phenomenon, known as psychometry, since she was 12. "She was a kind of empath, but for books."
She's found that "Books were like people. Each carried its own unique energy, like a signature or fingerprint, and sometimes that energy rubbed off." And "There's nothing more personal than a book, especially one that's become an important part of someone's life."
Ashlyn gets definite emotional "vibes" from the hand-bound book, the text of which is in the form of "a really long letter." Then the vintage store owner finds another hand-bound book almost identical to the first. It turns out, the second is written in response to the first. And the contents of both books are contained within this book.
The two books have no author's name and no publishing information. "One is written by a man, the other by a woman, but they tell the same story. A love affair that clearly ended badly." Ashlyn "was convinced the books weren't actually works of fiction, that the characters were real, that the love story … was real." But the books use only pet names. Now the story turns into a bit of a mystery. Can she prove the books are about actual people?
The books within the book tell a love story, but they have us pondering: Did he really love her, or was he simply using her? It's a rather extraordinary outcome. I found the book hard to put down!
---
"The Librarian of Burned Books" by Brianna Labuskes has multiple timelines.
In New York City in 1943, Vivian is a widow whose husband was killed in World War II. She wants to prevent a senator from stopping the shipment of free books to fighting soldiers. "All of those books will be banned from our Armed Services Editions program under your new censorship policy," she tells him. The Council of Books in Wartime (a real entity) "every month shipped millions of paperback novels to the boys serving overseas." The banned titles would include such classics as "The Call of the Wild," "Grapes of Wrath," and "The Adventures of Huckleberry Finn." But the senator hates President Roosevelt and doesn't want to give him any credit for the books-to-soldiers program. Hoping to organize a public protest, Vivian meets with a librarian at the American Library of Nazi-Banned Books in Brooklyn.
In 1932, Althea, a young American woman who has published a successful novel, has been invited to Berlin to participate "in a cultural program designed to bring 'well-known and respected authors' of German origin back to their home country for six-month residencies," part of Hitler's Aryan propaganda campaign. At first, she gets caught up in pro-Hitler fervor, until she becomes aware of, and even witnesses, Nazi atrocities.
The third timeline is set in Paris in 1936. Hannah has come there from Berlin, where it was dangerous for a Jewish woman, let alone a gay Jewish woman. She now works at the Library of Burned Books in Paris. The Germans were burning all books by Jewish writers and anything not favorable to the Nazi cause — "thousands upon thousands upon thousands of books being tossed into the flames." Why? "Nazis are portrayed in propaganda as ignorant anti-intellectuals. But the leaders know just how powerful knowledge is. That's why they want to control it so strictly." So "The library in Paris lived and breathed as a daily effort to counter the rising tide of fascism in France."
The library is important because "Books are a way we leave a mark on the world. … They say we were here, we loved and we grieved and we laughed and we made mistakes and we existed. They can be burned halfway across the world, but the words cannot be unread, the stories cannot be untold. … They are immortalized in anyone who has read them."
This is an enjoyable read, with a whole lot going on in several different timelines and locations that all come together in the end. It's an important book in these times of book banning and the assault on truth.
---
"A Likely Story" is Leigh McMullan Abramson's debut novel. This one's more of a contemporary literary novel than the others here, which are historical fiction.
In New York City in 2017, Isabelle is the only child of bestselling author Ward Manning. "Whatever Ward published, people would read it," we're told.
Isabelle has always wanted to be a writer like her father. Although Ward's 19 books have made him "very rich," Isabelle wants to make it on her own, without the influence of her father, but she's had rejection after rejection from publishers, and now she finds she's "flat broke."
Her best friend Brian wants to be more than a friend, but she doesn't know what she wants.
Isabelle's mother has died, but she has secretly left a gift for her daughter that will change her life.
The novel has friendship, family drama, secrets, and, in the end, redemption and forgiveness. The old saying that "behind every successful man is a woman" is very true here. There's a bizarre book within the book that doesn't seem to belong, but becomes clear as the story goes on. (I have to say, I didn't enjoy that part.)
Some of these characters are likeable, but the father, not so much. I'm not sure people would react the way these characters do. Still, it's a thought-provoking premise, and well written.
Happy reading!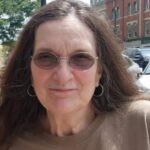 Mary Louise Ruehr is a books columnist for The Portager. Her One for the Books column previously appeared in the Record-Courier, where she was an editor.