Some recent family-oriented dramas pack quite an emotional punch.
"Hello Beautiful" by Ann Napolitano is Oprah Winfrey's 100th book club pick. It covers the years 1960 to 2008, but much of it takes place in the 1970s and 1980s in Boston, Chicago, and New York. And it has such well-drawn characters, you'll think you know them.
William Waters was born into a dysfunctional family and suffers from it all his life. In school, he finds his height useful on the basketball court, and it earns him a scholarship to Northwestern, where he meets Julia Padavano. She decides they'll be a couple and leads him into his future. Her mother and sisters invite him to their home in a working-class neighborhood in Chicago and welcome him to the family, a heady emotional embrace he has never felt before.
The sisters are each interesting in their own way; one becomes a famous artist and one is a great reader who longs for "a great, once-in-a-century love affair," as in "Wuthering Heights." When babies enter the family, troubles ensue. Oh, man, the complications, difficult choices, and hurt feelings that follow! I can't begin to tell you without ruining everything. Julia's mother says, "It's the stuff of soap operas!" After someone dies, a character thinks, "When your love for a person is so profound that it's part of who you are, then the absence of the person becomes part of your DNA, your bones, and your skin."
One of the sisters says, "It was hard for me to accept the fact that we don't choose who we love, because who you love changes everything." But don't think of this as a romance novel. It's almost painful to read!
At about two-thirds through the book, there was a very nice conclusion, and I wrote myself a note: "The book could end here." But then come the 1990s and how the decisions of family members affect the next generation.
Reviewers keep calling this an homage to "Little Women," but in an interview, the author confessed that it really isn't. The four girls occasionally compare themselves to the March sisters, but mostly just to decide which one is Beth. That's it.
A content warning: The book contains a subplot of depression and suicide.
---
"Pineapple Street" by Jenny Jackson is her debut novel. It's set in contemporary Brooklyn, New York, where the old-money-rich Stockton family lives. The adult offspring are daughters Darley and Georgiana and son Cord. "They were spoiled. There was no other way to say it."
Cord is married to Sasha, who comes from a middle-class family and feels the Stocktons look down on her. Darley is married to a man of Asian heritage, and she feels her husband and their kids are looked down upon. Georgiana, the single woman, knows she grew up "as a coddled rich girl" and feels a bit guilty about it. She has an inappropriate love interest, which makes for some interesting angst.
The book is not so much made of a plot as interactions between family members as they each go through ups and downs. It's character-driven, and several characters change as the pages turn.
The whole thing ends on a happy note, but you have to let yourself relate to rich people: "Darley had noticed something about people with money: they stuck together. … It was because when they were together they didn't have to worry about the differences their money meant in their lives."
---
"All That Is Mine I Carry with Me" by William Landay contains an intriguing mystery with several possible solutions. This one's a page-turner.
The Larkin kids are Jeff, Alex, and the youngest, Miranda. Their father, Dan, is a criminal defense lawyer. In 1975, when Miranda was 10, Dan's wife, Jane, disappeared. The news caused a media sensation, with many people pointing an accusatory finger at Dan, including the police and Jane's older sister.
"There was no clear evidence that a crime had been committed and no leads to follow if one had been." Therefore, the next thought was that she ran away. But there seemed to be no reason Jane would just take off, and there were no problems between Jane and Dan — were there? The District Attorney said, "We don't have the body, we don't have a weapon, we don't have witnesses, we don't have a history of abuse or violence" and there was no evident motive. So what happened? Why? And where is she?
The book provides flashbacks to the mom's disappearance and then, from different points of view, how her loss affects her family members as the years pass. There's even a scenario we think is from Jane herself, similar to the book "The Lovely Bones," which turns out to be a fantasy written by one of the kids.
Long into their adult lives, the kids ask themselves, "Where is Mom?" Raised by their father, they always wonder if he did something to her, but they each have different theories. After many years, other possibilities open up when a potential motive surfaces and again when a serial killer is arrested.
There is one major red herring that bothered me, but the story is compelling and satisfying. You will know by the end what happened. I was even able to guess what clue would give it away, which is always fun.
Happy reading!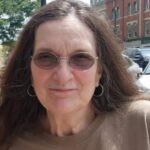 Mary Louise Ruehr is a books columnist for The Portager. Her One for the Books column previously appeared in the Record-Courier, where she was an editor.