There are literally thousands of books with the word "daughter" in the title; I have a few hundred myself. Fortunately, some of the more recent ones are exceptionally good reads. But, guys, don't turn away just because they're focused on female characters; these are adventurous books with plenty of male characters. They aren't "chick-lit" at all.
Let's start with a truly yummy book. I've loved Jamie Ford's work since his first novel, "Hotel on the Corner of Bitter and Sweet." But now he's outdone himself; I consider his latest, "The Many Daughters of Afong Moy," to be a masterwork.
Afong Moy was an actual historic figure, recognized as the first Chinese woman in America. This fictionalized version of her life isn't actually about her own daughters, but seven generations of her family. Yes, it's a multiple-timeline saga. If you know me, you know I don't like multiple-timeline stories, but in this case I made a list of the seven women's names and the year of each one's storyline, and I never got confused.
Ford really asks the reader to suspend disbelief a bit with his use of a pseudo-sci-fi treatment for transgenerational epigenetic trauma— trauma that may be passed along from one generation to another, just as genetic traits are. The author explains in an introductory note, "The idea of epigenetic inheritance has long been embraced in many communities. Native Americans have talked about living with generational trauma … and a hotly debated study of Holocaust survivors appears to show a higher percentage of PTSDs, depression, and anxiety in their children and grandchildren."
The narrative centers around Dorothy, who is having bizarre "memories" that are not her own. Her visions are traumatic and are causing her to exhibit odd behavior. Could they be from her ancestors? She seeks "some kind of new, bleeding-edge epigenetic treatment" recommended by her therapist that is supposed to help her confront these memories so she can control them. But can she?
Here's a list of the main characters to help you stay on track: Afong, 1836, who became a sideshow attraction with her tiny bound feet; Lai King, 1892, trying to survive an epidemic in San Francisco; Zoe, 1927, studying at a progressive school in England; Faye, 1942, a nurse in war-torn China; Greta, 2014, a tech-savvy app inventor; Dorothy, 2045, an emotionally disturbed poet; and her daughter, Annabel, 2086.
Each of the women has a fascinating storyline, and they're connected by a special mystery. It's all an epic adventure that isn't just for female readers.
The book had me so enthralled, I was annoyed at anything that took me away from it. It reminded me of a James Michener epic, or of Amy Tan's novels. At one point, I made a note that "This made my hair stand on end." At another, I actually broke down in tears— of joy. And when I thought back on the beautiful ending, tears still came to my eyes for several days.
I can't recommend this one highly enough.
---
"The Book Woman's Daughter" by Kim Michele Richardson is the sequel to "The Book Woman of Troublesome Creek," but you don't have to read the original to enjoy this one. Just know that the Pack Horse Library Project hired women to take books, on horseback or mule, to Kentucky residents in their hard-to-reach backwoods homes.
Honey Lovett has inherited her blue skin from her mother, and the anomaly makes her and her whole family outcasts. Because of bigotry and miscegenation laws, Honey is left on her own at 16, and as a minor she must find a proper guardian before she's forced into a state-run home where she'll have to endure hard labor ("shackled … and digging rock") until the age of 21. The irony is that she can marry at 16 and be considered an adult, but unmarried, she has few rights. A friend tells her, "Laws about females never make a lick of sense because they're made and run by men and meant to keep us in bondage."
When she lands the job of librarian, she knows how lucky she is. She tells the reader, "Books were smart. Powerful. And suddenly, I knew my job and the books were my path to freedom. They were everything I wanted and the women on my route needed. An escape, a friend, a lesson, and liberty for us all."
She finds friends in the hills of Kentucky, especially after she takes up her mother's old job as a packhorse librarian. These (including a moonshiner and a forest ranger) are some warm and wonderful characters who help Honey maintain her freedom. There are also some bad guys who wouldn't mind seeing her dead.
This sequel is an adventure story, every bit as good as the first. There are a couple of mysteries you'll solve almost immediately, as you shake your head at the justice system and the penal system: "I expect like all ugly laws, change will come."
Don't miss it!
---
"The Surgeon's Daughter" by Audrey Blake (who's really two authors, Jaima Fixsen and Regina Sirois) reminded me of "Sunflower Sisters," as it follows a young woman interested in medicine in the 19th century.
Nora Beady is studying medicine in Italy, because she isn't allowed to do so in her native England. Her romantic interest, Daniel, is a doctor practicing in London, waiting for Nora to complete her studies and return to him.
The men at the medical school at the Grand Hospital of Life and Death in Bologna, Italy, disapprove of Nora's very presence, and some are jealous of her successful work. Fortunately, she finds a female mentor who helps her, especially in studying problem pregnancies and pioneering work in caesarian operations, which "were … rare and deadly. … In England, she knew of [only] one reported case where mother and child survived."
Even if she earns her degree in Italy, and if and when she finally returns to London, will Nora even be able to practice?
Meanwhile, Daniel is performing groundbreaking tracheotomies on patients with diphtheria, and he's having an uphill battle with a naysaying colleague.
This is actually a sequel to the author's "The Girl in His Shadow," which details Nora's younger years as an orphan being raised by a surgeon who encourages her interest in his work. But I didn't read that one yet, and this book stands on its own just fine.
Parts of this one are not for the squeamish, but I'm fairly squeamish and I survived. And I didn't care much for the Italian "suitors" who tried to press romance on Nora, but I suppose that would happen since she was the only woman in the school. Still, it's a good read.
Happy reading!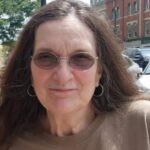 Mary Louise Ruehr is a books columnist for The Portager. Her One for the Books column previously appeared in the Record-Courier, where she was an editor.