Here's the book I've been recommending to everybody: Miss Benson's Beetle by Rachel Joyce. (Joyce also wrote The Unlikely Pilgrimage of Harold Fry, which is also wonderful.)
At age 10, Margery Benson fell in love with a beetle. Her father was showing her a book, titled "Incredible Creatures," which included illustrations of the Loch Ness Monster, a Himalayan yeti and a merman. Then she spotted a picture of "the golden beetle of New Caledonia."
Did the beautiful, elusive insect really exist?
"If these creatures live, they've not been found. There are people who believe they exist, but they haven't caught them yet so they can't prove it," her father told her, adding, "I have begun to feel comforted … by the thought of all we do not know, which is nearly everything."
She touched the page, and "as her finger met the golden beetle, something happened: a spark seemed to fly out and her future opened. She went hot and cold. She would find the beetle. It was that simple. She would go to wherever New Caledonia was, and bring it home."
Years later, her childhood fascination has been moved to the back of her mind in favor of practical necessities. But at age 45, after teaching for 20 years, "She'd become the school joke." She feels old, out of shape, frumpy. On the day she finds the young girls in her class laughing at a cartoon of her, she's so embarrassed that she walks out. She determines to finally fulfill her life's dream: "She would do it. She would go in search of the beetle that had not yet been found."
Quickly making plans for an expedition, she advertises for an assistant to accompany her to New Caledonia in the South Pacific. "No one, of course, would think it was a good idea. Margery wasn't even a proper collector for a start. … She'd never worked in a museum. She didn't have a passport. She couldn't speak a word of French. … Her doctor said an expedition to the other side of the world might kill her, while her bank manager warned she didn't have enough funds. Also, she was a lady."
The search for an assistant is both funny and pivotal. Eventually, at her wits' end, she offers the job to "the last woman on the planet she should have hired as her assistant," but she's on her way! "It was so easy to find yourself doing the things in life you weren't passionate about, to stick with them even when you didn't want them and they hurt. But now the time for dreaming and wishing was over, and she was going. She was traveling to the other side of the world. It wasn't just the ship that had been unmoored. It was her entire sense of herself."
Her assistant is a rather intriguing mystery! Why is she so interested in the British newspapers, and what is she carrying in the red valise that she guards with her life? Besides that, Margery doesn't know it, but she has a stalker who has little relationship with reality, who even stows away on the ship. Meanwhile, the British police are looking for "a femme fatale and a fat woman with no head," and people in New Caledonia get in on the search.
The two women face the miseries of the rainforest, the extreme heat, the insects, the pelting rain, cyclones, the flora and fauna, problems with passports and visas, and an overabundance of tinned Spam. She realizes "She could die out here, under these alien stars, and no one would know. … You might travel to the other side of the world, but in the end it made no difference: whatever devastating unhappiness was inside you would come, too."
I simply loved this book. It made me laugh out loud several times, and the descriptions of working in the rainforest made me feel lucky not to be there! Most of all, I adored the well-rounded and relatable characters, who evolved as they reacted to their comic/tragic experiences. And the ending made me smile. Oh, please give this one a try.
And thanks to my cousin, Norma Fisher Liburd, for recommending it, because otherwise I may never have heard of it. It's so good!
Happy reading!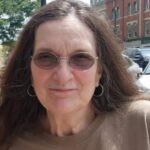 Mary Louise Ruehr is a books columnist for The Portager. Her One for the Books column previously appeared in the Record-Courier, where she was an editor.