Long, long ago, on a planet not so far away, people enjoyed their morning cup of joe while turning the pages of their daily newspaper. If that paper happened to be the Record Courier, you might have read my column, which appeared in the RC for more than 10 years.
Now, I'm absolutely thrilled to write for The Portager, which does such a great job of keeping folks in the know about our hometowns here in Portage County — even for those who no longer live in the area. (Speaking of which, I've lived virtually all of my life here in Kent, and proudly so.) If you were among my faithful readers awhile back, I hope you'll enjoy reading me again. If you have no clue who I am, here's hoping you'll find bits of laughter, inspiration or joy among my words.
---
It's a typical February day, cold and dark, with a dusting of snow frosting the ground. I can deal with the cold and the snow, but the darkness gets to me sometimes, especially since my beloved husband passed away on a day like this, five winters ago.
Life's ups and downs have taught me, though, that we don't live in the past or in the future — we only have today. Which means I'd miss out on a lot of beauty, peace, laughter and joy — gifts that even the smallest, most mundane moments offer — if I spent my time yearning for past days, or dwelling on the darkness and the cold.
And so this morning I'm sitting in my little writing nook, burrowed into my old beige recliner, which has held me as I pray, write, read, sing and muse, for over two decades. My raggedy old white afghan is tucked securely around me. A gift from a dear friend, the afghan has been my companion for a long, cozy time, tenderly enfolding me like my mother's love.
My little Bose speaker quietly beams peace, hope and love into the room, via the pure voice of Snatam Kaur, closely followed by Kitaro, Andrea Bocelli, Il Divo and Adele.
I savor precious treasures in the room, including two priceless works of art: a rainbow drawn by my 4-year-old granddaughter, and a paint-by-number Van Gogh of sunflowers executed by my 8-year-old granddaughter. My rock collection resides on a windowsill and a magnificent white ceramic horse head graces a cabinet. Other reminders of those I love surround me. Life doesn't get better than this moment, this "now."
Meanwhile, the enigmatic (aren't they all?), 11-year-old cat, Tony, who graciously allows me to share his home, is curled snugly on his upholstered, beige kitty perch by the window, snoring softly, his tiny toy box close by. He is oblivious to the drama unfolding just outside: a fat, gray squirrel, balancing precariously, has managed to pilfer suet from a "squirrel-proof" cage. (Note to self: move the suet. Again.) While Tony slumbers, chickadees, sparrows and a woodpecker dive like Kamikaze pilots at the other feeders. On the ground, a black squirrel, two cardinals and several blue jays vie for fallen seeds.
The round table next to my chair groans under the weight of a huge, untidy tower of books (Nepo, Williamson, Bourgeault, the Dala Lama, Rumi, Rohr, Chopra and, atop them all, my mother's precious, tattered old Bible). Nearby, in easy reach, threaded between even more books (novels, a book about Italy and one about birds), pens, pads of yellow paper, my laptop and scribbled scraps of inspiration stand ready to catch my words.
Soon, I brave the cold to take a short walk, accompanied now by disco, motown and rock. The reward for dragging myself out there? Lovely little white snowdrops are in bloom. In February!
All of these small moments of contentment whisper that life is good, that I am rich beyond measure. All that remains is to be grateful. And I am.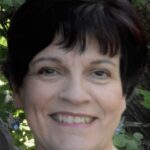 Kathy Baker is a writer and speaker, a messenger of encouragement who loves to touch hearts and tickle souls with her work. She is the author of "Leaving Adversity Plaza," and "A Tale of Three Choices: His, Hers, Mine." She loves hearing from her readers and can be reached at [email protected].