The Hiram High School alumni held their 29th reunion July 17 at the Troy Community Center in Welshfield after a two-year hiatus due to the Covid pandemic. Fifty classmates attended the potluck event that represented the graduating classes of 1946 to 1964, the last year the school was in service. The event was organized by Maryan Jenkins, Barbara Biltz, and Gary and Carol Bott.
The oldest known classmate to attend was John Porter, 93, of Garrettsville, who graduated from the school in 1946. Porter said he and Frank Fields are the only surviving members of the class as far as he knows. Fields was not in attendance.
Porter said he didn't spend much time at Hiram High School because he and his neighbor, Pete Mayer, were driving a coal truck for Porter's dad, and he also "ran the town snowplow."
"We always joked about the fact that we controlled whether we had school or not [because he ran the snowplow]," Porter said. "One day, I had to go out and haul a load of coal for the school and dump it, and I went up to math class and Mrs. Nichols said I was all black with coal dust. Mrs. Nichols said, 'I don't think you're properly dressed for this class.' I says, 'OK, I gotta go to the mine anyway,' walked out, went and made another trip."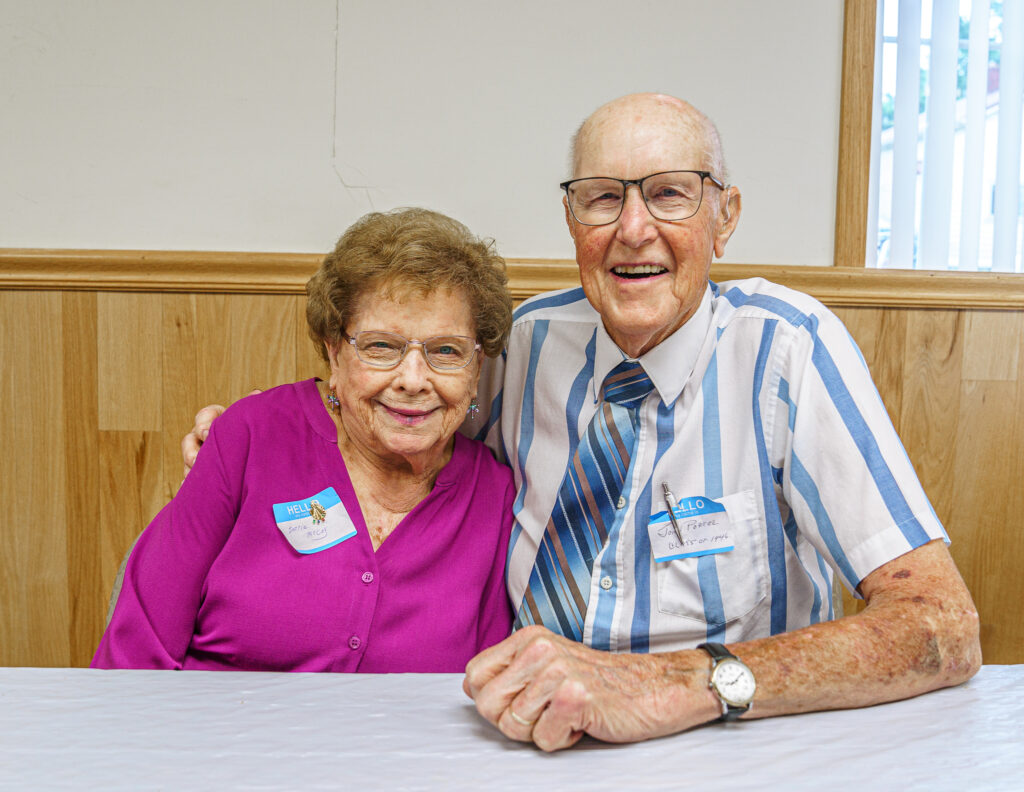 Porter was born at the beginning of the Great Depression in 1929. At that time, he lived in Windham, where his father, Albert Porter, had a stationary hay baler that was pulled behind his truck.
"We came right out of the Depression into World War II," Porter said, "and you had to be innovative in order to survive. I remember we took a load of straw to Ravenna and traded it to Mayhew's feed mill for a bag of flour. That's how things were; a lot of bartering back in the Depression. We had a good life; we didn't know any better. We didn't think we were poor."
After high school, Porter became a brick mason and even worked on the house that he lives in today.
"We were building the funeral home in Garrettsville," Porter said. "Tom Carter and I sat under the old oak tree and rock-faced stone for 30 days." They would scribe a straight line on all sides of the stone using an old phonograph needle, then they chipped away at the perimeter of the stone with a 4" chisel until it was even. "Because when the stone came in from the quarry, it wasn't a nice, even face. So you had to straighten it out. As time went on, we went down the street and built a couple basements, and we got down to where I'm living right now. The first cement block I ever laid was on the house I own today."
Porter was too young to be selected for service during World War II, but he said his "luck ran out" in 1951 when he was drafted for the Korean War.
"I got married in '50, and in a few more months I got a letter from the Uncle [U.S. government], said he wanted me to go to Korea," Porter said. "So I went into the Army, was drafted and went to Fort Belvoir down by Washington. We were declared to be engineers and they gave me a bricklayer's MOS, because I was a card-carrying bricklayer.
"Anyway, we got through our basic and advanced training and they shipped us over to Korea, and when I got there I had to be interviewed. The commander says, 'We don't need any damn bricklayers around here,' so he made me in charge of the heavy equipment platoon. I had bulldozers and graders and cranes and stuff like that, that I was in charge of. We lived in squad tents about two miles off of the base. Our airbase was K13; it was about 20 miles south of Suwon (South Korea), and we maintained that — maintained the strip and perimeter road, parking pads, put down pure steel plank parking pads, stuff like that."
Not long after the Korean War, Porter worked as a Prudential insurance agent for 32 years.
Currently, Porter collects aluminum cans and donates the proceeds to a local church.
"I go to Sugar Bush [Golf Club] every morning, pick up their garbage bags, take 'em home, sort out all of the aluminum cans out of 'er, take 'em to the junkyard, and the money goes to the Methodist church. I'm going to find a different hobby for my next life, though," Porter said. "It's kinda stinky."
After his wife, Beverly, died in 2011, Porter started dating Dottie McCoy, whose late husband, Jim, worked with Porter as a brick mason in the 1950s. The Porters and the McCoys were good friends throughout their lives. Dottie said God put her and Porter together.
"It's been a good thing for both of us," Porter said. "It keeps me out of bars.
"We seem to be accepted by both sides of the family. She makes scotcheroos for my son. It's been a good ride."
Porter and McCoy recently took in a movie at Ravenna 7 Movies.
"Last night, we went to see 'Where the Crawdads Sing,' " McCoy said. "Oh, it's a good movie. I want to see it again." 
Representing the class of 1949 was Phyllis King Brosius, 91, of Mantua.
She grew up on the corner of Limeridge Road and Schustrich Road in the house where she was born. Her family settled in Hiram Township before trains came to the area. Brosius Road was named after her late husband's grandfather. She had a relative [Moore] from Freedom who was a photographer that took pictures of the surrounding area before 1902. The relative is credited with taking a picture from 1901 or 1902 of the Hiram Public School Route No. 1 horse-drawn kid hack, a carriage named after a hackney carriage that was used during the late 19th and early 20th century to transport schoolchildren.
"That was my grandfather that was out pushing the wagon, out in the back," Brosius said. "My dad was in the picture. I think he was probably in first grade 'cause he was just a little boy, and I have two aunts that are in the picture, too.
"The funny part was, a cousin of mine borrowed the picture from me and had it made up and it was put in the window of the bookstore in Garrettsville. Anyway, my son saw it and knew I went to Hiram School, so he said, 'Do you know anyone in this picture?' I said, 'I'm related to probably half of 'em, at least.'"
Brosius lives in Hiram Township with her daughter, Diane Roberts.
Fried chicken and several casseroles were served at the 29th Hiram High School reunion. Memories were shared and old friendships rekindled. Maryan Jenkins said it was so much fun, they may hold the Hiram High School reunion again next year. Although the school building has since been razed, the spirit of the Hiram Huskies lives on with its classmates.
The classmates in attendance were:
Class of 1946 John Porter
Class of 1949 Phyllis (King) Brosius
Class of 1950 Marilane (Bixler) Spencer
Class of 1952 Jeannette "Jean" (Bailey) Valot
Class of 1954 Richard Masters
Class of 1953 Jack Matzek
Shirley (Bennett) Matzek
Class of 1954 Marilyn (Atwood) Brigham
Class of 1956 Margaret (Krueger) Smith
Class of 1957 Juanita (Etling) Basey
David Hayes
Gladys (Kuzma) Boyk
Gary Spencer
David Stutzman
Jerry Matzek
Class of 1958 Ron Simsa
Norbert Boyk
Class of 1959 Robert Etling
Carol (Orban) Bott
Leon Sanborn
Class of 1960 Gary Bott
Duane Siracki
Julie Urban
Paul Szabo
Class of 1961 Ruth (Porter) Marlewski
Barbara (Randa) Hill
Class of 1962 Ron Etling
Carla (Geiger) Altiere
Ellen (Hughes) Dingus
Marcia Rosser
Kathy (Sharp) Dunlap
Class of 1963 Bruce Fabiny
Pat Hurd
Barbara (Porter) Biltz
Maryan (Simsa) Jenkins
Marilynn (West) Szabo
Class of 1964 Maryanne (Kacenski) Chamberlain
Hilton Joseph Long
Crestwood class of 1965 who attended Hiram High School in 1964, the year of its closing:
Diane (Fabiny) Long
Rich Szabo
Rob Simsa