My indoctrination into the Kent Roosevelt-Ravenna football rivalry came in 1994.
I had only brushed up against the edges of the rivalry before then:
I was born in Ravenna.
I lived in Kent for about the first year of my life.
And I read every word of the Record-Courier's game stories — written by my future R-C coworkers Harry DeVault and Oscar Knight — detailing the epic clashes between the backyard rivals throughout the 1970s, '80s and into the '90s.
It always sounded so exciting in the paper, true "you had to be there" nights in Kent and Ravenna when the Rough Riders and Ravens tightened the chin straps and slugged it out for four classic quarters every year.
The names seemed larger than life to me back then: Joe Leigh, John Nemec, Paul Campbell, Harold Brown, Sonny Ray Jones, Dana Wright, Jake Smallfield, anyone named Boykin.
I had always admired and envied the Ravenna-Roosevelt rivalry from afar. We didn't have an arch-rival like that at Mogadore. At one time it was Field, but the schools stopped playing each other after the 1977 season for whatever reason (depending on who you asked, one school was avoiding the other and vice versa).
By the time my senior season of 1985 rolled around, the Field rivalry was long since dead and buried, which was unfortunate for the two neighboring communities — and me personally. My mom was a majorette at Field High School in the mid-1960s, and my uncle was a standout center and linebacker for the Falcons in the mid-1970s. They got to experience the excitement and intensity of the Field-Mogadore rivalry, but I never did.
At Mogadore, we had "proximity" clashes with Rootstown and Waterloo, but we didn't have our Roosevelt or Ravenna. Aside from the fact that we were the game every opponent circled on its calendar each season, we didn't have a true rival. We had 10 games, but not The Game. Good battles with teams throughout the Portage County League, but not that one defining night each autumn that you pointed to 365 days a year.
Like Kent Roosevelt and Ravenna have done since 1911 and continuously since 1919.
So I always wondered what a Ravenna-Roosevelt game was like.
On a fall night in 1994 at Ravenna's old Gilcrest Stadium, I finally got my chance.
It was my first high school football season at the Record-Courier, and I was the Ravenna High School athletics beat writer. It was the middle of the season, and Coach John Keegan's Ravens were still trying to find their footing. A home win over the Rough Riders might turn the entire '94 campaign around — and even if it didn't, a win over the Rough Riders was, well, a win over the Rough Riders.
The fans at Ravenna's venerable stadium by the railroad tracks were treated to yet another classic game that night. And I was treated to a heavy dose of what I had been missing all these years: An intense, emotional, hard-hitting defensive struggle where the teams fought bitterly for each yard of chewed-up grass.
All the old football cliches were no longer cliches. Terms like smash-mouth, bone-jarring and teeth-rattling had real meaning. It was fierce and beautiful at the same time.
Sitting in the rickety old pressbox atop Gilcrest Stadium — and by rickety, I mean you could actually feel it sway as it perched precariously above the fans in the home stands — I knew I was watching something special. And it wasn't just the Rough Riders and Ravens in uniform who were on the field that night. The Ghosts of Ravens and Riders Past, names like Nottingham, Campana, Adamle, White, DeLeone, Gilcrest, West, Powell, Klohn and Jones, shared the field with them.
Ravenna held the upper hand much of that 1994 game and carried a slim lead late into the fourth quarter. Roosevelt had the ball, and all the Ravens had to do was hold on defense one more time and victory would be theirs.
But in a rivalry of this magnitude, the distance between "all you have to do" and actually doing it is measured in light-years.
With time rapidly slipping away, the Rough Riders of Coach John Nemec dug deep one final time, finally taking the lead on a play that saw the ball come loose near the goal line, the quarterback pick it up on a favorable (Ravenna fans would say lucky) bounce and somehow dive into the end zone through the teeth of the Ravenna defense.
Final score: Kent Roosevelt 15, Ravenna 14.
I get goosebumps even now just writing about it.
It was everything I could have hoped for from my first Ravenna vs. Roosevelt game – a microcosm of a remarkably even rivalry that Ravenna currently leads 54-51-3 (pending the outcome of Thursday night's 2023 season opener that was suspended due to weather with Roosevelt leading 21-14 at halftime; the game is scheduled to resume at 4 p.m. Saturday, Aug. 19). Following that 1994 game, I felt terrible for the Ravenna players who saw victory yanked from their grasp by an iron-willed opponent that was every bit as determined to win as they were.
I waited outside the Ravenna locker room as Keegan addressed his team inside the cramped quarters. Fans streamed past me on their way out of the stadium, heading home to bask in the exhilarating victory or make sense of the crushing defeat.
Finally, Keegan emerged for the customary postgame interview. He was standing next to me, but his gaze was fixed on the football field in front of him. That's when I noticed the tears in his eyes.
Those were more than just football players sitting in that locker room. Those were Ravenna football players — like Keegan had been in his high school days decades before. Keegan had worn that uniform and played in this rivalry. He had experienced the same emotions that his players — his kids — were feeling at that very moment.
And I realized that those tears in his eyes weren't for him. They were for the gutsy teenagers inside that locker room who had given everything they had to win that game and came up excruciatingly short. And they were especially for the seniors who would end their career with a loss to Kent Roosevelt.
Keegan, who passed away in 2021, will, for me, always embody what the Kent Roosevelt-Ravenna rivalry truly means: emotion. His tear-filled eyes staring blankly at the Gilcrest Stadium field that fall night in 1994 is the endearing image of this rivalry that I will take to my own grave.
Not the touchdowns. Not the championships. Not the legendary names and games.
But John Keegan crying for his players.
That's Ravenna vs. Kent Roosevelt.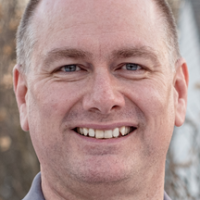 Tom Hardesty is a Portager sports columnist. He was formerly assistant sports editor at the Record-Courier and author of the book Glimpses of Heaven.