The Barberton Herald no longer exists.
The little community newspaper serving its hometown of Barberton and neighboring Norton published its final edition Dec. 29, 2022, closing its doors for good after almost 100 years in business.
I care about this on a personal level, and we all should care about it on a societal level.
My first professional job in journalism was at the Barberton Herald. I was in my third year as a student at the University of Akron when my News Writing instructor, Lori Noernberg, asked me if I would like to cover high school sports for a local paper.
Like to? It's what I wanted to do for a living. It's why I was going to college in the first place, dragging myself out of bed every morning, driving to downtown Akron and sitting through classes like geology, Western art and advanced mathematics so I could learn how to report on sporting events. Yeah, it made no sense to me then, either.
In addition to her teaching duties at Akron, Lori was also working as a news reporter at the Barberton Herald and said she could get me in there if I was interested.
Yes, please.
So I was brought on as a stringer in December 1988 covering high school sports. I was assigned the Green High School athletics beat, which was part of our coverage for the Portage Lakes Herald, a division of the Barberton Herald covering Green, Manchester and Coventry.
I was thrilled. I was 20 years old, had my very own beat, and I was familiar with Green, having had friends that went to school there. Not to mention, the Bulldogs were pretty good at just about everything.
I still remember my very first assignment: a Green at Field boys basketball game. It was an amazing alignment of the planets, because my first night as a professional sports writer was spent inside the gymnasium where my mom played high school basketball a little more than two decades earlier. I couldn't think of a better way — or place — to start my career.
And that goes for the Barberton Herald as well. The on-the-job training I received from Lori and (the late) Dave Richardson, who purchased the paper not long after I started and quickly promoted me to sports editor, was invaluable (in my mind, a little too quickly; I had been at the Herald barely two months and told Dave, "I don't think this will work with me as sports editor. I don't know what I'm doing," to which Dave replied, "You'll learn.").
I loved working in Barberton and immersed myself in the city's rich sports culture. The list of notables from Barberton is a veritable Who's Who of Sports:
Bo Schembechler, the legendary football coach at the University of Michigan; Bill Mazeroski, whose home run in the bottom of the ninth inning of Game 7 of the 1960 World Series at Forbes Field in Pittsburgh gave the Pirates the championship over the vaunted New York Yankees; Hal Naragon, who played catcher on Cleveland's iconic 1954 World Series team that became infamous for winning 111 games during the 154-game regular season then inexplicably got swept in four games by the New York Giants in the Series; twins Mark and Marty Bodnar and Carter Scott, who led the Magics boys basketball team to the 1976 Class AAA state championship before the Bodnars went on to play at Michigan and Scott at Ohio State; Billy Taylor and Lawrence Ricks, who starred at running back for "Barberton Bo" at Michigan; John Mackovic, head football coach at Wake Forest, Illinois, Texas, Arizona and the Kansas City Chiefs; Glenn "Jeep" Davis, who singlehandedly won the 1954 state track & field title for the Magics — yes, he won it by himself — then went on to win three Olympic gold medals, set five world records and, for good measure, play wide receiver for the Detroit Lions; Alvin Robertson, who won a gold medal as a member of the 1984 U.S. Olympic men's basketball team and later was a four-time NBA All-Star; George Izo, who played quarterback at Notre Dame, was the second overall pick in the 1960 NFL Draft and played seven years in the league; and on and on and on.
By writing for the Herald, I got to be part of that incredible history and tradition, if even peripherally. I got to cut my teeth in journalism. I got to work with a wonderful group of kind, generous, talented people. And I got to work for the resilient, blue-collar community of Barberton, which possesses the kind of fortitude and strength that allows it to keep plowing through whatever adversity time and society can throw at it.
When I walked out of the Herald doors in downtown Barberton for the last time in June 1993, I never envisioned a day when it would no longer exist. But like with hundreds of other community newspapers in the United States, that day has come — and every time one of them closes, we all lose. Community news is the backbone of democracy, and if it dies … well, you don't need me to finish that sentence.
I'll save the civics speech for another time, but trust me when I say — and I say this as a professional journalist of nearly four decades — you do not want corporate interests monopolizing your local news. Aside from the fact that media conglomerates couldn't find Portage County or Barberton on a map — if they'd heard of it at all — they are not personally or emotionally invested in the community. What happens in a community doesn't affect them because they either don't live there or they're not from there.
I don't mean rank-and-file employees, who are doing everything in their power to bring the news to their communities in ridiculously understaffed editorial departments. I'm talking about the suits at these conglomerates who wring every last dollar out of a community paper before shutting it down, heading to the bank to count their winnings while the good people who just lost their jobs head to the unemployment office.
This creates what has been coined "news deserts," communities whose vital flow of local information has dried up. In some cases, like the Barberton Herald, it's a sign of the times — a newspaper succumbing to lack of advertising, which began in earnest in our industry with the rise of the internet in the mid-1990s. More often, though, it's because of hostile takeovers by large media corporations. Like a parasite, the conglomerate feeds on its host until it's dead, then moves on to the next victim.
The fact that the Herald didn't die that way won't make the good people of Barberton feel any better. Because, for the first time since 1923, they no longer have their own newspaper. What now passes for local news in Barberton comes in sporadic fashion from an outsourced media corporation — just like in hundreds, perhaps thousands, of other small towns across America.
Barberton has become a desert. And democracy is buried in the sands beneath it.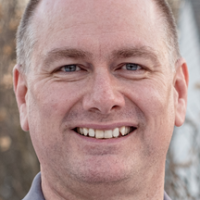 Tom Hardesty is a Portager sports columnist. He was formerly assistant sports editor at the Record-Courier and author of the book Glimpses of Heaven.