I'm sitting here ready to take my turn with the mortician's blade on the cold, lifeless body of Ohio State's 45-23 debacle of a defeat to Michigan Nov. 26 at Ohio Stadium.
I'm poised over the table, fully prepared to perform my own postmortem on the corpse of the Buckeyes' most humiliating loss to the hated Wolverines in Columbus in my 54 years on the planet — and perhaps ever.
The media began its autopsy approximately one second after the game clock hit all zeroes Saturday and the Buckeyes were leaving the field with their first loss of the season after winning their first 11 games — while the Wolverines celebrated a 12-0 record, a second straight berth in the Big Ten Championship Game and almost assuredly a second consecutive appearance in the College Football Playoff.
Ohio Stadium started the day at the center of the college football universe. It ended the day as a giant mausoleum, the place where the Buckeyes' 2022 season went to die.
So after several days of pundits from coast to coast taking their turn with the scraper, it's now in my hands. And I have no idea where to start.
I could sit here and quote chapter and verse of anything from hairbrained play calls to stupid penalties to boneheaded mistakes. I could talk about how Michigan, with star running back Blake Corum unable to play due to injury and its running game stuck in neutral in the first quarter, switched to Plan B, which consisted of quarterback J.J. McCarthy doing little more than throwing the ball as far as he could — and Ohio State, somehow unaware that putting a safety on the field to defend against deep passes is still legal in college football, routinely getting burned on long passes.
I could talk about how Buckeyes head coach Ryan Day, with his team leading 20-17 at halftime, forgot that the best wide receiver in the college game, Marvin Harrison Jr., just happens to play for his team, instead making bizarre play calls and decisions throughout the second half that led to the Buckeyes being outscored 28-3 in the final two quarters.
And I could talk about how, after all that, if things break just right this weekend in various games involving other teams, Ohio State could actually find itself in the College Football Playoff after all. I wouldn't bet the mortgage on it, but it's not out of the realm of possibility.
I could talk about all that and more. But at this point, I prefer to be a little more forward-thinking and extrapolate this out a few years in the context of the Ohio State-Michigan rivalry as a whole.
Coming into the 2021 season, the Buckeyes had won eight in a row over the Wolverines, 15 out of 16, and 17 out of 19. It was domination on a historic level for Ohio State.
The Wolverines stopped the bleeding last year with a 42-27 victory in the snow at Michigan Stadium, which represented Jim Harbaugh's first win over Ohio State since becoming Michigan's head coach in 2015. Up until that game, he was 0-5 against the Buckeyes and had pretty much run out of support from UM faithful.
After that game, though, everything changed for Harbaugh and the Michigan program. It rejuvenated the Wolverines and their fan base, giving them confidence that finally, at long last, they were on a par with their arch-rivals.
But we got a different narrative here in Ohio. The 42-27 beatdown was just an aberration, we were assured. Ohio State, after all, was a finesse passing team, and when the snow started falling in Ann Arbor, it gave the advantage to run-heavy Michigan. The flu was making its rounds through the entire Ohio State team the week of the game, with several Buckeyes playing sick against the Wolverines. And, hey, Ohio State had beaten Michigan eight times in a row, so the Wolverines were due to win one. It was just their day.
We heard it all after last year's game.
Except we didn't hear this: That maybe, just maybe, Michigan was Michigan again. The team that John Cooper went 2-10-1 against in his tenure as Ohio State coach from 1988 to 2000. The team that beat undefeated Buckeye squads in 1993, 1995 and 1996, derailing national championship seasons each time. The team that so often stood in Woody Hayes' way during his 28 legendary years as Buckeye coach.
No, we didn't hear that maybe, just maybe, Michigan was back. We were told that the hiring of Jim Knowles as Ohio State defensive coordinator would fix the problems endured by the Buckeye defense in Ann Arbor that wintry November day in 2021. We were told that after a full year of seething over that stinging defeat, the Buckeyes would be breathing fire for the Wolverines when they came to Columbus this time. We were told that 2021 wouldn't happen in 2022.
And it didn't. Because 2022 was worse. A 15-point margin last year became a 22-point difference this year. The game was at home, it didn't snow, nobody was sick that we're aware of, Ohio State had revamped its defensive coaching staff, personnel and scheme, had pointed to this game for a full 12 months … and it was worse.
And next year, the Buckeyes are off to Ann Arbor again to try to stop this two-game skid. But rather than make excuses and shrug off the Wolverines' victory as just one of those things that an inferior opponent pulls off from time to time, the Buckeyes — players and coaches — would be wise to give the devil its due: Michigan has been rebuilt into a formidable program by Harbaugh. It took longer than Wolverine fans would have liked, but he's finally done it. Two straight blowouts of the Buckeyes, the second worse than the first, is no aberration.
It's confirmation. Michigan no longer is Little Brother in the rivalry. The two heavyweight programs who have mirrored each other for so long are twins again, equal parts in the greatest sibling rivalry in sports.
The Buckeyes will need to take a new attitude with them to Ann Arbor next November. Instead of focusing on revenge and how badly they're going to beat the Wolverines, they should focus instead on what they need to do against a team that has beaten them by a combined five touchdowns in two games.
The Buckeyes lost focus Saturday, as evidenced by the plethora of penalties and mistakes throughout the game. The coaching staff lost focus, as evidenced by the way it froze during the game and became unable to make the necessary adjustments on both sides of the ball.
In the Cooper years, this loss of focus snowballed on the Buckeyes. The pressure to win this game mounted as the losses piled up, and the defeats began to feed on each other. It became a runaway locomotive.
To prevent history from repeating, the Buckeyes have to focus on winning this game rather than not losing it. Ryan Day played not to lose on Saturday, and it likely cost his team a chance at a national championship. Call your best plays and utilize your best players, and let the chips fall where they may. Going forward, anything less than your best isn't going to get it done in this game.
Because the rivalry, after two decades of Buckeye dominance, is on equal footing once again.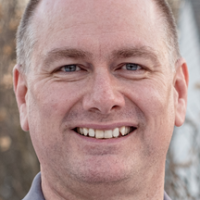 Tom Hardesty is a Portager sports columnist. He was formerly assistant sports editor at the Record-Courier and author of the book Glimpses of Heaven.