The wonderful piece submitted to Round 2 last week by Melissa Morris, who coaches youth soccer for the Ravenna Parks & Recreation Department, about Kent Parks & Rec youth soccer coach Eric Allen and the positive impact he makes on kids' lives, got me thinking about the youth football and baseball coaches I played for while growing up in Mogadore.
I could write a book on those experiences — and at some point I might — but the common denominator that connected them was this: They were in it for us. There wasn't a self-serving coach in the bunch. That may sound overly simplistic, but it's a rarer trait than you might think. There was a time when I covered a lot of youth baseball, and I was amazed and appalled at how many coaches thought they were Earl Weaver managing in the World Series rather than a volunteer coaching little kids.
Each time, it made me appreciate my youth coaches just a little more. Guys like:
– Bob Rick, who coached our Suburban Youth Football "C" Team when we were 8 years old. He was my class's first football coach. He taught us how to play the game, and he did it with a patient and gentle nature. To illustrate that point, one day during practice a kid took off his helmet and a bunch of little Matchbox cars spilled out. As he picked them off the grass, Bob asked him why he had toy cars in his helmet. The kid replied that he had nowhere else to put them during practice (that's the logic of an 8 year old right there). Bob gently explained to him that it's dangerous for someone to play football with steel objects pressing into their head. A safe spot was found for the cars, and practice resumed without incident. We didn't realize it then, but that kid may have been the single toughest human being to ever step on a football field. I mean, the sport was difficult enough without having Matchbox cars smashing into my skull.
– Dennis Weisand, our SYF junior varsity coach when we were 11 and 12. Denny cut an imposing figure: Big guy, full beard, booming voice, roared into practice every day on a motorcycle. He was in his mid- to late 20s, had been a lineman at Mogadore in his high school days and still looked the part, and I was terrified of him — at first. He just looked like he meant business. But I quickly grew to love playing for Denny. He was intense, yes, but not over the top. He also was ahead of his time: He would sometimes cut a practice short if he felt it was too hot, telling us to go home and cool off in a swimming pool — which made us love the guy even more. We knew he had our backs and was always looking out for our best interests, and there wasn't a player on the team who wouldn't have run through a wall for him. Denny was also a master motivator and as good an Xs and Os coach as I ever played for, leading us to a 10-0 season and the league championship as 12 year olds in 1980. I will never forget what he told us in the locker room before that championship game against Green at Springfield High School. Our group had never beaten Green, and the games weren't close. The Green youth program was a national power back then, and they had an aura of invincibility around them. Right before taking the field, Denny stood in front of us and said: "You are better than they are now. They don't think so, but you are. They think they're going to take that field and beat you like they always have, but they're wrong. You're going to win today and be champions. Now go do it." We did, 12-0. I can still hear Denny's voice in that locker room, and 42 years later it still gives me goosebumps. Denny showed us what can be achieved when you believe in yourself.
– Bill Rosato, our SYF varsity coach the next season in 1981. Bill was the type of person you knew was special the moment you met him. He was a gentleman, he knew how to handle kids, he had assembled a fantastic staff of assistant coaches around him, and he really, really knew football. Coaching the highest level of the Mogadore youth program, it was Bill's job to get players ready for the rigors of high school ball that lay just around the corner. That 1981 season was the most fun I ever had playing sports: Our team went 11-0, we won Mogadore's first Suburban Youth Football varsity championship, and we got to enjoy an actual bowl experience in West Virginia, defeating a team from Mannington, West Virginia, 27-6 in the Mountaineer Bowl. The field, situated in a valley between mountain ridges, had snow on it the day we practiced there, but by game day the following afternoon it had melted and turned into a muddy mess — so bad that we had to change out of our green jerseys into white ones at halftime because we were covered in mud. Coach Rosato had the foresight to bring the freshman team's white jerseys to West Virginia with us in case we needed to change into them. He thought of everything.
– Gary Maag, who coached our Mogadore Tigers G League baseball team in 1979 and '80. Gary was the quintessential teacher, patiently instructing his players on the skills and fundamentals of the game. Every time I covered a Hot Stove game and saw a coach screaming at kids or the ump and acting like an idiot, I appreciated Gary even more. Gary always handled himself the right way, setting an example for his players and demonstrating the importance of keeping your composure during games. At the banquet after the season, I was shocked beyond words when I was awarded the team Most Valuable Player plaque. I had just assumed that it would be given to Gary's son, Gary Jr. — not because Gary was his kid, but because he was the best player on our team. I thought then, and I think now, that Coach Maag felt it wasn't right for him to give the MVP award to his own son, that doing so could be looked upon as unfair. Not by me, though. Gary Jr. was our best player, and no one on that team would have batted an eye if he had been named MVP. But that's just the kind of coach Gary was. He didn't have to do that — if that's what he did — but the lesson I took from it either way was the importance of treating people fairly, that showing bias or favoritism, or even the appearance of it, reflects poorly on your character.
– Dave Gasaway, the coach of our Mogadore Giants H League team. I've detailed in a previous Round Two how Dave benched me for almost an entire game for blowing off a practice to go swimming. I won't rehash all of it here, but the message to me that day was Dave's message every day: Accountability matters. Everything you do affects other people, and when you act selfishly, it hurts others. Dave was a tremendous baseball coach and leader, and I am forever grateful that I had the opportunity to play for him. I'm a better person for it.
– Bob Rick, again. Bob also coached our youth football "A" Team when we were 10 years old. Our group hadn't had much success up to that point. Our record was 1-5 as 8 year olds, 2-4 as 9 year olds, and we started the 1978 "A" Team season with a record of 1-4 with three games left. We had almost no offense whatsoever. After losing that fourth game, we came to practice on Monday expecting business as usual. We started with calisthenics, and after finishing, Bob called for us to huddle around him because he had something to tell us. This was highly unusual, and we all looked at each other wondering what was about to happen. "Who watched the Browns-Steelers game yesterday?" he asked. Odd question, I thought. We had no idea where he was going with it, but most of us raised our hands that, indeed, we had seen the game. "Did you see how the Steelers won at the end?" he asked. Yes, I did. I had watched the entire game, including the razzle-dazzle play that won it in overtime for Pittsburgh at Three Rivers Stadium. Bob said: "It's called the flea-flicker, and we're going to start doing it." Until the Browns-Steelers game, I had never seen or heard of the play before. In the game, with the Steelers possessing the ball near midfield in OT, quarterback Terry Bradshaw handed the ball off, and after that player handed the ball off to someone else headed in the other direction, the ball was tossed back to Bradshaw, who threw to a wide-open Bennie Cunningham for the winning touchdown. Coach Rick saw that and figured if the Browns' secondary had trouble covering it, chances were good that 10-year-old defensive backs would, too. So we worked on the play in practice all week, with our quarterback, Bob's son Joey, throwing to our best wide receiver, Gary Maag. We had great fun executing it, then wheeled it out in our next game. And it worked to perfection: Gary was wide open behind the defense, Joey threw a perfect pass, it went for a touchdown, and we won 6-0. We ran the flea-flicker again in our final two games, which we also won 6-0 — it went for a TD once and inside the 5 yard line the other time. We finished the season 4-4 — our group's first season with a non-losing record — and we never had a losing season again. Bob showed us that perseverance and a little ingenuity can completely change your trajectory.
To all of my coaches, thank you. I haven't forgotten what you did for me.
And I never will.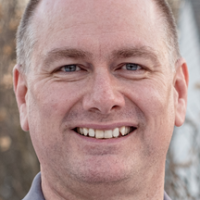 Tom Hardesty is a Portager sports columnist. He was formerly assistant sports editor at the Record-Courier and author of the book Glimpses of Heaven.