Only six coaches in the history of Ohio high school boys basketball have won more games than Marty Hill.
Think about that. From the time schools long ago first started putting teams on the court in Ohio, in all the towns, villages and cities across the state, Hill and his 694 wins in 47 years at Windham High School stands at No. 7 on the all-time list following his retirement as Bombers head coach April 21.
And yes, every one of those 694 victories for Hill came at Windham — and only at Windham. It's not a stretch to say that Portage County may never see anything like it again.
"I do not think you will see one person stay at one school for 47 years and duplicate his 694 career wins," Mogadore boys basketball coach Russ Swartz said.
The Wildcats mentor has a unique vantage point on Hill's career. Swartz went against Hill's Bombers first as a player in the late 1970s and early 1980s at Mogadore, and later as the Wildcats' head coach the last 14 years. And Swartz has piled up a truckload of coaching victories himself, recording 460 wins in his 34 years — with that total coming at three different schools, further illustrating the rarity of Hill's accomplishment.
"In my opinion," Swartz said, "Marty Hill's career and success as a basketball coach in Portage County is second to none."
The numbers certainly reflect that notion. Hill's teams won 13 league championships and reached the state tournament in 1976, 1982 and 2006 — that first trip to Columbus coming when Hill was a 23-year-old, first-year head coach.
But maybe the following illustrates Hill's career best: At the time he was inducted into the Windham Athletic Hall of Fame in 1995, Hill had 27 years, 388 wins and another trip to the state tournament still ahead of him.
In other words, Hill had a Hall of Fame career when his career wasn't even halfway done.
"In high school sports today where many coaches have such big egos, Marty Hill was always focused on his players rather than personal achievements," said Keith Waesch, athletic director at Rootstown High School. "He was that rare coach that was never looking for his next job at a bigger school. He loved Windham and, for me, that makes his legacy even more impressive."
And perhaps, even more than the numbers and all the successes, that is what defines Marty Hill's career more than anything else:
His love for Windham.
"I didn't get any of those wins at any other school besides Windham," Hill said. "It was all at one school. I'm proud of that, and I'm proud of Windham."
Ask Hill what he's most proud of, and he doesn't hesitate to answer.
"I'm most proud of my players," he said, the emotion evident in his voice. "I've had so many good kids over the years, even kids that didn't start or play much and just came to practice and played hard every day because they loved basketball.
"That's the best thing about coaching — the relationships with your players and the coaches on your staff and the administrators at your school. As a coach, you are with your players so much … well, that's why most of us coach. The kids keep you young."
Hill's closeness with his players is just one example of how he touched the lives of so many, according to Swartz.
"More importantly than the wins and championships are the relationships Marty established over the years within the Windham community of players, students and families, as well as those relationships he has with those of us that competed against him as a player and/or coach," Swartz said. "Obviously, Marty Hill is a quality coach and his record and accomplishments speak for themselves, but more importantly I feel he is a better person and individual."
Gregg Isler was part and parcel of that player-coach relationship Hill fostered with the Bombers. But long before Isler was a star guard on Windham's 1982 state tournament team, he was a youth in Hill's fledgling top-to-bottom basketball program at Windham in the mid-1970s.
"From the time Coach Hill arrived at Windham," Isler said, "he wanted to build a program. He started a Saturday morning program his first year; I was in the fifth grade and was super-excited about playing on Saturday mornings.
"Forty-seven years later, he was still coming to the gym on Saturday mornings helping the elementary students learn the game of basketball. I am sure he tweaked things along the way, but ultimately the goals were the same: Use basketball to teach students. I know coach is extremely intense and loves to win, but I also know it has always been about teaching."
It was that program continuity — and the consistency in Hill's coaching style — that translated into decades of success for Bomber basketball.
"Marty is an incredibly intense person," Isler said, "yet he is always able to stay really composed and calm. He carried this over in how he related to his players as well. He demanded and expected maximum effort in his classroom and gymnasium yet never needed to yell to achieve the objective."
Isler witnessed the effectiveness of Hill's stoic authority first from the perspective of a student-athlete at Windham and later as the school district's superintendent.
"Marty was able to achieve the rare gift of building a team while molding and teaching a group of individuals who had their own set of needs and wants," Isler said. "Not an easy task, yet he did it without really having to think about it."
That was largely due to the fact that Hill's expectations were as consistent as his style.
"I told the players this wasn't a union," he said. "The best would play at the varsity level regardless of what grade they were in."
The open competition for jobs fostered a climate of grit and tenacity within Hill's program — which translated to the floor on game nights.
"As a player, I remember Marty's team being tough and physical," Swartz said. "Also, I remember them playing full-court defense as hard as anyone and trying to make it difficult for you to score. Back in the day around the late '70s to mid-'80s, Mogadore vs. Windham basketball was a big rivalry and very good small-school basketball.
"It's pretty much the same from a coach's perspective. I would add that his teams all knew how to play basketball the right way — cutting, passing, unselfish, tough defense. They were not going to beat themselves. Your team better be ready to play your best, or Windham was going to have the advantage.
"I always thought Windham basketball had an identity," Swartz continued. "You knew they were going to be tough, physical, aggressive and fundamental. All characteristics that we wanted to have with our teams at Southeast, Norton and Mogadore."
Indeed, the Windham basketball tradition under Hill had as much to do with mindset and approach as it did results — for which, in typical Hill fashion, he credits the players.
"It's the way they play, the spirit and intensity they play with," Hill said. It feeds on itself from one group to the next, and "they carry on the tradition as much, if not more, than the coach does," he said.
It's not easy keeping that level of intensity in a program for 47 years. It's also not easy capturing and keeping players' attention from one generation to the next, when values and interests and attitudes undergo their cyclic changes throughout society.
But maybe that's been the secret to Hill's success all along: The more things changed, the more he stayed the same. Of course, as a coach he was forced to adapt — rules changes like the OHSAA's introduction of the 3-point line in the late 1980s fundamentally changed the game at both ends of the floor — but his methodology did not, providing the Bombers with a rock-solid program foundation year after year.
Something to which Waesch can attest.
"I ran into Coach Hill at Mathews High School this past winter," he said. "Unlike so many coaches who scout by trading film and watching it at home or school, he was there in person with paper and pencil in hand trying to do whatever he could to give his team the best chance to win an upcoming contest. That says so much about how dedicated and committed he still was to his program in year number 47."
Now, at age 70, the practices, games and scouting trips are over for Hill. There will no longer be teams to build, players to teach, games to prepare for, assistants to hire. Life won't slow down for Hill as much as it will be … different.
"I'll miss it," he said. "I like to golf, my wife and I like to travel, we have eight grandkids. So I'll do what everybody else does when they retire."
Marty Hill has certainly earned it — after having a career unlike most anyone else.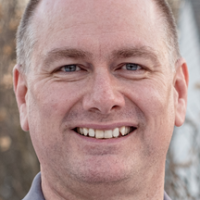 Tom Hardesty is a Portager sports columnist. He was formerly assistant sports editor at the Record-Courier and author of the book Glimpses of Heaven.