The wrestling tradition continued at Aurora High School this winter.
The Greenmen crowned two individual state champions on their way to a runner-up team finish in Division II at the OHSAA state wrestling tournament March 11-13 at The Ohio State University's Jerome Schottenstein Center in Columbus.
Aurora took second place in Division II with 95 team points, just ahead of third-place Louisville's 93 points. St. Paris Graham won the Division II title with 176 points.
Tyler Lillard and Dylan Fishback took home individual weight class championships for the Greenmen. Lillard scored an 8-4 decision over Max Kirby of Fairless in the 165-pound title bout, while Fishback also won an 8-4 decision to claim his title over Indian Creek's Austin Starr at 190 pounds. Lillard and Fishback's championships give Aurora nine individual state titles in program history and the first in 12 years.
Codie Cuerbo placed third for Aurora at 113 pounds with a 6-2 decision over Billy Smith of Sandusky Perkins.
Also placing for the Greenmen were Johnny Green, fourth at 106 pounds; and Ashton Smith, seventh at 157 pounds.
Rounding out action in Division II for Portage County was Donovan Paes of Streetsboro, who placed seventh at 132 pounds.
Mogadore senior Michael Lowe also represented Portage County in a title bout, reaching the 215-pound final in Division III. Lowe was pinned in 5:57 by Trevor Stewart of Greenon to finish runner-up, capping an outstanding career with a resurgent Wildcat wrestling program. Lowe was looking to become his school's sixth state champion and the first since Jerry Stratos in 1997.
The Wildcats' Brady Funk placed eighth at 113 pounds.
The top team showing in Division III belonged to the Southeast Pirates, buoyed by third-place finishes by Jaidyn Sapp, who scored an 11-2 major decision over Ayersville's Abe DeLano at 190 pounds, and Spencer Mesaros, who decisioned Zakary Dobson of Martins Ferry 7-0 at 215 pounds.
Southeast ended up 15th in the team standings with 33 points, with Mogadore not far behind in 18th with 30.5 points.
Garfield had two individual state placers in Division III, Keegan Sell (5th at 175 pounds) and Hunter Andel (6th at 165 pounds).
---
If you're wondering which Portage County school has the most individual state wrestling titles, the answer is … Crestwood. The Red Devils have crowned 11 champions, the first coming in 1961 and their most recent champ winning in 2011.
Following Crestwood in individual titles are: Southeast with 10, Aurora nine, Ravenna and Streetsboro six, Mogadore and Rootstown five, Kent Roosevelt four, Waterloo three, and Field and now-defunct Kent State High School one.
---
Southeast, meanwhile, is the only Portage County school to win multiple team state wrestling championships. The Pirates captured titles in 1973 and 1991.
Also winning team state championships from Portage County are: Aurora (1995), Crestwood (1976), Ravenna (1993) and Streetsboro (1997).
Of our area's six team state titles, four came in the 1990s — and within six years of each other, at that. Included in that run was a state runner-up showing by Ravenna in 1995.
The decade of grunge and the explosion of the internet was a true golden age of Portage County wrestling.
---
The 1991 state wrestling tournament at Wright State University's Nutter Center was an all-timer. When the dust settled at the conclusion of the Division II tournament, coach Ralph Graham's Southeast Pirates sat atop the team leaderboard with 65 points, with second-place Clyde one excruciating point behind at 64.
However, the 1976 Class AA title chase at Ohio State's St. John Arena was even closer. Coach Frank DiNapoli's Crestwood Red Devils won the state championship by a mere half-point over Columbus St. Francis DeSales, 66.5 to 66.
It's not a cliché to say that every point counts at the state wrestling tournament. And every half-point, as well.
---
I was lucky enough to have covered most of that wrestling action in the 1990s. The Southeast-Ravenna dual matches of that era were downright brawls on the mat in front of packed houses at either school, with the Pirates and Ravens routinely sending groups of wrestlers to the state tournament. Streetsboro was also well-represented at the state level in those days, as was Aurora — which, of course, hasn't missed a beat in the decades since.
They were also led by head coaches who stamped their personalities onto their programs. Graham's Pirates were always businesslike, personified by the iron will and flawless technique of two-time state champion Neal Bailey. Reedy's Ravens ran on emotion and intensity, while Dick Bliss' Greenmen were relentless from the first weight class to the last.
Then there's the single year that Will O'Donnell served as head coach at Streetsboro. O'Donnell moved up from an assistant's position, led the Rockets to the top of the Division III mountain in 1997, then rode off into the sunset, leaving after one season as head coach and with a large piece of hardware sitting in the school's trophy case.
And why not? There's always another mountain to climb.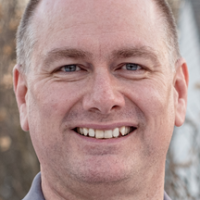 Tom Hardesty is a Portager sports columnist. He was formerly assistant sports editor at the Record-Courier and author of the book Glimpses of Heaven.