On Friday, I asked Portager readers if they have a paid subscription or not. If the answer was no, I asked people if they would like to share the reason.
I thought the answers were mildly interesting and certainly useful for me as I think about how to continually improve our service to the community. I thought you'd be curious to see the results as well, so I've summarized your responses below.
Further down the page, you'll see some of my takeaways and plans to address a few specific comments readers made.
The results
Out of 451 responses, 244 people said they did not have a subscription, and 164 of those respondents gave an answer (not counting people who said "not sure" and the like).
Here's the breakdown of the reasons:
51% said they were on a fixed income or didn't have enough money to subscribe.
16% said they were still considering whether to get a paid subscription.
12% said they would subscribe soon and hadn't gotten around to it.
9% said they already pay for the Record-Courier or the Akron Beacon Journal.
8% said there wasn't enough value for the price.
4% said they didn't read it enough to justify paying.
There's a free option for a reason
The first thing I want to say is that these results confirm my decision to make The Portager free by default.
Everyone deserves full access to local news. The fact that over 51% of our non-paying readers cannot afford a subscription just shows how many hundreds or thousands of Portage County residents would be shut out of the conversation if we threw up a paywall or otherwise restricted access.
We could probably make more money by requiring payments, but we would also leave behind our neighbors who are struggling with job security or retired on a fixed income. We're stronger when everybody's on the same page.
There were a lot of people who said they couldn't afford full price but felt bad chipping in some small amount they would be able to afford, like $2 or $5. Obviously no one should stretch their budget any more than they comfortably can. Money stress sucks, and you should not make it worse on my account. But don't feel bad tossing in even $1/month if you want to. That's why we offer that option.
And last thing on this topic is just a thank you to those of you who can afford to pay for The Portager and do. Your generosity ensures we have the resources we need to cover Portage County, including for those who aren't in a position to get a paid subscription themselves.
For those on the fence
Take your time. The Portager is here to stay, and we're always growing a little more each month. We have money in the bank for a rainy day, no debts and we're planning for the long haul.
When you do decide to become a paid subscriber, your money will be put directly into some journalist's pocket or used to fund our new Documenters program, which will ensure coverage of every community in Portage County.
Upcoming plans
As you may have seen recently, we're hiring a director of growth and sales. This is our first non-editorial hire and is a first step to becoming a more established business and not a startup.
As The Portager celebrates its second anniversary this week, we're ready to start expanding more rapidly. The idea is to increase our ad sales and our subscriber base this year through more outreach, partnerships and promotional events. With the extra income, we'll hire more journalists to cover more of the county.
So far so good: Our revenue is up over 50% compared with this time last year. We hope to accelerate that even faster.
With new journalists on staff, we'll be able to provide more in-depth stories and investigations.
But you can't cover every meeting with just a handful of reporters. For that, we're launching a new Documenters program, modeled on this nonprofit civic project out of Chicago. Portage County will be one of the Documenters program's first forays outside of major cities, and they're going to be looking to us as a model.
In summary, Documenters pays people to take notes at public meetings and publishes what happens. By creating these records, citizens can have better oversight of their elected officials, and journalists can monitor the feeds for stories that need further investigation.
If you're interested in becoming a Portage County Documenter, contact me at documenters@theportager.com.
Note that Documenters are paid at $15/hour, so The Portager is also seeking funding to sustain this program. If you are a nonprofit or business wishing to partner with us as a sponsor of this important open government initiative, please get in touch.
I'm hopeful that with these new efforts, we can persuade those 8% of respondents who said the value of The Portager wasn't worth the price. Just know that I hear you loud and clear. You are in my head, haunting my dreams and driving my ambitions.
I'm only half joking. Because the truth is, if we can win you over, then we're exceeding expectations, and Portage County will have the news organization it deserves.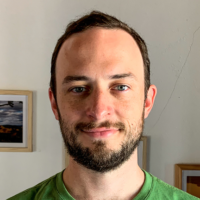 Ben Wolford is the editor and publisher of The Portager.
ben@theportager.com
330-249-1338