Global Drumming with Daniel Kennedy
February 25 @ 7:00 pm

-

8:30 pm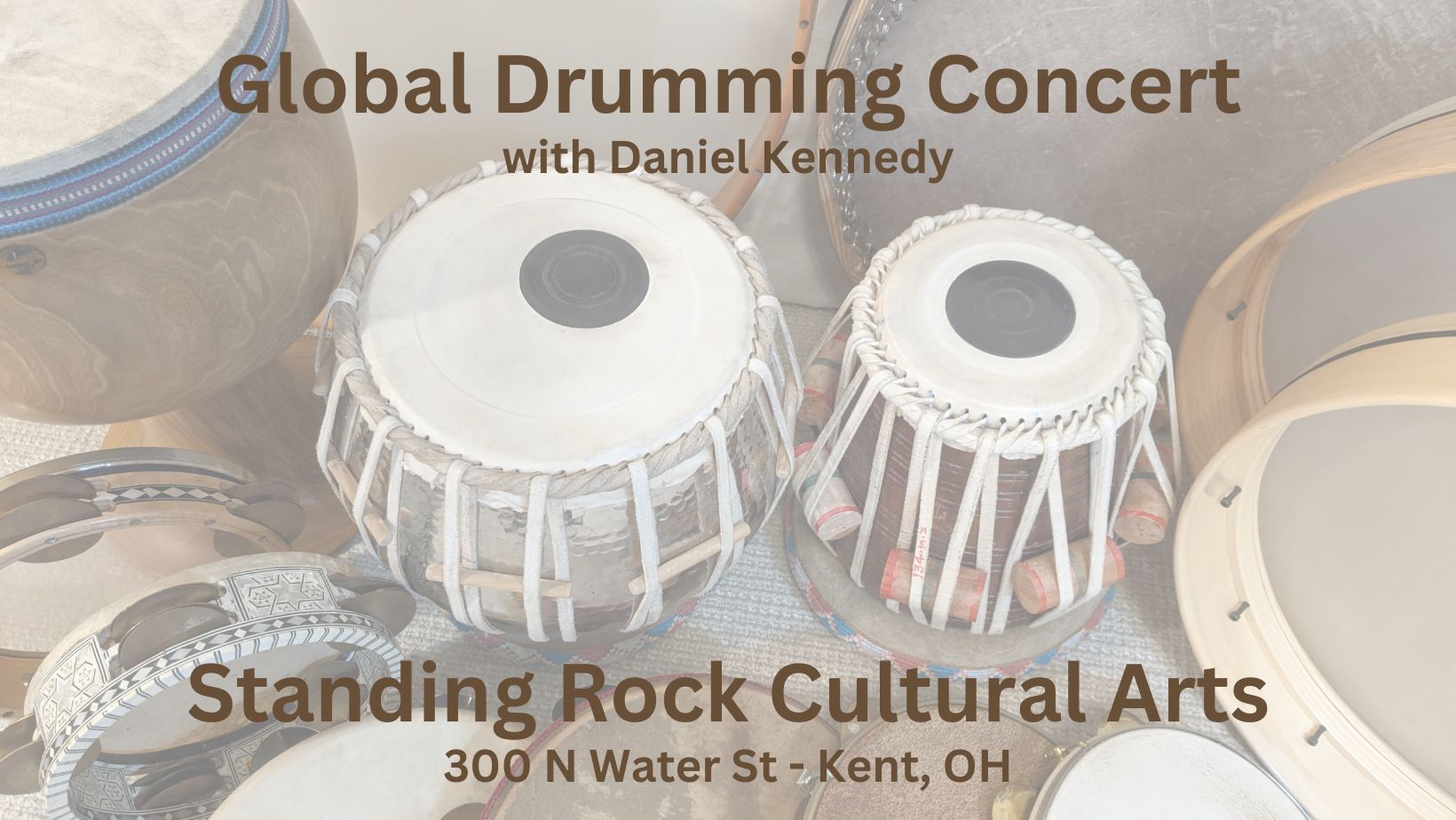 STANDING ROCK CULTURAL ARTS
GLOBAL DRUMMING CONCERT
Daniel Kennedy, hand drums
Saturday, February 25
7pm Meet 'n Greet / 7:30pm Performance
INFO
On Saturday, February 25, percussionist Daniel Kennedy will present an evening of solo works for global hand drums at Standing Rock Cultural Arts in Kent. The program will feature a variety of improvisations and compositions, spotlighting drums from India, Turkey, Egypt, Ghana, Italy, Brazil, and Cuba. The evening begins with a meet 'n greet at 7pm, followed by the performance at 7:30. The suggested donation is $10 to support SRCA.
PROGRAM
Improvisation in Seven
for frame drum

Three Tambourines
Tamburello
duplets and triplets
Pandeiro
slow samba
Riq
improvisation in five

Tabla Solo
compositions in keharwa tal by Swapan Chaudhuri
Handful by N. Scott Robinson
for bendir with foot rattles
Syllables, Samples, and Shakers
featuring caxixi and shekere with live sampling
To The Earth by Frederic Rzewski
for terra cotta pots and spoken word
Elevens for Me by Terry Longshore
for hand drum set: conga, djembe, darabuka, frame drum, bongos, cajon, hi-hat, cymbals
BIOGRAPHY
Daniel Kennedy has been devoted to the art of global hand drumming for several decades. As a grad student at CalArts, he began the study of tabla, djembe, and frame drums with hand drum visionary John Bergamo. Following this, Daniel attended the Ali Akbar College of Music under the guidance of tabla master Swapan Chaudhuri, performing with the Tabla Ensemble and forming the quartet Tabla Rasa. He continued to explore other hand drumming styles, delving into South Indian drumming at the Ragalayam Music School in Chennai, studying the Arabic tambourine and Brazilian pandeiro with hand drum artist Randy Gloss, attending classes with Zohar Fresco at the Frame Drums Italia Festival, and most recently, pursuing the study of Persian drumming with Sina Dehghani and Nariman Assadi.
Prior to moving to Kent, Daniel was the Instructor of Percussion at Sacramento State University, where he directed the percussion studio and ensemble, taught music theory and world music, and was the director of the Festival of New American Music. He was very active as a freelance performer throughout the Bay Area, and was a member of the San Francisco Contemporary Music Players for more than twenty years. Daniel was a founding member of the California EAR Unit, the Talujon Percussion Quartet, and Rootstock Percussion, and has performed in the Netherlands, France, Italy, Bali, Japan, Mexico, and throughout the United States.