'Tis the season to be thankful…and I am. I have so many blessings to count — so why do I sometimes feel overwhelmed by it all?
Perhaps it's because of the logistics involved in trying to gather all four of my kids and their kids and our significant others at my table for one meal during Thanksgiving weekend. It would seem to be a relatively simple task — I mean, we aren't talking about a cast of thousands to contend with — only the eleven dearly beloved members of my family. Somehow, though, I need top-level diplomatic skills, the flexibility of a contortionist, the patience of Job and, here and there, a judicious application of bourbon or red wine.
Many, many years ago, before I gained the wisdom and tolerance I now (allegedly) possess, there was a period of time when the mere word "Thanksgiving" made me ill. At one point, even thinking about my children made me wish I had taken birth control more seriously. Can the words "Bah Humbug" apply to Thanksgiving as well as to Christmas?
Okay, maybe that part about birth control is a slight exaggeration, but the days approaching Thanksgiving have often been an emotional roller coaster for me. Every one of us has too much on our plates (and I don't mean the turkey): too many family visits to make, too many expectations, disappointments, stresses and feisty relatives (even me?) to deal with — to say nothing of the complexities of our everyday lives and schedules.
But, as I recall Thanksgivings past, I realize that my feelings had nothing to do with cooking a meal for my kids, which I dearly love to do. It was more about what I stuffed into the turkey.
It seems that I used to stuff the old bird with heaping piles of frustrations and expectations. Does that ever happen to you? We fill our minds with annoyance as we fill the turkey with stuffing and seasonings. We try to focus on the love we feel for our family, but as we rush through our preparations, we somehow find our minds dwelling on resentments and irritations.
We are annoyed because Billy Bob is late; we are miffed because Aunt Godzilla took over our kitchen (though we made it clear we didn't need her help) and stirred the creamed peas so vigorously that they became squished peas. And we are tired, and would just love to sit down with a nice glass of wine…and whine.
Somehow, though, once we arrive at the table, once we "unpack" the bird, we relax. Taking the stuffing out of the turkey seems to release some of the feelings we've stuffed in there. We let go of the frustrations and family patterns that make us crazy. We become thankful for what we do have, instead of dwelling on what we feel is lacking. We realize how very lucky, how truly blessed, we really are. Thankfulness, you see, is a choice; a choice we can make, regardless of circumstances.
A case in point: the last Thanksgiving we shared with my brother, who passed away in 2004, has become the gold standard of family holidays for me. You would think it would be the most painful holiday ever, since all of us were acutely aware that this was my brother's last hurrah. Instead, it was simply beautiful. We didn't focus on schedules, irritations and expectations; we concentrated on filling the day with pure love, or as pure as we knew how to love. We laughed more, ate more, savored our time together more than ever before. And it was just perfect.
That's why my wish for you this Thanksgiving is this: Forget all stresses and strains for a while. Experience at least one precious moment of grace, or, even better, an entire day of gratitude. Even if your holiday isn't turning out quite the way you visualized, count your blessings. Many others, right here in Portage County, have much less to celebrate.
So, don't be a turkey. Leave everything else behind, smile a grateful smile, and come to the table. And be thankful that you have one.
(P.S. One of the blessings I count on Thanksgiving is YOU — thanks for enriching my life by reading my musings!)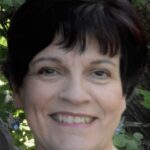 Kathy Baker is a writer and speaker, a messenger of encouragement who loves to touch hearts and tickle souls with her work. She is the author of "Leaving Adversity Plaza," and "A Tale of Three Choices: His, Hers, Mine." She loves hearing from her readers and can be reached at [email protected].