Keith Schmader has lived on his 20-acre farm on Johnson Road in Franklin Township with his wife since 2016. Every spring, he said, there would be small- or medium-sized puddles on his property when it rains, but they would usually drain into the ground as fast as they would appear. Recently, though, it's been getting worse.
Housing developer Ryan Homes started constructing a new subdivision in 2019 on about 21 acres of land in the west end of Franklin Township, near Stow. Right next door is Fish Creek, a tributary of the Cuyahoga River. Neighboring residents, including multi-generation farmers and decades-long residents, said they've experienced massive floods, which they blame on the housing developments.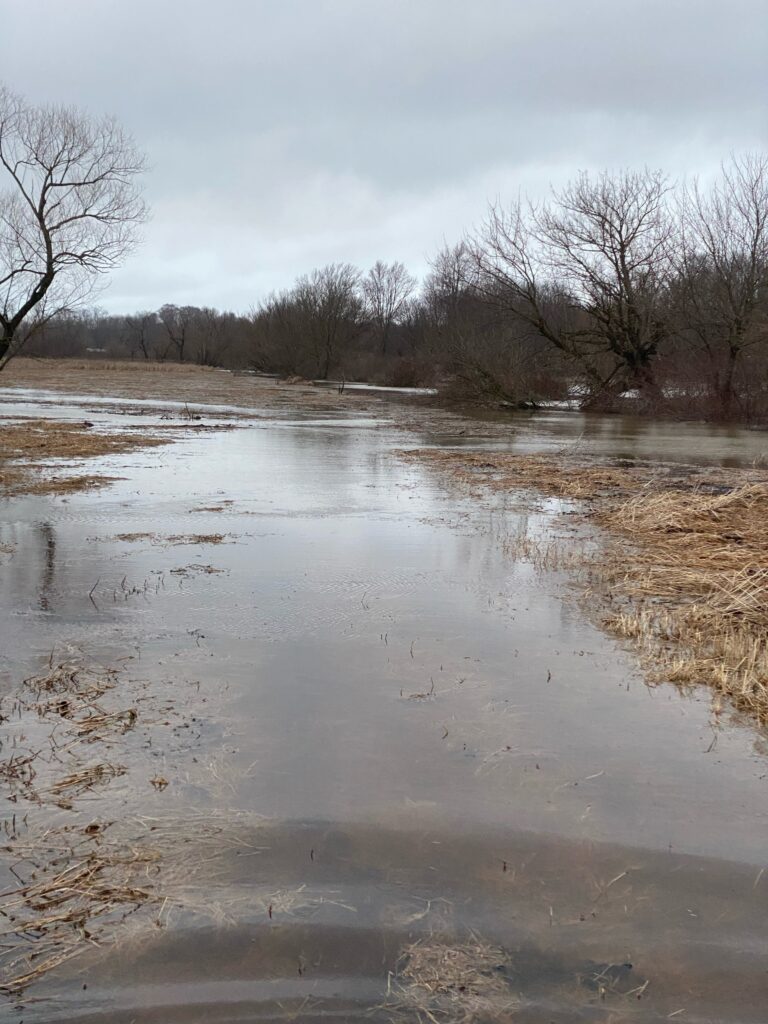 "This year, we have had a pond forming in our front yard that I did not dig," Schmader said in an email describing his situation to The Portager earlier this year. "Now, with the bridge out on one side of me and water overflowing the road, I won't be able to get to or from my house before long. I certainly hope we can still raise our livestock on the property this spring, but with all this water, I'm very concerned."
The bridge, just down the road from his home, collapsed recently because of the flooding. He makes a living outside of raising cattle, so his source of income hasn't been hurt as badly as some of the other farmers. However, the property damage can add up quickly. Some of his neighbors have it even worse.
Sharlene Chesnes lives right next to the new development, on Newcomer Road, and just down the street from Schmader. She's been caught in the middle, almost literally, of these massive flooding events.
"Fortunately, where my house sits is a little elevated, but all around me is like a moat. I have a moat going on, and my driveway is flooded out. I almost couldn't get out of my yard," Chesnes said. "It has subsided some, where it's off my driveway, but my boathouse is still under water and my gazebo is still under water."
Chesnes, along with some of the other longtime residents, uses well water rather than connecting to a public line. She's worried that the runoff from the flooding could contaminate her water supply, so she has to get it tested.
She said the community likely hasn't even seen the full effects of the new Ryan Homes development yet.
"I have coyotes right in my backyard because I have woods here, and the animals have nowhere to go. I have a small dog and kids, so I don't want them in the backyard right now," Chesnes said. "Usually you only hear (the coyotes) at night; now they're just everywhere. In daylight there's deer, and it's just really affecting everything around us."
The biggest and most common question from the residents is simple: Who will be financially responsible for this?
"Many of us are going to experience an expense that we didn't plan for, that we obviously have no control over," Chesnes said. "It would have been nice to be asked, 'Hey, we're gonna do this and it's gonna flood, what do you think?'"
Of all the people living in the area, the ones who know the most about this land are Matt Wagner and his wife, Cindy. They own Sunny Dell Farms, and Cindy is the fourth generation to live on that property, while her husband has lived with her for 30 years.
Matt said the majority of the problem could be solved by cleaning the sediment out of the creek. Previous housing developments in the area during the mid-1990s deposited layers of dirt and other particulates at the bottom, so there's no way for the new runoff to drain properly. On top of that, he said, the impermeable surfaces like driveways, foundations and parking lots further limit the natural flow of water.
The damage the water causes to the Wagners' fields hurts their bottom line and the livelihood of their children.
"My daughter, she's 17 now, and she works here every day, goes to school every day, and this is what she wants to do with her future," Matt Wagner said. "We put all the cards in place and are planning for that, and this is kind of really messing things up. If it doesn't get fixed, that's not going to happen for her."
How creeks are supposed to drain, and why that isn't happening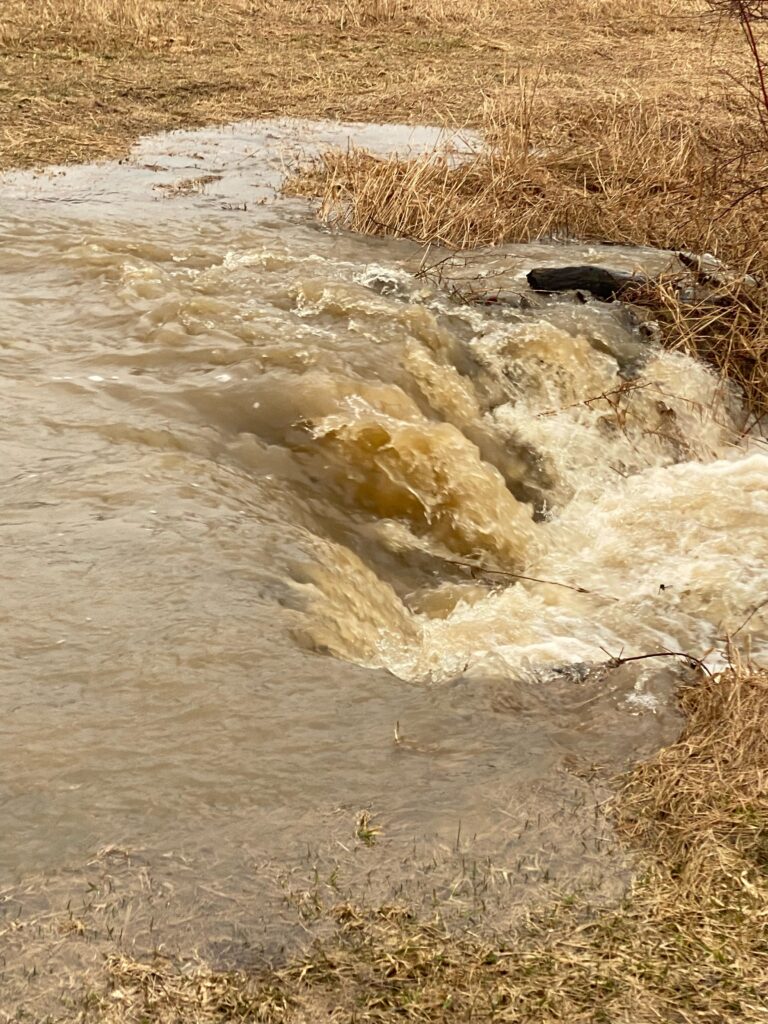 Eric Long, a stormwater engineer for the Portage County Soil & Water Conservation District, approved the new development at Germaine Reserve. He said that while this new development is contributing to the increased flooding, there are other factors at play.
Usually with a new subdivision, Long said, workers will install a stormwater catch basin to collect runoff and release it slowly, so as not to flood the neighborhood.
"That said, those basins are not in their post-construction form at this stage of construction. They're still being used as a sediment basin, as opposed to a post-construction stormwater basin," Long said. "They're designed to trap as much of that sediment (as possible) instead of letting it run off, and they aren't as geared towards that volume control."
On top of that, the neighboring housing developments of Eastwick and Springbrook have poor drainage infrastructure, which contributes to the flooding.
"The detention and post-construction stormwater requirements for Germaine Reserve are much more stringent than what was required for this much larger subdivision that's right up the street," Long said. "If you were to go in and kind of upgrade and bring them up to today's standards — the stormwater management in some of the older subdivisions — that can have an impact."
High-intensity rain events have increased in recent years, Long said. The total volume of water hasn't increased too much, but the intensity of rainfall is more severe year over year. It's led to what farmers in the community describe as once-in-a-generation rainfalls happening almost every year.
Residents expect better from township officials
Just because the county and city governments can't retroactively change zoning laws to prevent problems like this from happening, doesn't mean they are fully powerless to help. Many of the residents affected by the flooding said they want more transparency from government officials.
The Franklin Township trustees "heard us very well, they smiled, and then nobody calls me back and says, 'Hey, we talked to the engineer,'" Keith Schmader said. "Like they only care in the moment while you're meeting with them."
The Franklin Township trustees did not respond to requests to comment.
Matt Wagner said the county could have mitigated the problem by talking to the residents before granting the zoning to developers.
"Did it ever occur to them to maybe stop next door to somebody that's lived there their entire life and just ask the question, 'Hey, what's it like when it rains here?'" Wagner said. "To me, that's the best information you could ever get. But nobody ever once asked any questions. To us, to Keith, to anybody that lives here."
Schmader said no one has been given a straight answer for who will fix these issues and who will be held responsible.
"Where do I go as a resident? How far do I push? I could make a full-time job just taking up the phone and trying to call this person, that person and that person," Schmader said. "I want to be productive. I don't just want to be like a noisy gong on the thing. I want to be productive and make some traction, so do they need to hear from enough people to make it possible?"
In an email, Schmader said the township granted zoning variances to allow Ryan Homes to build houses at a higher density than what would normally be allowed. The Franklin Zoning Inspector, Joe Ciccozzi, declined to answer questions on the matter, and forwarded all questions about the situation to Long at the Soil & Water district. Long was unable to provide insight on the zoning of the development.
Long said the conservation district does have education initiatives about how flooding occurs and proper drainage systems, but there are no specific programs to notify neighborhoods when a new housing development is being built and how it could affect the water table.
Where Ryan Homes comes in
Ryan Homes, and its parent company NVR Inc., did not respond to requests for comment on this story. The housing developer does, however, have a history of costing people lots of money — or worse.
In Cincinnati, where Ryan Homes has developed dozens of subdivisions, a construction worker for the company suffocated in 2017 after being buried alive while digging a sewer line. His family filed for a $20 million wrongful death lawsuit in 2019, alleging that Ryan Homes made basic safety mistakes that could have prevented the accident.
In Milford, a suburb of Cincinnati, Ryan Homes has been criticized by its homeowners and home inspectors for building houses in an assembly line fashion, which allegedly led to leaky roofs, door knobs that fall off and construction shortcuts that compromise structural integrity.
U.S. Senator for Ohio Sherrod Brown condemned the company in 2019, calling its practices of forced arbitration for homeowner disputes "corporate blackmail." As the company continues to get sued, more people speak out, like Derek Wright from Wadsworth in Medina County, who found exposed nails covering the roof of his house built by Ryan Homes.
The situation in Franklin isn't the company's first experience with flooding, either. In Maryland, Ryan Homes' parent company NVR built homes on top of underground streams, which caused tens of thousands of dollars in damage, and the homeowners did not get most of that money back.
Who is responsible?
Based on some Franklin residents' experiences with local and county government, none of the officials or public offices seem like they will hold themselves accountable without being taken to court. That's exactly how it feels for one of the residents, Del Stewart.
"It's like you're talking to a wall. Nobody wants to accept responsibility," Stewart said. "It always comes down to the fact that you got to hire a lawyer in Portage County."
When the Eastwick subdivision was built on the Stow side of Newcomer Road, similar flooding threatened property damage for Stewart and his brother, who lived near him. Stewart said they received no assistance from the local government, so they had to take matters into their own hands.
"We dug a pond so we could handle the water because the city was flooding us out. Now we're dealing with the same damn thing, but this is our own county doing it," Stewart said. "So now I got the water coming up onto my property, past the pond. I got it coming down higher than it has in 30 years. If we get one of those rains for like three days in a row, I'll be sandbagging all my windows in my basement."
Wyatt Loy is a reporter with the Collaborative News Lab @ Kent State University, producing local news coverage in partnership with The Portager.