Last month, Lydia Huba was working remotely from her apartment in Ravenna when she heard a trickle.
She figured it was her air conditioner, but when she got up to investigate, she realized her rug was soaked. It was raining, and water pooling on the back patio was seeping through the sliding glass doors.
She scrambled to plug up the spaces with towels, but it was no use. She was soon standing in an inch of water. She unplugged her appliances, rolled up her carpeting, and for the next 10 hours, worked to sweep water out of the house and salvage what belongings she could.
Had she not been working from home, Huba fears she would have lost more than the carpeting, the personal items on the floor of her closet and the fridge (which began to make worrying noises during the flood and broke shortly after).
Huba and four other residents said flooding on Aug. 9 and Aug. 25 caused residents in 16 units in the Oak Park Apartments on Oakwood Street, across from Ravenna City Park, to lose appliances, electronics and furnishings. Residents said following the rain on Aug. 9, a foot of water stood in the courtyard, and some had an inch or two of water in their units.
The second Aug. 25 flood was less severe, and while Huba contained the water to one area using a barricade of towels, she said she is concerned that management is not taking serious steps to address future flooding.
Residents said a maintenance man distributed sandbags for residents to put against their doors to keep water out, but they haven't received word from the property owners indicating they are aware of the problem, understand what caused it, and are working to address it — and residents are skeptical the sandbags can be a long-term solution.
Bryco Management and Oak Park Group, which appear to be the managers and owners of Oak Park Apartments, respectively, did not return calls from The Portager requesting comment.
"This ain't gonna do nothing," Huba told The Portager in an interview, nudging her sandbag with her foot. "The water was higher than the sandbag [on Aug. 9], so it's going to flood over."
Huba and another resident, George Lemons, said management is normally communicative and consistently sends letters to residents to notify them of updates, repairs and inspections, so the silence is concerning.
"A lot of other people dipped out and left," said Huba, who has lived in her apartment for three years. "During the first flood, there were two U-Hauls that packed up and left and said, 'Rent's on you, I'm not doing it no more.' So it made me worry. Like, 'Oh my god, I don't want to keep on having to worry every time it rains.' And eventually I have to go back to work, and I won't be here when it does rain."
At least two residents said the flooding and management's poor response to it has prompted them to make plans to move out.
A resident who asked not to be named for fear of retaliation from the landlord said that during the first flood, the water in his apartment came up to his calf. He said he lost furniture in the flood and hasn't yet plugged in his water-damaged video game consoles because he's afraid they're ruined. 
He hasn't approached the property owners about a solution, such as waterproofing the structure, because he doubts they will do anything. He intends to move out by the end of the year.
Andrew Johnson, who has lived in his apartment for four years, said his family only lost personal items in the flood, such as Christmas decorations his kids created — but he witnessed other families dragging damaged furniture out to the trash following the Aug. 9 flood.
Prior to the flood, Johnson said he and his girlfriend had discussed moving to a bigger home to give his kids more space, but management's disappointing response to the flooding gave them "a kick in the butt to get going" on their plans to move.
Lemons said that following the Aug. 9 flood he heard the dumpster lid opening and slamming for hours, with residents disposing of their ruined belongings. When he first moved in, eight years ago, he said the property experienced a similar flood, but the city manager immediately sent a crew to work on the street, and the problem resolved.
Huba said she spoke with the property's maintenance man who said he believed something "is stuck down there at the road that's causing the flooding."
An administrative assistant with the Ravenna City Service Department said director Kay Dubinsky didn't have any information about the situation but would respond when she learned more. In the meantime, they would file a work order to send someone out to inspect the roads nearby.
When The Portager reached out to Ward 1 council member Paul Moskun, he said this was the first he was hearing about the issue, so he wasn't able to offer comment.
He did say that residents on Jones Avenue — a street that also sits across from the park and intersects with Oakwood Street — called him and the city engineer's office in July to complain about flooding.
Those residents said water running from Ravenna City Park flooded sections of the street and their yards. In response, the city plans to replace the 12-inch pipe on Jones with an 18-inch pipe and a series of basins in time for next spring.
"If [residents] don't speak up, then nobody can do anything," Moskun said. "So if I was to speak to them, I would encourage them to contact someone so a worker can come out, look at it, and assess things at the high point of the problem. If it's after work hours, they can call the police department's non-emergency number."
Johnson said the maintenance man told him drainage professionals had come out to the property after the second flood, when it became apparent the flooding wasn't a one-time accident and the problem would persist. But Johnson wasn't clear what, if anything, the professionals had done to address it.
Both Huba and Johnson said they don't think the drains on the property are adequate to accommodate heavy rains.
Huba said cleaning up after the flooding was expensive and time-consuming — she had to rip up carpeting, launder her towels and purchase a new fridge and rugs. The property owners didn't offer residents a break on rent.
"I used to live in Akron, and when there was a flood, the water department or whoever would come out and start digging immediately," Huba said. "Here, no one ever came out. They say, 'It's something plugged.' OK, fix it. You can't live like that. It's not OK."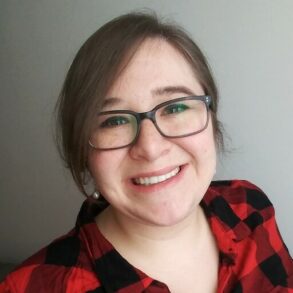 Lyndsey Brennan is a Portager general assignment reporter. She is completing her master's degree in journalism at Kent State and is an alumna of the Dow Jones News Fund internship program. Contact her at lyndsey@theportager.com.